DIY Flower Arrangement: Anemones & Lush Greens
Hello, my flower-loving friends! I'm excited to dive into this DIY arrangement, an easy garden flower arrangement, with anemones and share my love of all the elements. And boy oh boy, this arrangement is filled with good stuff, beautiful blooms, and lush greens. Check out those beautiful anemones! They are so striking with their dark centers and bold colored papery soft petals. Anemones are stunning, bold, strong, and delicate all at the same time. A combo that I find intriguing and alluring. More on that later on, but first, let's discuss those lush greens.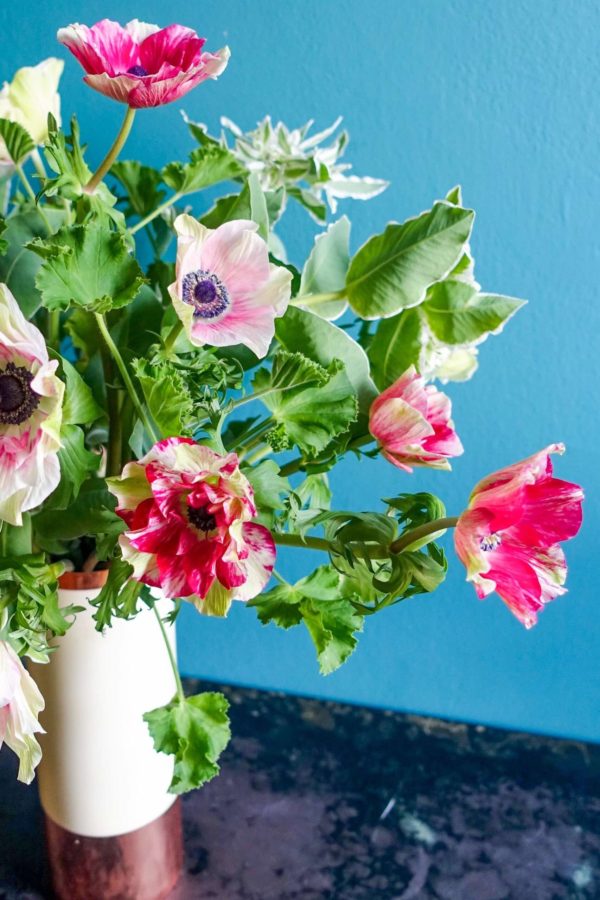 Design Tip: use greenery for the base!  Best way to start this easy garden flower arrangement
Greenery! Usually, it's not a topic that I get that excited about. But this is not the case here. While I was perusing the flower market for elements that inspired me, both of these greens jumped right out at me. In fact, they inspired me before the flowers did and that is rare. The greenery usually plays second fiddle and is more of an afterthought. But the second I laid eyes on these gorgeous greens, I knew that I really wanted this arrangement to have a gathered garden look. Almost as if you walked into your backyard, and cut a few stems from your garden and simply arranged them in a vase. I wanted the arrangement to seem not over-thought or over-styled. And in this case, using greenery as the main element was key to that look.
Starting with the greenery as a base does two things. 1- Provides a great shape for your design. This is especially helpful if you are newer to floral design. Using greens as a base is a great way to take the plunge and try your hand at designing. 2- Utilizing greens allows you to use fewer flowers. Which works well if you are on a budget or don't want to cut all the flowers in your garden at once for one arrangement. It also creates a garden styled look, which is perfect for this easy garden flower arrangement
And one of these greens has another superpower besides being a great base, fragrance! That isn't a typical superpower for greenery. You may be thinking, she's nuts! Could the smell of greenery really be that good? Allow me to introduce one of my favorite greens of all time, scented geranium.
Scented Geranium will make you weak in the knees!
Smells can be very polarizing. Too much cologne or perfume in a small space can make me feel nauseous immediately. After jumping into a Lyft, I immediately roll down the window to avoid getting a headache from a disturbing amount of cologne. What is the deal with Lyft and Uber drivers here in New York City trying to compete with the scent levels of Hollister and Abercrombie? Can anyone relate to that sentiment? Or is this a problem specific to the city? Now I am curious, haha. But back to the main point, smells are a very personal preference. And not all floral scents are created equal or appreciated by all.
It doesn't have to be all or nothing when it comes to the scent of flowers either. It's entirely possible to LOVE a flower and HATE the smell. And it perhaps is this duality that makes flowers complex and even more appealing to me. For example, Lilies. They are beautiful and showy flowers, but their smell is so strong, and I do not care for it. Not even a little bit. Perhaps you love the smell of gardenias, but they are not my favorite. They are too strong for me. However, whether or not you like the smell can also entirely depends on the location. Just picturing gardenias in their rightful place growing on a gardenia tree in a garden or backyard makes me smile. It brings back sweet-smelling memories from living in Southern California. But bring their scent indoors and I'm rolling my eyes. Just too much for me!
But scented geranium, it is one of my very favorite smells. Oh. My. Heavens. It's that good. I wish that there was a way to insert their smell into this blog post. It's so dreamy. I hate playing favorites with flowers (with anything actually!). I feel like I'm going to leave someone out or forget about them entirely. It's silly, I know. But I don't have any problem when ranking flowers according to their scent. I have a shortlist of flowers whose fragrance makes me weak in the knees, and scented geranium is at the top of this list!
Buyers Tip: Consider the scent when selecting flowers for someone else!
A few years ago I was managing the weekly buying for a large corporate client here in Manhattan. It's not uncommon to see floral arrangements here in the lobbies of large skyscrapers. But this account was different. They had flowers everywhere. In the lobby, by the elevators, in the common areas. I was impressed that such a large company would value bringing fresh flowers into the workspace on such a scale (code for: expensive! haha). They had a huge budget for flowers, and we had a whole night crew whose main focus was servicing and maintaining the quality for this particular client.
And they were particular about everything. Design, color, and SMELL! And that last factor proved to be the most difficult for me as the buyer. If they had any employees complain over the internal communication server about the scent of the weekly flowers, that particular flower went on the DO NOT BUY list. And after servicing this particular client for many years, the no-no list was growling longer and longer and made my job as the buyer increasingly difficult.
There are two main reasons that people don't love the smell of flowers: 1- personal preference. Just don't like the smell. Or 2- allergies. Luckily, I haven't been affected by allergies. That would seem a cruel and unusual punishment for a florist, lol! But for someone who does have allergies to certain flowers or trees, gifting those blooms would miss the mark as a gift. So when gifting flowers, unless you know their specific aversions to smell, I would shy away from giving strong-smelling blooms.
Flower challenge: I dare you not to swoon over the scented geranium
However, I have yet to meet someone who finds the smell of scented geranium offensive. It is heaven. Truly. I dare you to not like the scent of it. It's that good! And one day when I have my own garden you better believe that scented geranium will be in it. There are multiple varieties of scented geranium, and I'll take at least one of each, please!
Another greenery that I would love to have in my garden one day is the other greenery in this arrangement, Snow on the Mountain. This variegated beauty is so full and lush.! Although, I must admit that it's not an element that I am normally drawn to. But they really spoke to me at the market. They were so full and lush, and I just couldn't resist. Perhaps you already have it growing in your garden. If so I am jealous! This one is a keeper. Because it was so healthy and full I didn't need that many stems to complement the scented geranium for the base of my arrangement.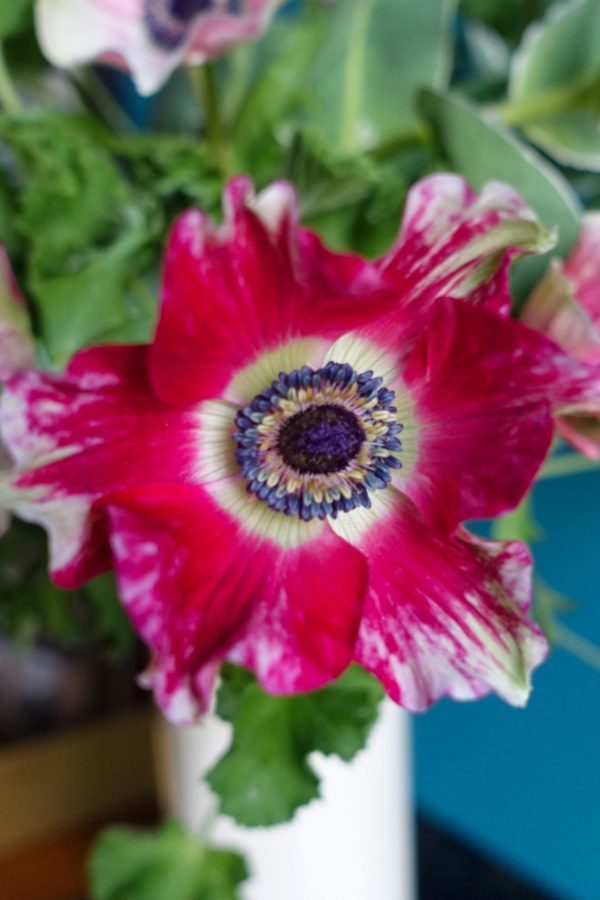 Buyers tip: always buy Anemones that are closed! This easy garden flower arrangement will last longer!
Let's move on to the show stopper for this arrangement. Anemones! Hard to spell, and at first hard to pronounce. But once you've become familiar with this little flower you will never be the same. They are so stunning with the bold colors and those striking dark centers. I wish that I had some in my apartment right now! They are, as my grandpa would say, easy on the eyes. But a word of caution on anemones, don't ever purchase them fully open.
Why? Because their petals are so delicate and can bruise easily, and even just a trip back from the farmers market or from the store can cause a bit of damage to those delicate little blooms. And once they are fully open you only have a few days of a strong showing! Personally, I really enjoy watching the process of flowers opening. It is so fun and inspiring to watch. I equally love watching high-quality flowers fade. So much drama, and beauty in the slow fade.
So next time you are perusing your garden or the flower section at the store, and scented geranium, snow on the mountain, or anemones are available don't hesitate to grab some and try your hand at designing this easy garden flower arrangement. You will be so glad that you did!
Happy designing!
xo
Emily
PS- You may also enjoy these lovely quotes too!