Hello! I am so excited to share this project with you today! This adorable DIY flower paper garland is one of my favorite new projects. Since we have been stuck inside so much lately with the global Covid19 pandemic, I was looking for a way to bring a little bit of sunshine and joy into our small apartment in New York City. And I am quite pleased with how it turned out! Every time I look into that corner of my apartment I can't help but smile. Mission accomplished.
I am definitely not the first one to come up with the idea of a paper flower garland. But I think sometimes we just need a little reminder that something like this that is easy to make with the supplies that we have on hand. It is the perfect afternoon project.
Here are some tips that I discovered along the way making this adorable DIY flower paper garland.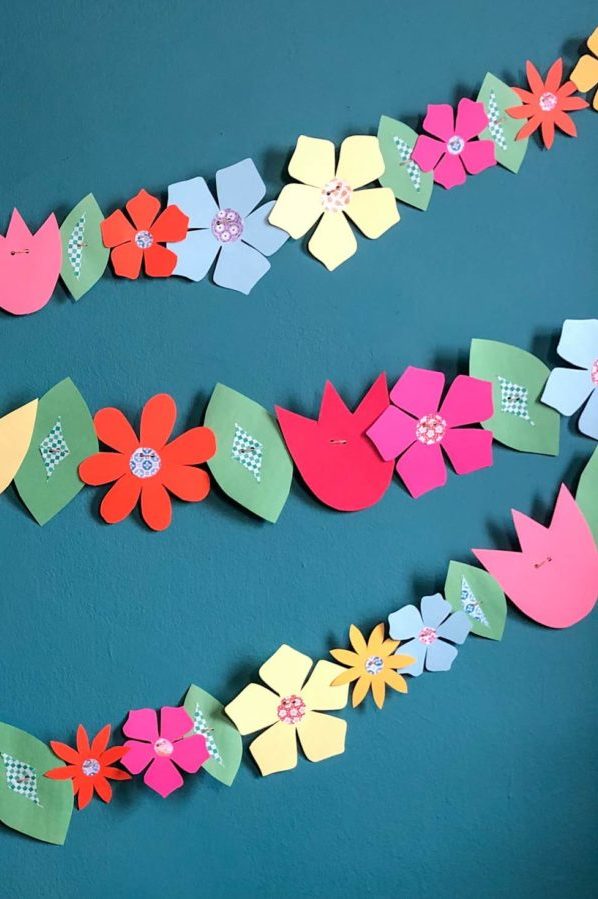 Tip#1: Decide where to hang the DIY flower garland
I knew that I wanted to hang this garland in my living room. It wasn't a hard decision, there are only so many options in a small one-bedroom apartment. Haha! After I knew where I wanted it to go, I chose colors that would go well with my living room wall color. As for my inspiration, I love Marimekko bold use of colors and flower silhouettes. 
Tip #2: Trace a bowl or plate to use as size guides 
My garland has two different sizes of flowers, large and small. But I wanted each flower template to be about the same size, so I used two different sized bowls to be my size guides. Then I drew my flowers within those circles. This helps with the overall consistency of size for your garland.
Tip #3: Punch two holes in the center of the flower
Punching the holes in the center of the flower will help to equalize the weight of the paper on the twine. And that helps your flowers to stay put. Also, make sure that your holes aren't too close together so they don't rip through the paper!
Below is my step by step guide for how I made this adorable DIY flower paper garland including a step by step video! I hope this helps in your creative process as you make your very own DIY flower paper garland!
Have fun and be creative!
xo
Emily
PS- If you liked this project, I bet you will love this one too!