Christmas in the city, New York City that is, is the most wonderful time of the year! Several years ago, it became my quest to see as many of the best Christmas trees in NYC as I could. Following this route is simply the best way to see the Lights, Windows, and of course all the Christmas trees.
This tour can be done during the day or in the evening, and there are pros and cons to both. Keep in mind the closer you get to Rockefeller Center the busier and more crowed it gets. Unless of course it's a rainy day, that will help to deter some folks.
I've outlined the tour starting at Macy's in Herald Square on 34th street, but if you happen to be closer to 59th Street & 5th Ave start the tour at Bloomingdales or Bergdorf Goodman. Either way works!
Stop #1 Best christmas trees in NYC: Macy's on 34th Street
Macy's at 34th street is so iconic and all decked out for Christmas. It's so charming, especially during the holiday so stop in a do a bit of your holiday shopping. As you can imagine, Stantaland at Macy's is full of holiday decor is a top priority for children. In fact, over 200,000 guests have visited Santa at Macy's on 34th Street almost every year since 1977!
Santaland can be found on the 8th floor at Macy's and reservations are required. But now you can now visit Santa from the comfort of your own home online from Thanksgiving Day to Christmas Eve wit Macy's virtual Santaland! Find more information about that here.
Stop #2: Bryant Park Christmas Tree
Just 7 blocks north of Macy's is Bryant Park. I LOVE Bryant Park, but especially during the Holidays. Want go ice skating while listening to Frank Sinatra? Check! Want to hit up some of the pop up Christmas Market shops? Check! Want to see a gorgeous tree? Check! They literally have it all when it comes to holiday cheer. The gorgeous tree overlooks the ice skating rink, and is one of the best trees in NYC, in my opinion.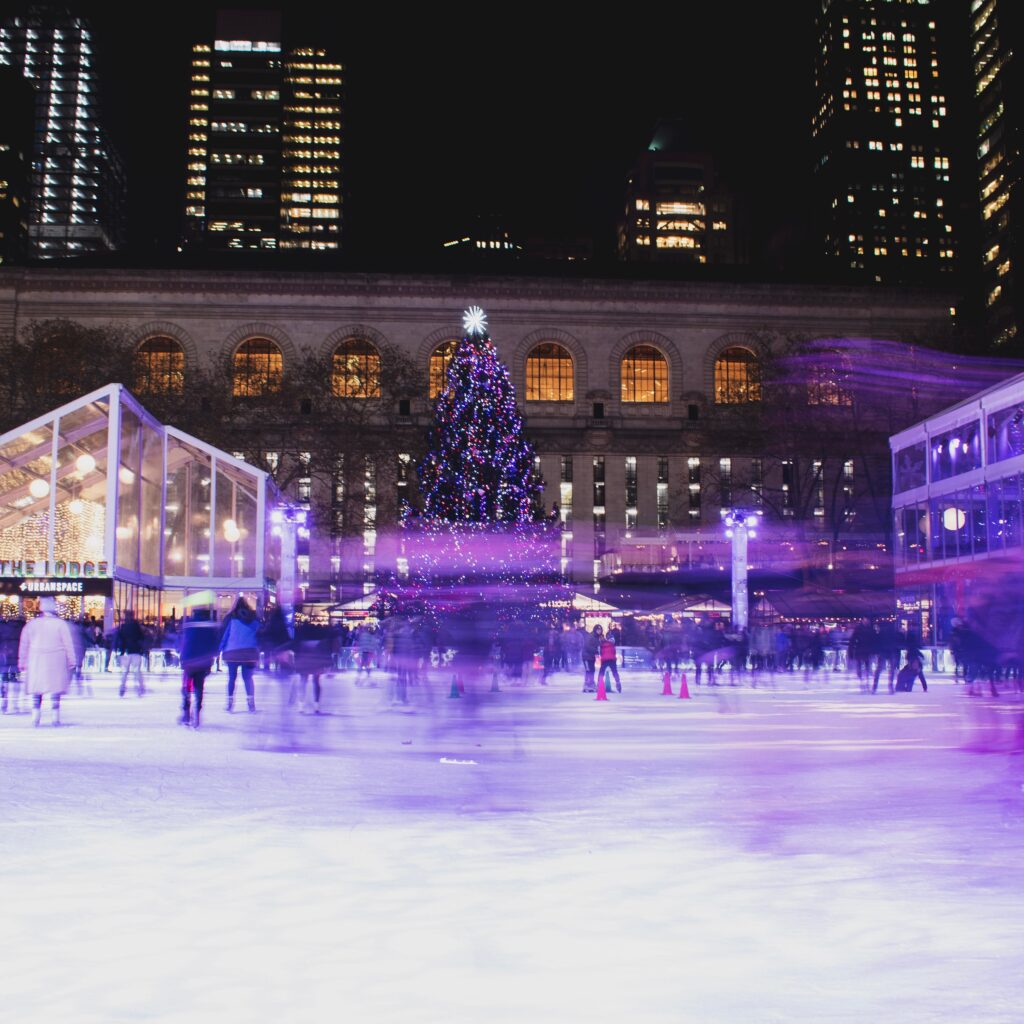 Stop #3: Just around the corner, The New York Public Library Tree
This stop is swoon worthy for many reasons. The iconic lions flanking the entrance of the New York Public Library wear wreaths during the holidays, and there is a gorgeous tree in the lobby. It is decorated with snow and birds and is absolutely gorgeous.
While you are here, you can visit the library bookstore. A few years ago we purchased one of my favorite ornaments ever at the library bookstore, the iconic lion. I love that special little ornament on my tree!
And as a bonus, go check out the stunning reading room upstairs. It is gorgeous! Just make sure to find out when the library closes, since you don't want to miss this!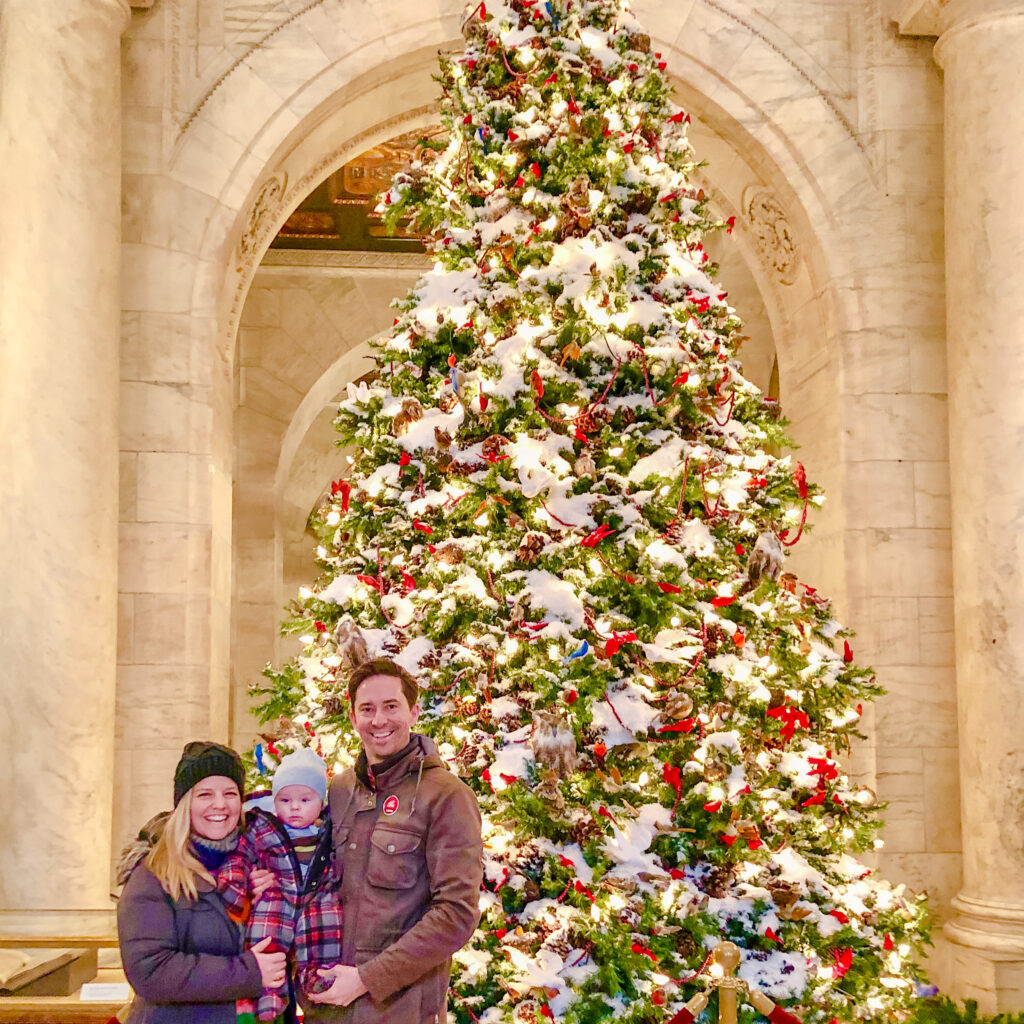 Stop #4: All Aboard, Grand Central Station!
No tree here, but gorgeous HUGE wreaths on display and plenty of holiday cheer. If you didn't grab some food at the Bryan't Park Holiday shops, Grand Central Station is the perfect spot to grab a bite to eat in the lower level food court. Or perhaps you'd like to stop at one of the restaurants or do a little Christmas shopping at one of the stores inside.
But don't forget to spend a few moments looking up and taking in the beautiful architecture and especially that stunning ceiling of this grand building!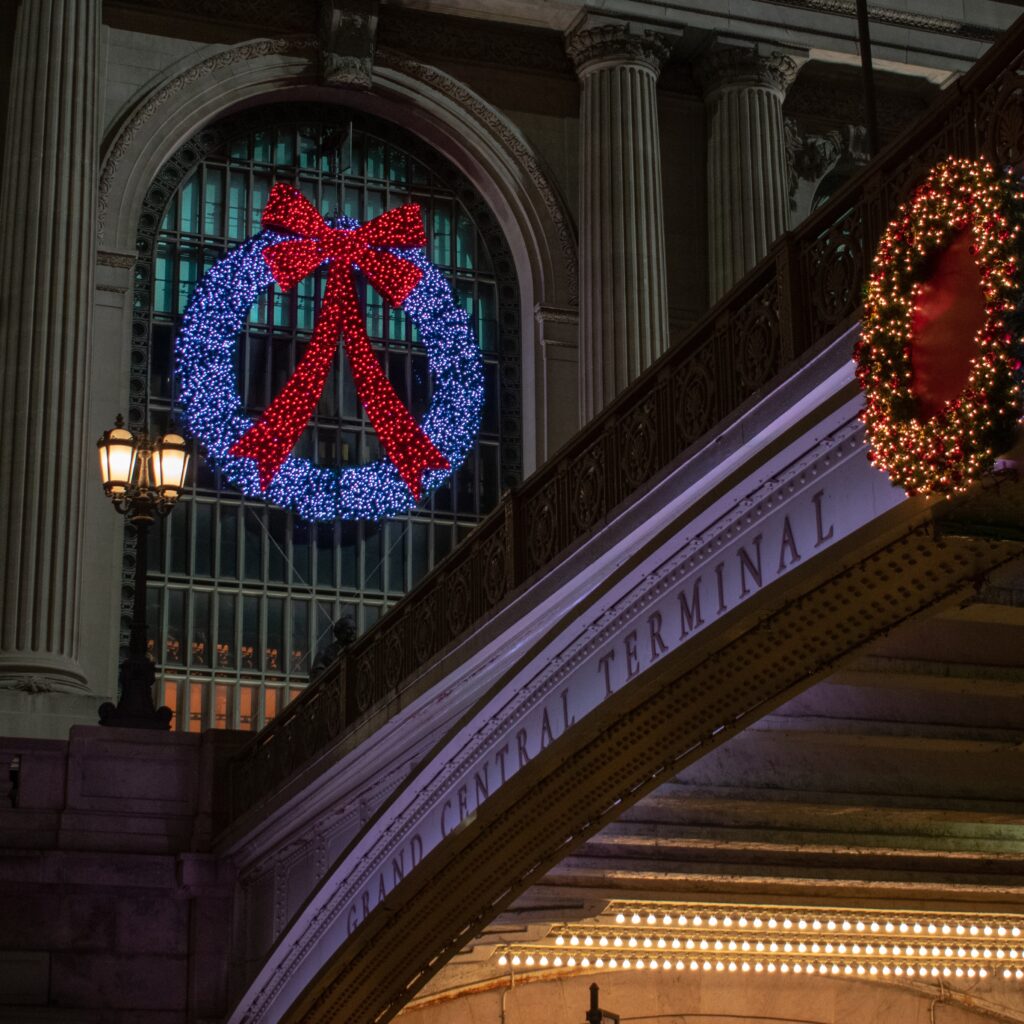 Stop #5: The best christmas tree in NYC at Rockefeller Center
It's THE TREE! The Rockefeller Tree and it's incredible to see it in person. It looks big in pictures for sure, but nothing like visiting it in person to really get the full effect and scale! The lighting ceremony for the Tree takes place the beginning of December, so if you come for in for Thanksgiving it may not be lit yet.
The one downside to the tree at Rockefeller Center? It's so busy! Like crazy busy. However, it is a must see in spite of the crowds. If you are not one for crowds, consider visiting during the off hours. One of my friends loves visiting at 5am when she has Rockefeller Center and the Rockefeller Christmas Tree all to herself!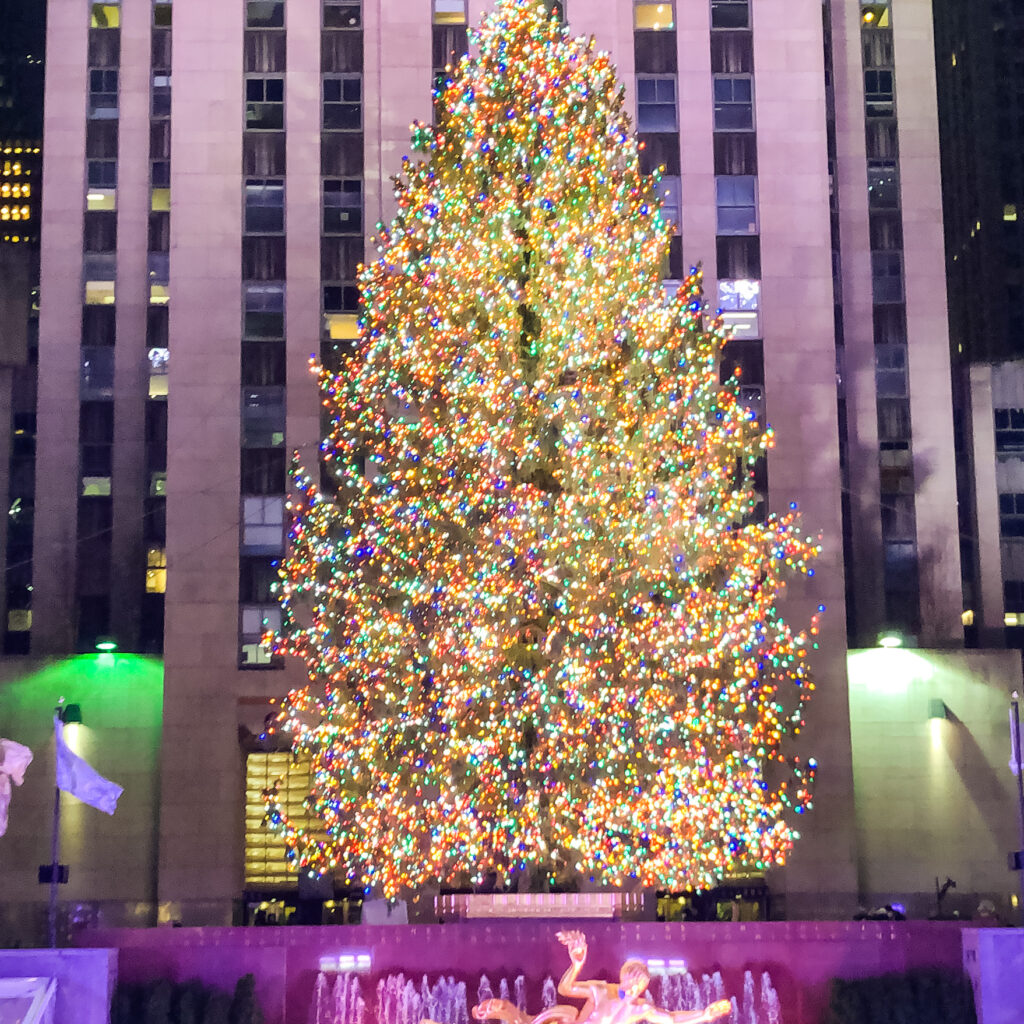 Stop 6: SAKS 5th AVE Light Show & Windows
Saks 5th Ave knows how to put on a show and give the Rockefeller Tree (right across the street!) a bit of competition! Every 15 mins you can experience the magic of holiday lights on the facade of the building choreographed to music. It's wonderful, and don't forget to check out their Holiday windows as well!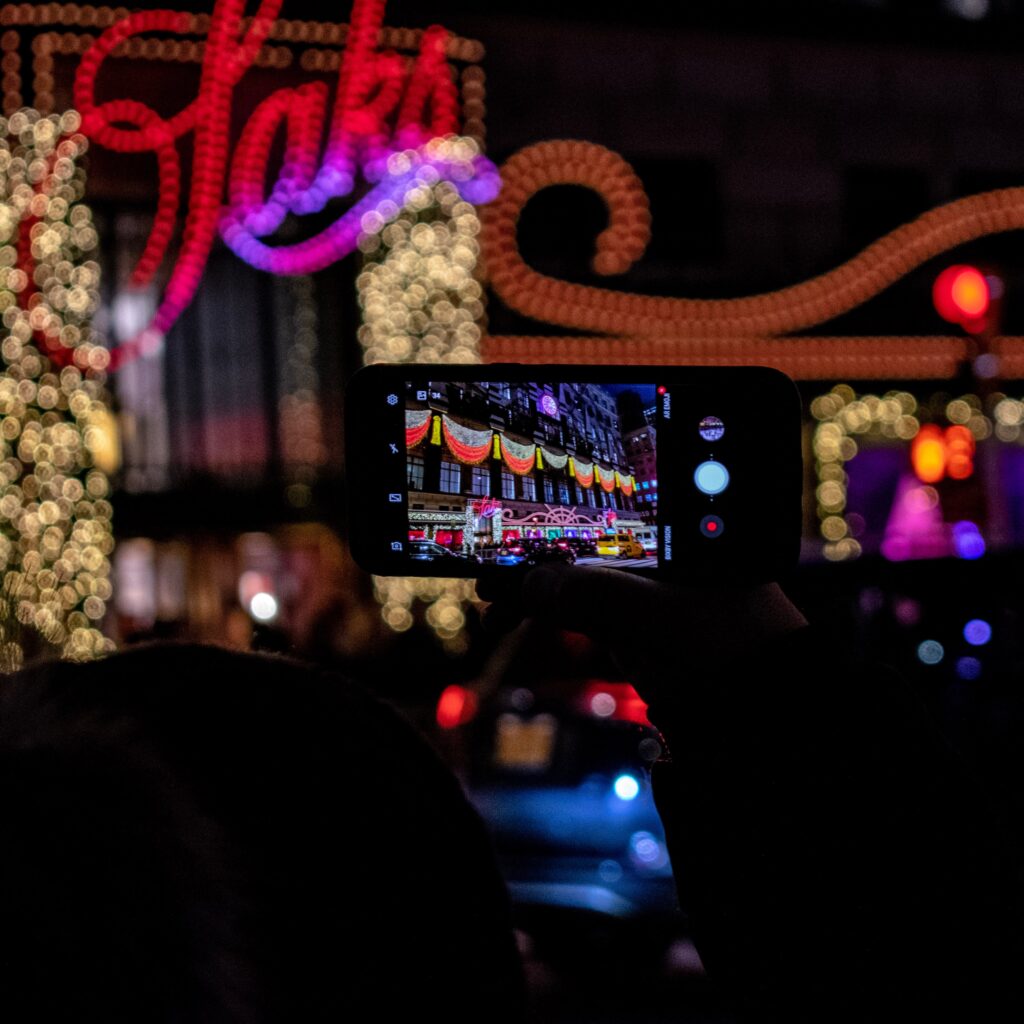 Stop #7: St Patrick's Cathedral
Duck into St Patricks for a minute to take a seat and a break from all the hustle and bustle. Depending on your timing there might be some music, a reading, or Mass to enjoy.
I love the opportunity to sit and think about the Christmas season and give my feet a break. Also, the architecture is stunning and worth the stop.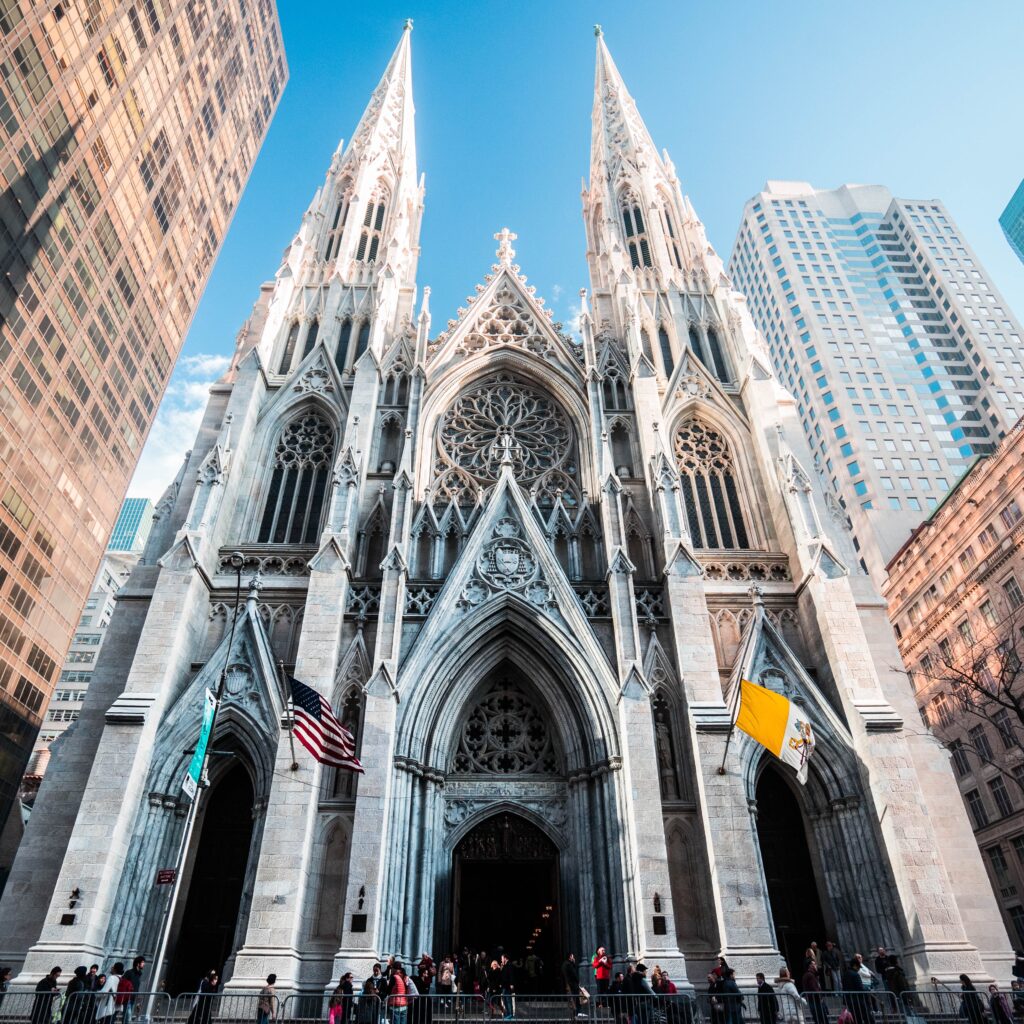 Stop #8: Lotte NY Palace, One of the Best Christmas Trees in NYC
UPDATE DECEMBER 2021: Unfortunately, this Tree will not be displayed this year due to construction and scaffolding in the courtyard and there isn't room for the tree. I am so sadden by this. Well, I guess now I have something to look forward to in December 2022.
This is the part in the tour where you detour a bit from 5th Ave, but I promise it is worth the detour. This is my very favorite tree in the city. It is stunning. Fully decked out, this tree is packed with so many ornaments and lots of ribbon. I love this tree so much. It can be found in the courtyard of the hotel.
This is truly one of the best christmas trees in NYC! To see this beautiful tree at the Lotte NY Palace, head over 1 block to Madison Ave between 50th and 51st. Not to be missed, this is my very favorite tree in NYC!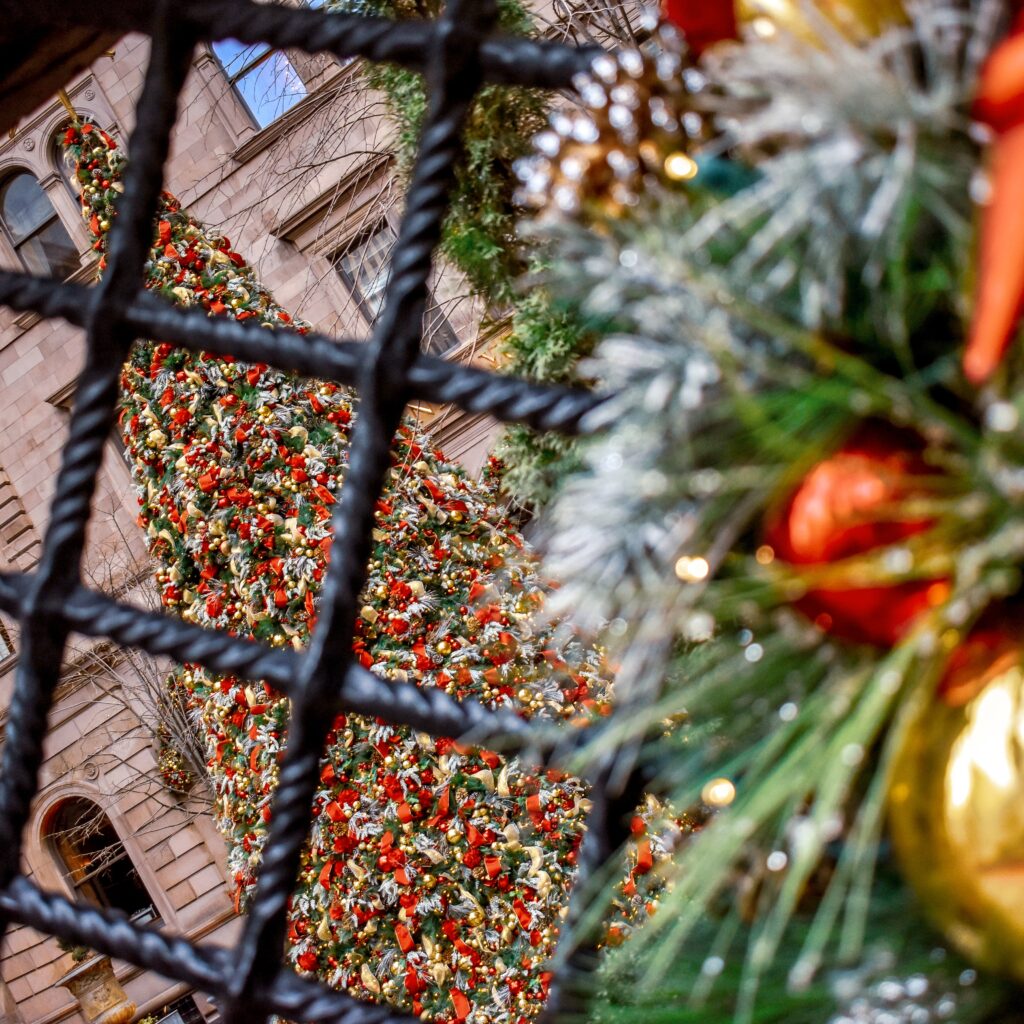 Stop #9: 5th Ave Holiday Window Displays
Then after the detour to the Lotte NY Palace tree, head back over to 5th Ave and walk north. Here you will catch all the incredible windows from Tiffany's, Bvlgari, Louis Vuitton, Cartier and more! There is nothing better than walking down 5th Ave when she is all decked out for Christmas!
Stop #10: Ending with Bergdorf Goodman Windows & One of the best Christmas Tress in NYC
These windows are incredible every year, and I can't wait to see what theme they will be doing for this year.
And if you go during business hours, please go inside and check out their decor on the first floor. The monochromatic Christmas Tree is so beautiful, and worth popping in to check out!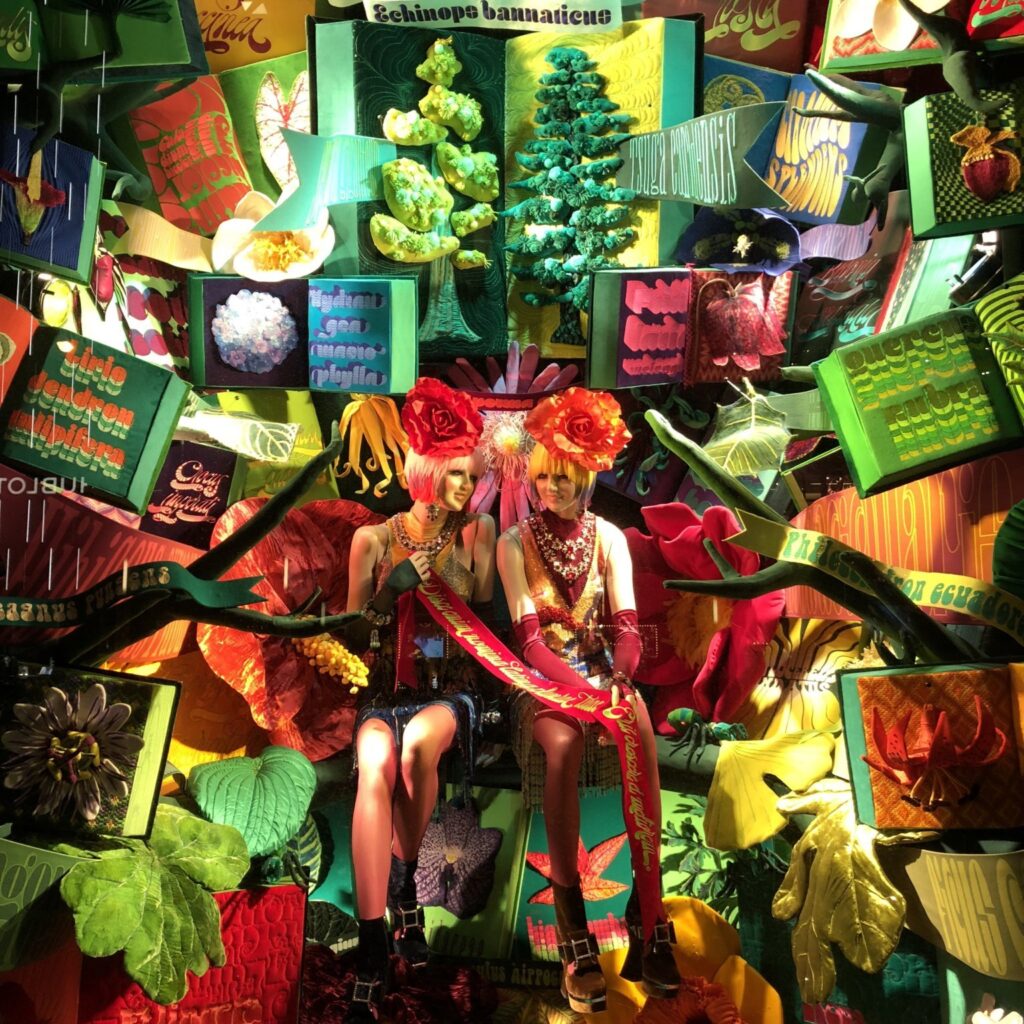 Bonus Stop: Bloomingdales Holiday Windows
If you still have a bit of walking left in you, head over a few blocks to Lexington Ave to Bloomingdales (between 59th and 60th Streets) to check out the holiday windows. It's also fun to stop in to do a bit of shopping!
This Concludes the Perfect Tree Tour
In one fell swoop you've seen the best Christmas Trees in NYC along with the best holiday store windows! This is the route my family and I go each year, and I hope that you enjoy it. Here's a link to my Perfect Tree Tour google maps with all the stops plotted out.
Merry Christmas & Happy Holidays!
xx
Emily