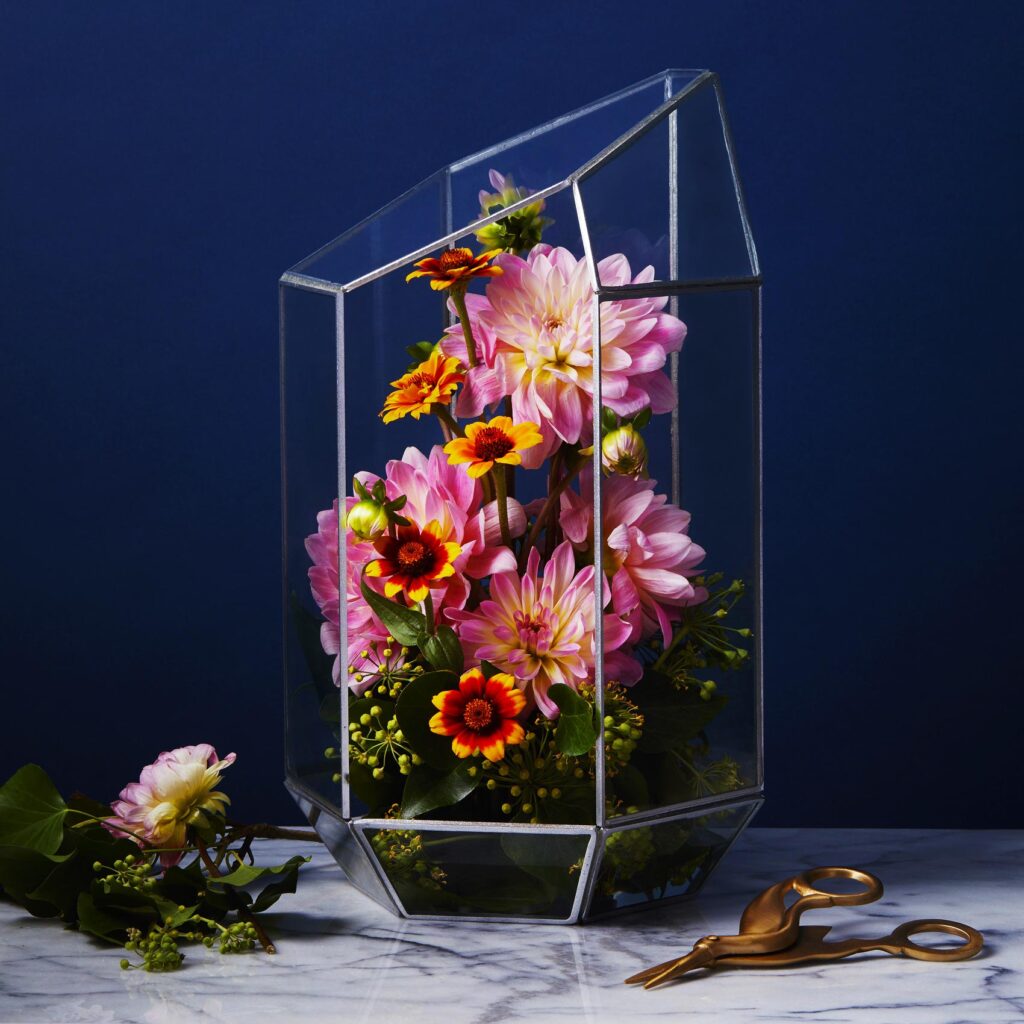 I'm a bit of a hoarder. It's true. (Don't tell my husband that I admitted to this!) Haha! But when it comes to vases. I. Just. Can't. Get. Enough.
In fact, I own so many vases that we installed a special shelf in the kitchen just for glass vases. And as it turns out, I have too many.
But, as you will learn below it is really important to choose the right vase for your flowers. And I've put together 10 tips to assist you to curate not only your very own perfect collection of vases, but you will know just what vase to use them.
TIP #1: ASESS THE HEIGHT OF THE FLOWERS
Yep. Don't even worry about the vase yet. Asses the height of the flowers before determining the perfect vase with flowers.
Are your blooms really tall? This might seem like a captain obvious, but if so you may want a taller vase.
TALL VASE WITH FLOWERS MAKES A DRAMATIC STATEMENT
Do you have some gorgeous branches to arrange in a vase? You will definitely want a tall vase for these and one that is very sturdy/heavy.
Adding enough water to the vase will assist in making the vase not top heavy, but the last thing you want is for the dramatic moment to be when your vase tipped over with water all over the floor. Don't let a wobbly vase steal the show from the real star, the flowers.
Tall Vases with Flowers are perfect for entry ways, focal points, fireplaces, ect.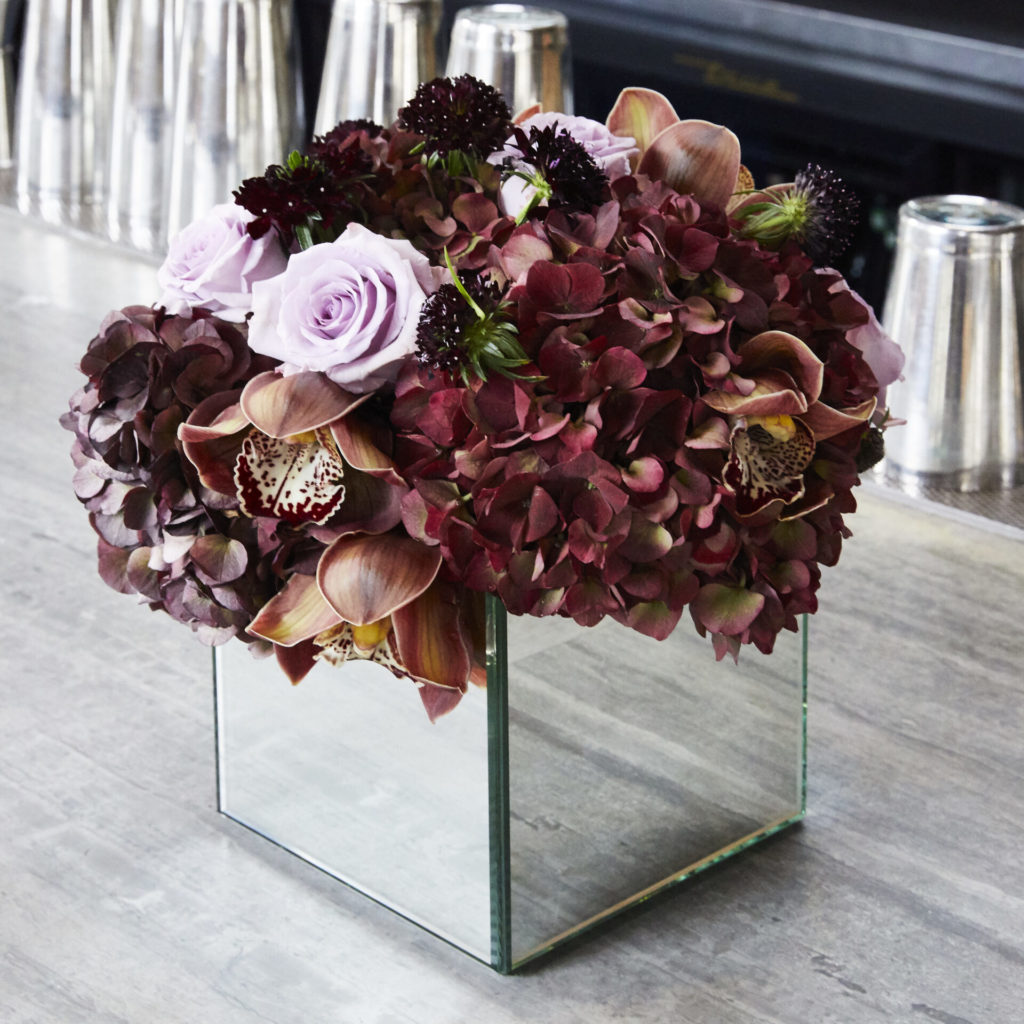 SHORT VASE WITH FLOWERS IS SO VERSITILE
Perhaps you picked up some gorgeous blooms from your local farmers market and they are a bit shorter stems. A shorter vase is perfect in this scenario.
Short vases with flowers are so versitile. They can be shared on a dinning table, coffee table, side table, ect. Any place you may like to brighten up a space.
TIP #2: ASSES THE QUANTITY OF FLOWERS:
WIDE OPENING VASE FOR FLOWERS
If you found a great deal on peonies at your local Trader Joes and bought a few bunches, you will more than likely need a wider opening on your vase to accommodate all the flowers you purchased.
NARROW OPENING VASE FOR FLOWERS
However, if you are on a budget and purchased just a couple of stems, a narrower opening on your vase will be better suited.
BUD VASE FOR FLOWERS
The larger the opening, the more quantity of flowers you will need to fill it. However, if you cut a single bloom from your garden, a sweet little bud vase will do quite nicely here.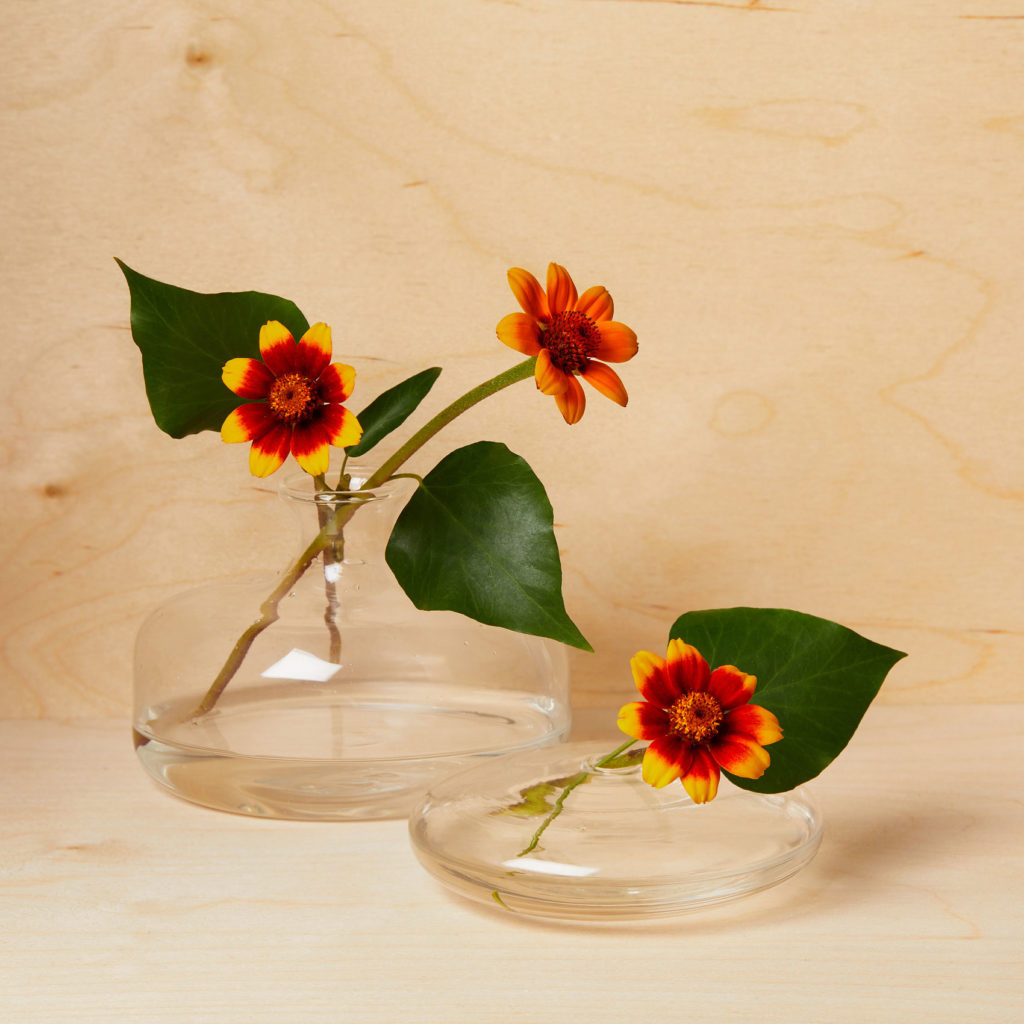 TIP #3: HOW TO PICK THE RIGHT STYLE OF VASE FOR FLOWERS
This is the part that gets really fun. And honestly, you don't need to overthink it. If you find a vase that brings you joy and makes you happy, snag it for your collection!
There ins't anything better than putting beautiful flowers in a pretty vase! And it gives the composition even more personality.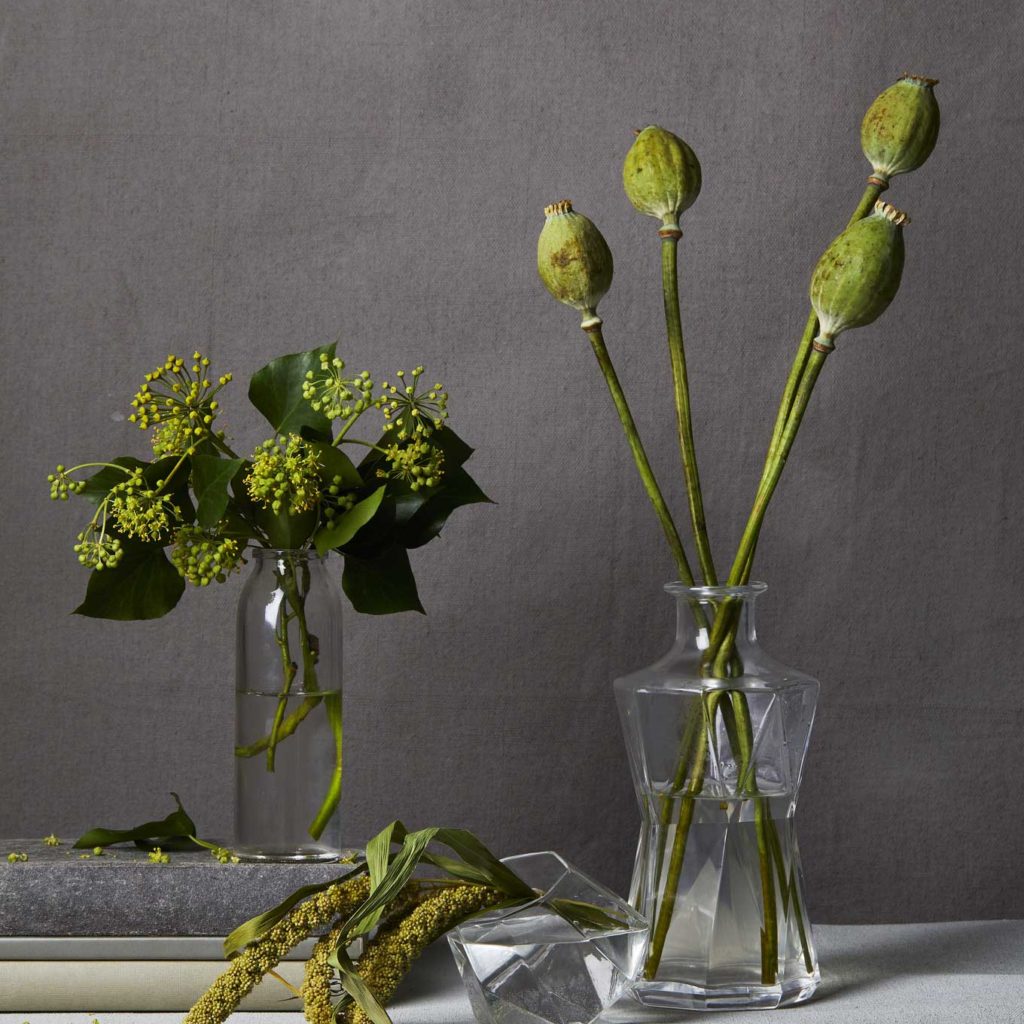 GLASS VASES FOR FLOWERS
Honestly, using glass vases is so chic and timeless. And there are a couple of advantages to using a glass vase.
ADVANTAGE #1: EVERYONE HAS A GLASS VASE!
It's true. Everyone has one from a previous floral arrangement. But even if you don't in a pinch you could use a drinking glass and tahdah! Glass vase for flowers!
ADVANTAGE #2: YOU CAN SEE THE STEMS IN WATER
This is especially helpful to make sure that all of the stems are fully submerged in the water. And if not, its time to fill up that vase! You will be surprised at how quickly those blooms drink water! Keep them hydrated and happy with an easy to see glass vase.
ADVANTAGE #3: EASY TO CLEAN & REUSE
One of my favorite tips to share on how to take care of flower bouquets, is to keep the vase so clean you would want to drink out of it.
Flowers love clean vases and clean water. Dirty water breeds bacteria faster, and bacteria kills flower stems more quickly. So keep your vases clean and your flowers happy and long lasting!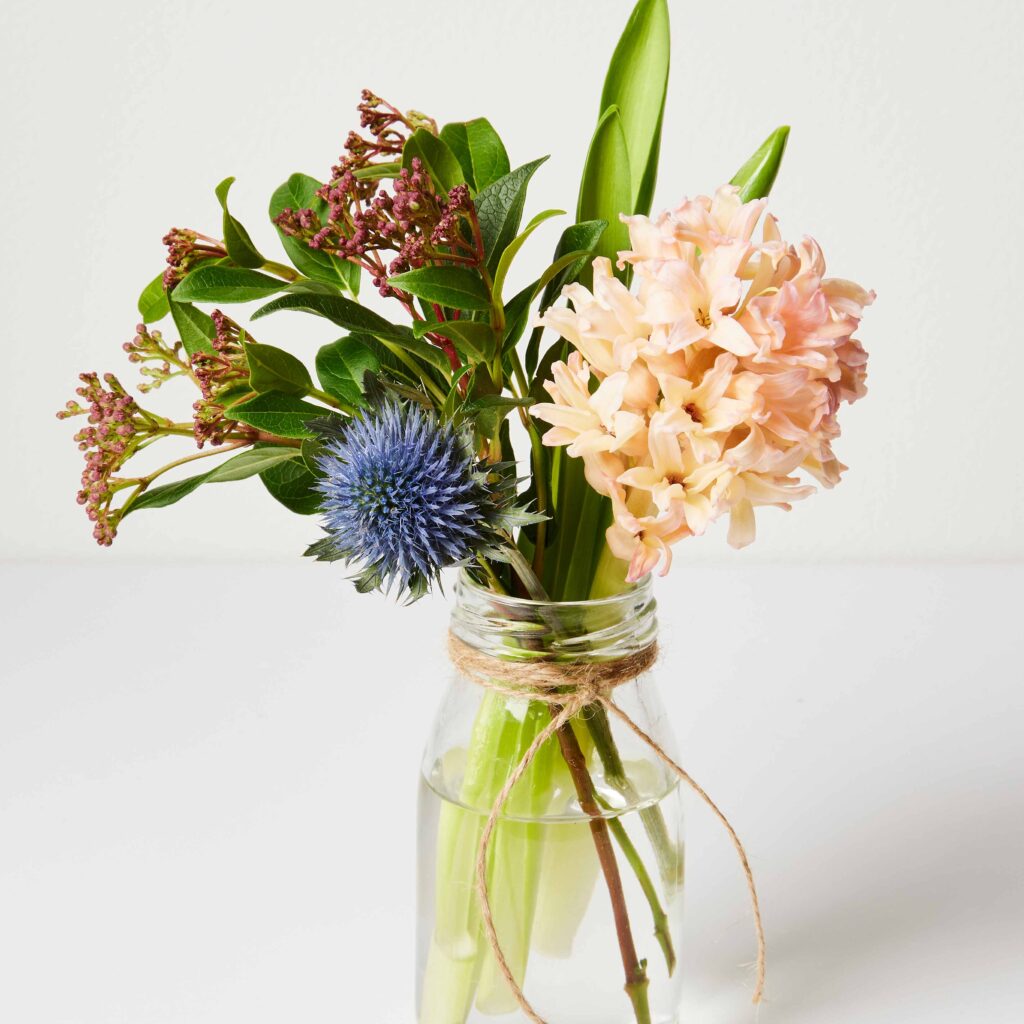 OPAQUE VASES FOR FLOWERS
I really enjoy using opaque vases. Ceramic, wood, colored glass, or brass vases are all examples of vase that you can use for opaque vases.
There are two main advantages to using an opaque vases:
ADVANTAGE #1: HEALTH OF THE FLOWERS
Keeping your flowers healthy! Less sunlight on the water helps to keep pesky bacteria away! Bacteria will not grow as fast.
ADVANTAGE #2: EASY ON THE EYES
Visually pleasing. Sometimes when you can see the stems in a clear glass vase the composition can seem too busy.
Arranging flowers in an opaque vase is easy on the eyes, as you cannot see the stems. Your eye can focus on the blooms and the pretty vase. Sigh….
CUSTOM VASES FOR FLOWERS
Thrifting for vases! Honestly, I'm not much of a thrifter. Going thrift shopping stresses me out. How tdo I know what to look for? But I have found my thrifting super power…. looking for art and vases.
This is when thrifting gets fun for me. I love looking for unique shapes and styles in vases. Especially vintage. Tuck this idea away, and when you find yourself thrifting look for some unique vases for your weekly flowers.
BUD VASES FOR FLOWERS
Little but mighty. Bud vases with a single stem can really pack a punch. I love this vase with a single stem of peonies. Simply stunning.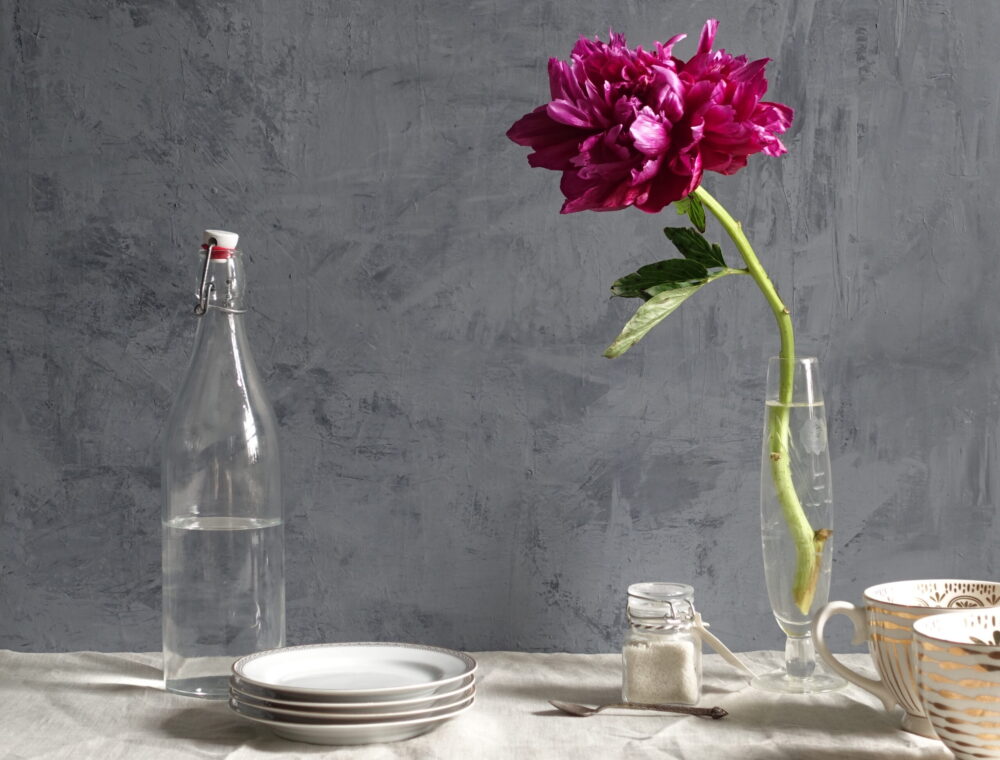 TIP #4: MAKE SURE YOUR VASE IS WATER TIGHT
This may seem a little captain obvious, but no matter how pretty the vase is if it doesn't hold the water it isn't a great choice.
I recently designed a beautiful custom flower arrangement for a birthday. It was a surprise from a husband for his wife.
But what surprised both of us, is that the vase leaked water. I had chosen a unique vase that had a liner that was suposeidely water tight. But it wasn't. Luckily, I was able to quickly switch out the vase.
If I had tested the vase & liner prior to arranging the vase, I would have avoided this issue altogether. The lesson here: never assume a vase is water tight without testing it yourself first.
TIP #5: CONSIDER THE COLOR STORY FOR THE VASE
Colors & color theory are so fun to play with. The color of your vase can really help to bring out the color story in your flowers.
Here is a quick recap of a couple good color stories to start with:
Monochromatic Color Design
Pick a color of vase that the same color in the flowers you have chosen. All variations of one color!
For example placing lush white hydrangea into a white/cream ceramic vase.
Complimentary Color Design
Two colors on opposite sides of the color wheel.
Chose a vase that is a complimentary color to the flowers you have chosen at the farmers market.
Analogous Color Design
Focus on three colors, both with the vase and the flowers, that are right next to each other on the color wheel.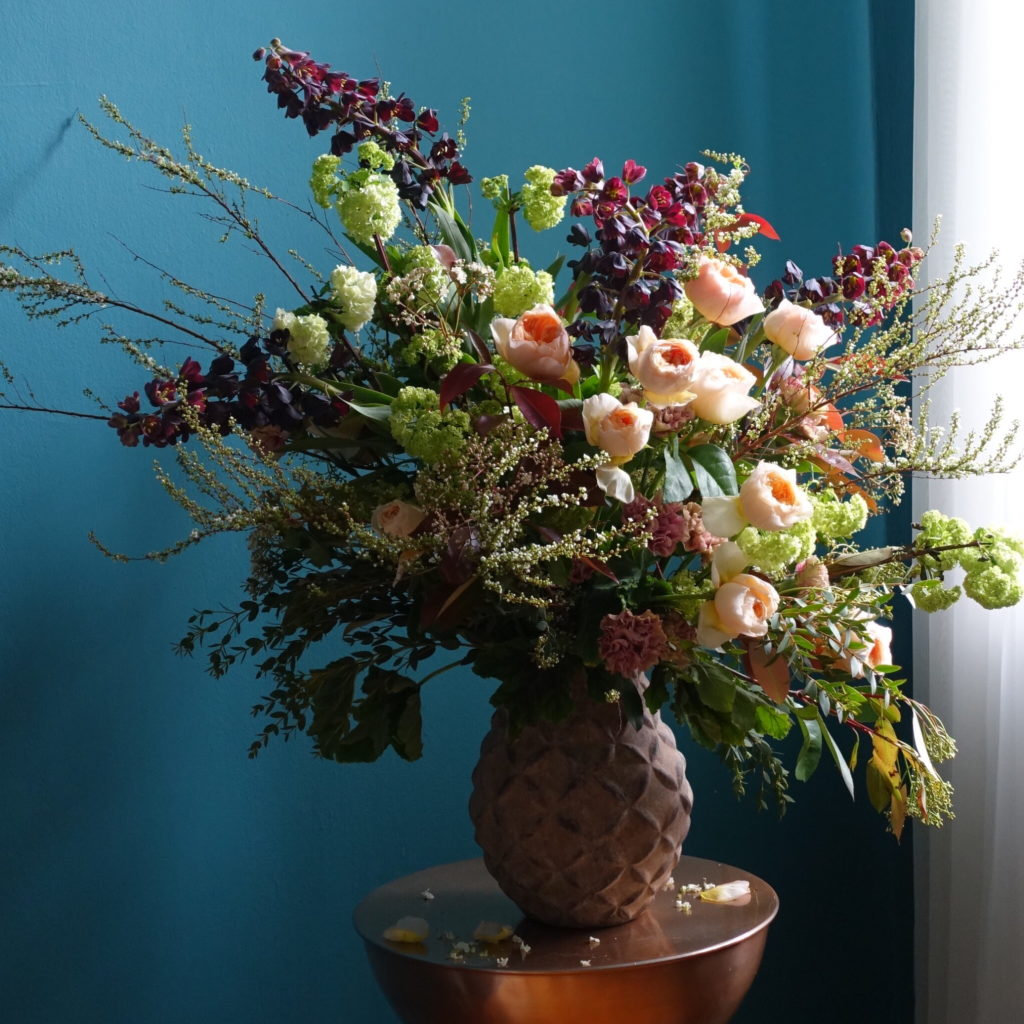 TIP #6: CONSIDER THE LOCATION OF THE VASE WITH FLOWERS
Where are you going to put your vase with flowers once you've arranged them in a vase?
I worked with a very talented floral designer on the Upper East Side of New York City. And anytime we were creating arrangements for dinner parties, she would put her elbow on the table.
If the flowers were above her clinched fist, the flowers were too tall. We had to rework the design. She always wanted her clients to be able to easy see their dinner party guests across the table. The vases in these cases needed to be short.
If you are designing a piece for a fireplace or a entry way, then perhaps you may want something a bit more tall and grand, and therefore need a taller vase.
Or if its going on a side table or bathroom, perhaps it's a sweet bud vase with just a few blooms. Location matters!
WHERE TO FIND AMAZING VASES
My advice: hoard a unique collection of vases. You don't need a ton of vases (like me!) But having a nice variety of vases that speak to you elevates your flowers immediately.
Some of my favorite places to look for vases are: TJ Maxx, Anthropologie, thrift stores, Crate & Barrel & CB2, Amazon, and sometimes the Dollar Tree even has great finds! You never know when you will find a great vase, so you better be on the lookout all the time just in case!
Here are my suggestions for the perfect vases, see if any speak to you!
TIP #7: MY FAVORITE GLASS VASES
PERFECT ROUND GLASS VASE FOR FLOWERS
I love that the size of this vase. It's the perfect size. Not too big, and not too small. Perfect for floating flowers, candles, or an arrangement.
So versitile and since it is sold in a pair, keep one for you and gift one fully loaded with blooms for a friend.
PERFECT SQUARE GLASS VASE FOR FLOWERS
This is the perfect sized glass vase but square! These are perfect for a little bunch of blooms for the side table or coffee table. Or they can really be lush and full and work as the perfect centerpiece.
TALL GLASS VASE FOR FLORAL DESIGN
The easiest way to create drama with some blooms is to go vertical. And this tall glass vase is a timeless beauty. You can't go wrong with this one in your collection of vases.
TALL ROUND VASE FOR FLOWER ARRANGEMENTS
Again here is her cousin but in a round shape.
Is a round or a square vase for flowers better? No, the round or square shape of the vase doesn't really affect the design. Just a matter of visual personal preference. Pick which one speaks to you. Or just get both for your collection1
LONG RECTANGULAR GLASS VASE PERFECT FOR DINNER PARTY CENTERPIECES!
This vase is truly one of my very favorite vases. It's so chic. And flowers just look great in it! Get this vase, & you can thank me later!
TIP #8: MY FAVORITE CERAMIC VASES
STATEMENT VASE FOR GORGEOUS FLOWER BLOOMS & BRANCHES
This piece is so great, love the texture and the while color. Such a great vase for so many flower scenarios. Find this vase here.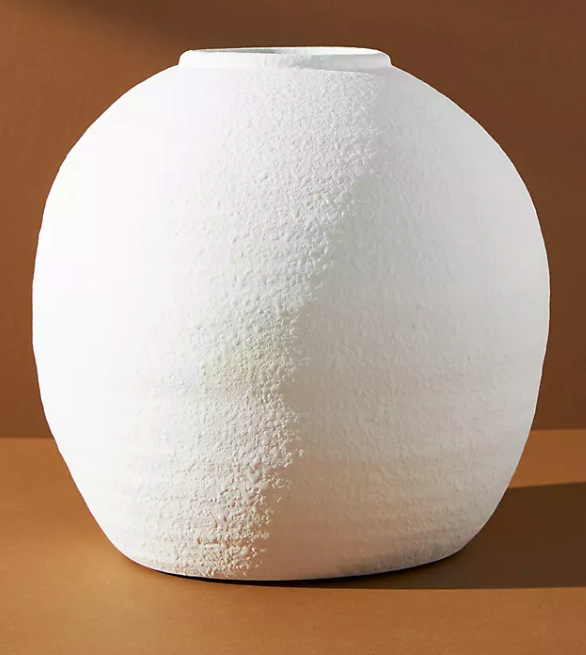 TIP#9: MY FAVORITE BUD VASES
FAVORITE GLASS BUD VASE FOR BLOOMS
I love this sweet little Joyce Bud Vase from CB2. Just a single flower stem or greenery looks amazing in it. And so affordable!
Having one sitting on my nightstand with a little bloom just feels like a proper way of self care, and makes my bedroom feel fancy. Love that!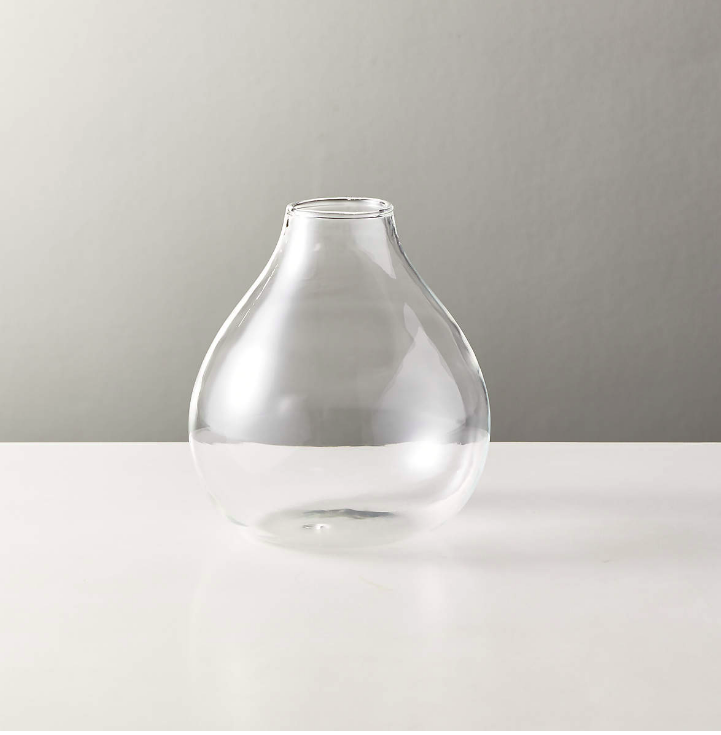 PERFECT CERAMIC BUD VASE FOR FLOWERS
It may seem counter intuitive, but the best way to make a few flower stems feel like a lot more is to place them in several bud vases.
Together, they can be scattered down the center of the table to make it feel more like a centerpiece and less like a tiny bunch of flowers.
UNIQUE BUD VASE FOR FLOWERS
Love this collection of unique shaped bud vases.
Use them together, or scatter them around your home. I love placing a small vase in bathroom, side tables, and small shelves. Pretty much anywhere that could use some pretty blooms.
TIP #10: MY FAVORITE UNIQUE VASES:
BRASS CONTAINERS FOR FLOWERS
I've gotten so many great brass vessels from all over, but my favorite place to look is Vintage Brass Revival. One of my favorite shops on Etsy. She has a great eye, and finds amazing pieces. Check out her site here.
SILVER VASES FOR FLOWERS
My favorite silver "vase" for designing flowers in, isn't actually a vase at all. It's a vintage water pitcher. I love it. It immediately elevates everything it holds.
But when I came across this incredible show stopper of a vase, I knew that I need to add this vase to my collection as well. CB2 curates vases so well, so go check out all the great options!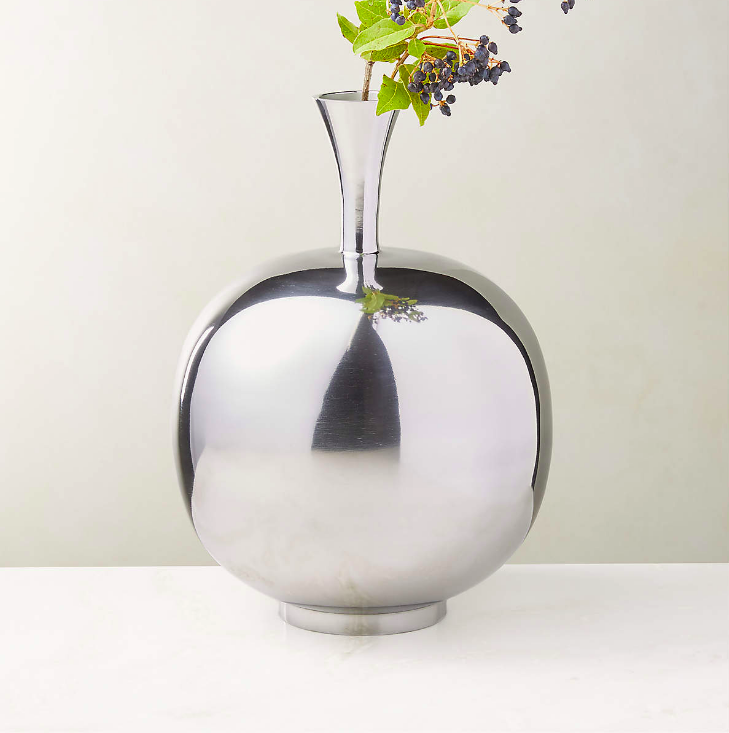 This is one of my favorite unique vases. Love to add something completely unexpected to help show off the flowers! Find this vase here.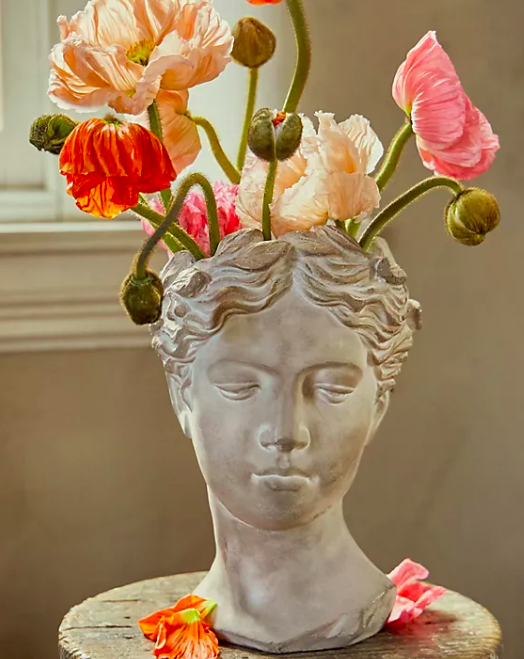 Confession: My vase collection is so large that as I mentioned above my husband hung a special shelf in our kitchen to enable my addiction, haha. But the other day, it came crashing down and I lost so many of my favorite vases.
I'm sure that it had nothing to do with my hoarding tendencies (wink, wink), and more to do with the fact that I live in a pre-war building in Manhattan that doesn't have any studs in the walls to secure a giant shelf full of glass and ceramic vases.
Oh well! I guess I will have to start collecting some more! Lol!
Enjoy finding the perfect vases for your collection. Have fun finding and hoarding your own personal vase collection.
Happy designing!
xo,
Emily