Truly one of the very best Botanical Gardens on the East Coast, Longwood Gardens is worth your time and effort to go. A dear friend of mine has been telling me for years to go, and that I would love it.
And he was right. It is stunning. I'm predisposed to love any botanical garden, it's in my DNA. But I'm telling you, if you have not been to this garden put it on your short list.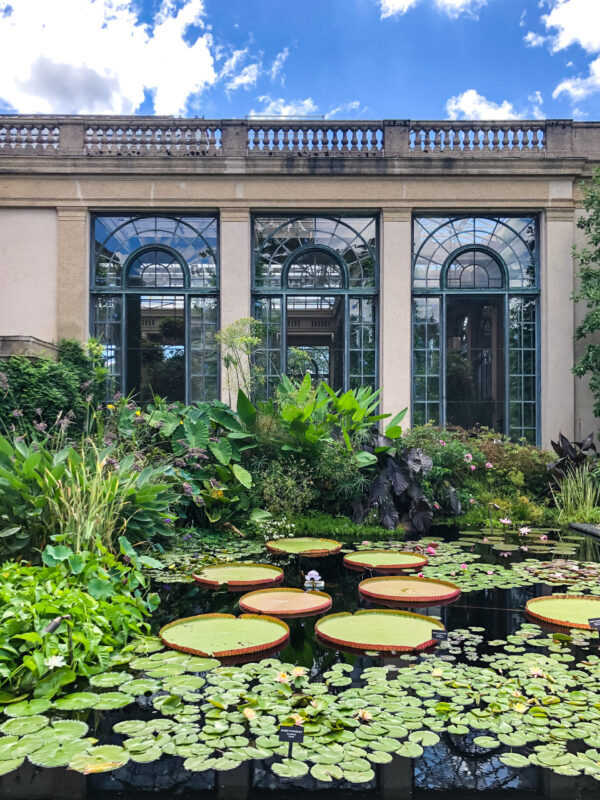 LOCATION OF LONGWOOD GARDENS
Longwood Gardens is located in Kennett Square Pennsylvania. It is about 45 mins outside of Phillidelphia and about 2.5 hours from New York City & Washington DC.
The perfect east coast spot for a quick weekend trip. Spend the day at the Gardens, and finish up your road trip in Phillidelphia with a cheese steak a bit of history.
SPENDING THE DAY AT LONGWOOD GARDENS
This garden is huge, which is lovely on a busy day. If you have little kids I would highly recommend a stroller for little legs since it is so expansive.
They have food on site to purchase, which is pretty tasty. But if you'd like to avoid the price of on site food and beverage you are allowed to bring in your own food to picnic. Which is another lovely option.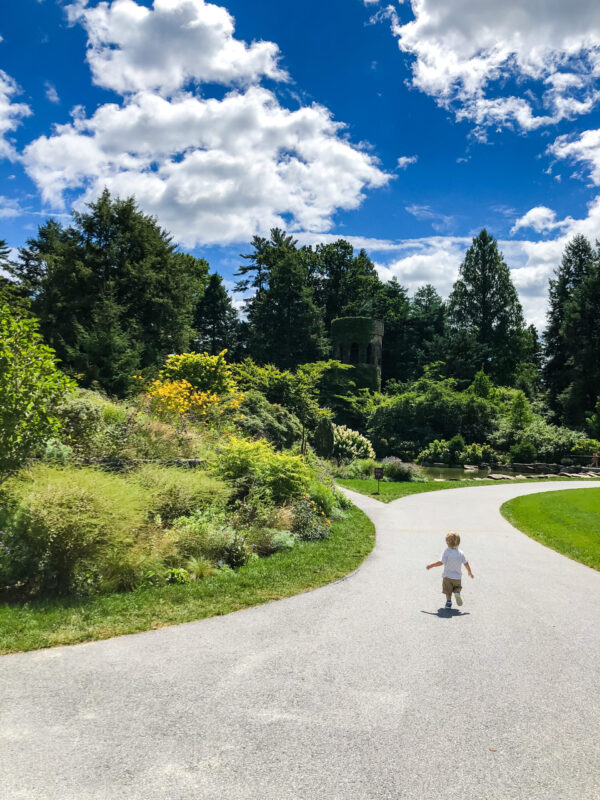 VISITING LONGWOOD GARDENS IN THE SUMMER
Our visit during the summertime was lovely. Unfortunately, I wish we had more time to explore all that Longwood offers. Not enough time to see and do everything.
Next time I'll allow for the entire day. But this was a wonderful place for my very active little toddler to run all over the place. He loved exploring the gardens, the conservatory, and the fountains.
The best part of taking my littles to botanical gardens is starting their flower/botanical garden appreciation young. It's never too early to instill a love of nature and this beautiful world. And since we live in the city, parks and gardens are a special oasis to us.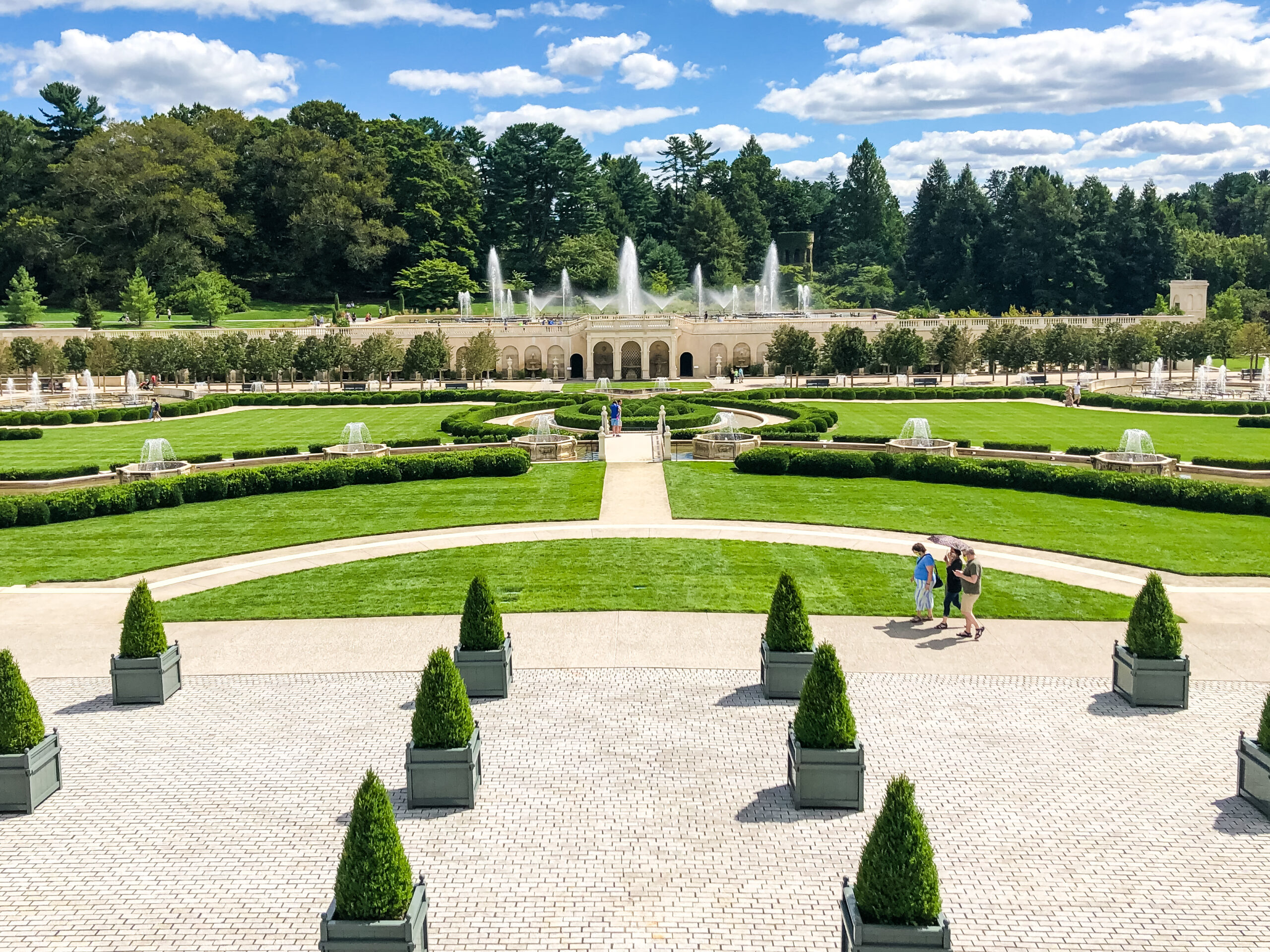 THE FOUNTAIN SHOWS
The fountain garden was stunning. Perfectly manicured lawns and bushes, and and stately fountains. These fountains have a special feature that is exhibited several times per day, a coreographed water show set to music.
A word of advice, when you arrive check to see when the water shows will be next and plan your route accordingly. When we visited they were only showing twice a day. They are stunning, you won't want to miss.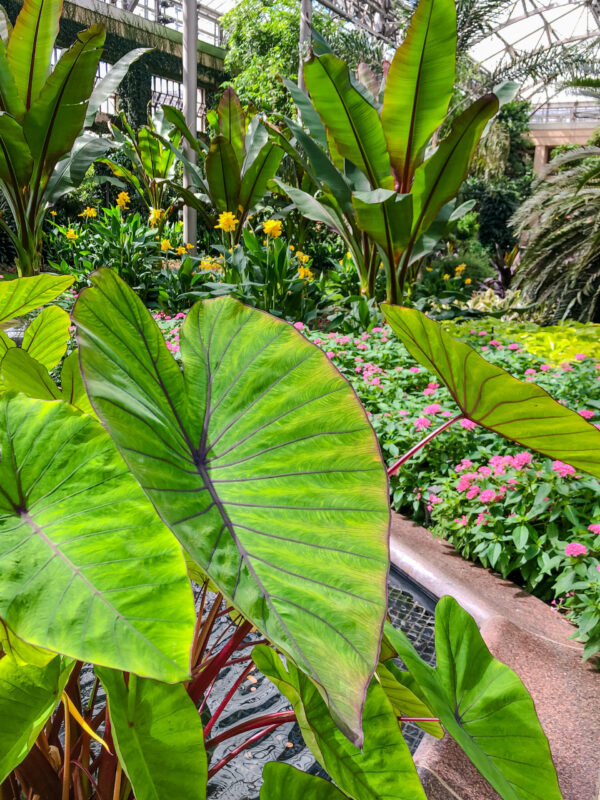 THE CONSERVATORY GARDENS
The conservatory gardens at Longwood Gardens is breathtaking. The buildings themselves are incredible, and the gardens are stunning. One of my favorite parts of Longwood.
Beautiful rooms overflowing with tropical leaves are a slice of paradise. But one of my favorite rooms and gardens is the cactus room. It is incredibly easy on the eyes. The soft silvery green of the cactus is perfection.
I love the variety of the gardens inside, and they are designed beautifully and immaculately cared for. It is a lovely place to be and helps visitors to appreciate all the different varieties of plants and flowers.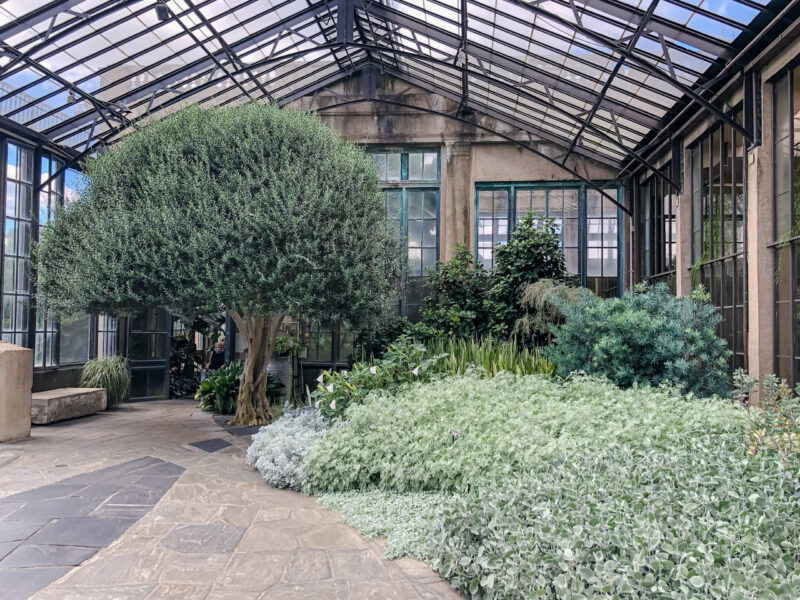 ADMISSION TO LONGWOOD GARDENS
General Admission pricing is $25 per person (Holiday Light shows are more, $35) Seniors and students are $22, youth ages 5 to 18 are $13, and children under 4 are free. Parking is free.
It's best to allow for a visit of 3.5 to 4 hours. But if you are trying to see everything your visit may be longer. Next time I visit, I will plan for the entire day, and stay as long as we wish.
Make sure to wear comfortable walking shoes. The gardens are large, and you will do a lot of walking as you explore the gardens. Bring sunscreen as many of the gardens are in full sun, and bug spray would be great to have as well. Longwood suggests to check for ticks afterwards as a precaution.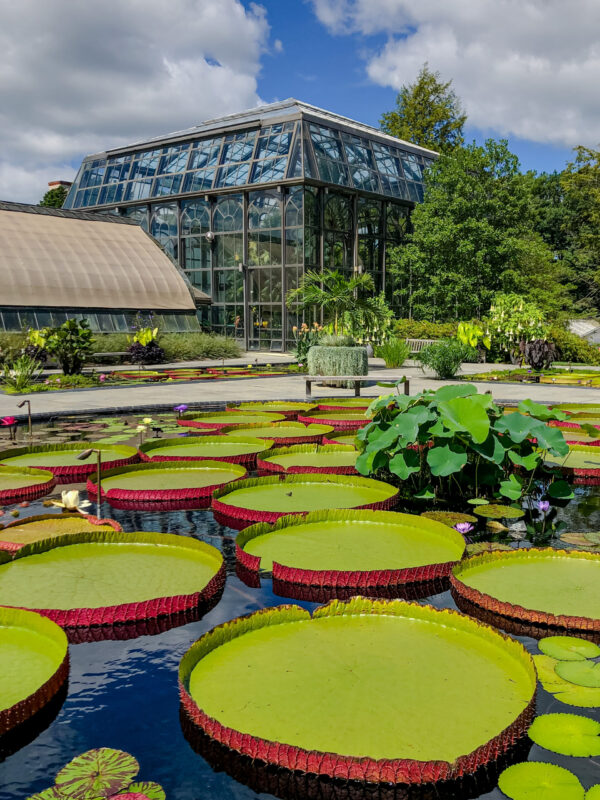 EVENTS & PERFORMANCES AT LONGWOOD GARDENS
Looking into all of the events, classes, and lectures at Longwood Gardens I wish I lived closer to take advantage of all of these incredible events. Such a wide variety of events from music to events and also some content geared towards families and kids.
CLASSES & WORKSHOPS
Longwood has an amazing line up for continuing education. Learn more about landscape design, floral design, bees, plantology, landscape design, plant design, bonsai tree basics, and more.
Loving the variety of the classes and workshops that Longwood Gardens provides. Some are online, like the floral design basics, and some are fully in person.
MUSIC, PERFORMANCES, & THEATER
Music events at Longwood Gardens are varied. They have a summer concert series, a Longwood Organ series, and a bell carillon series. Music set in beautiful gardens and gorgeous buildings? Sign me up!
DISPLAYS & EXHIBITIONS
Art paired with plants and flowers is one of my favorite combinations. And they have some great exhibits on their calendar.
I've got my heart set on going at Christmas time. I've heard the lights in the gardens are epic. I can't wait to experience with my family.
FAMILY & KIDS
They have some great programming for families and kids. Some of the classes are: sketching in the gardens, fundamentals of drawing, & photography. These would be great, especially for kids from ages 10 to 17.
For more information on their programming, please check here for more details.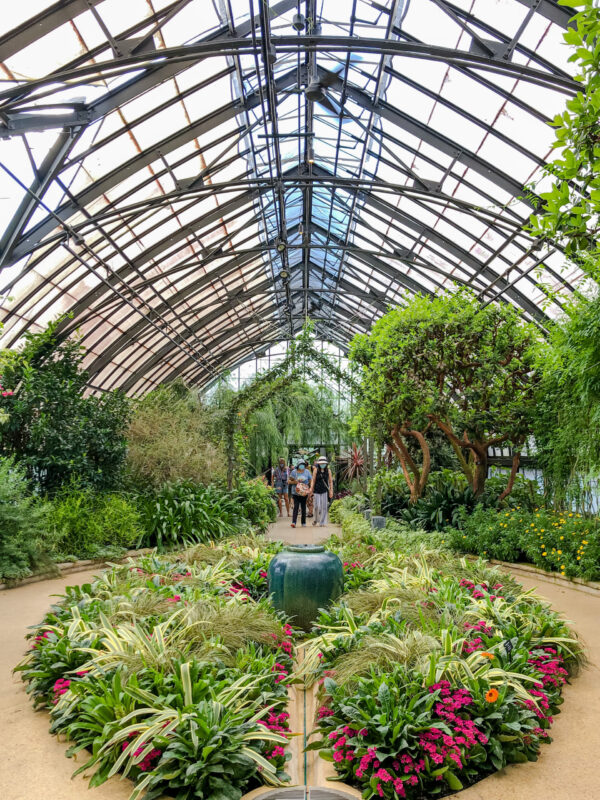 Longwood Gardens is truly the best botanical garden on the east coast. Delightful to visit, and I cant wait to return.
Cheers to beautiful gardens!
xo
Emily
PS- For a list of the Top 10 Botanical Gardens on the East Coast click here
You need to add a widget, row, or prebuilt layout before you'll see anything here. 🙂