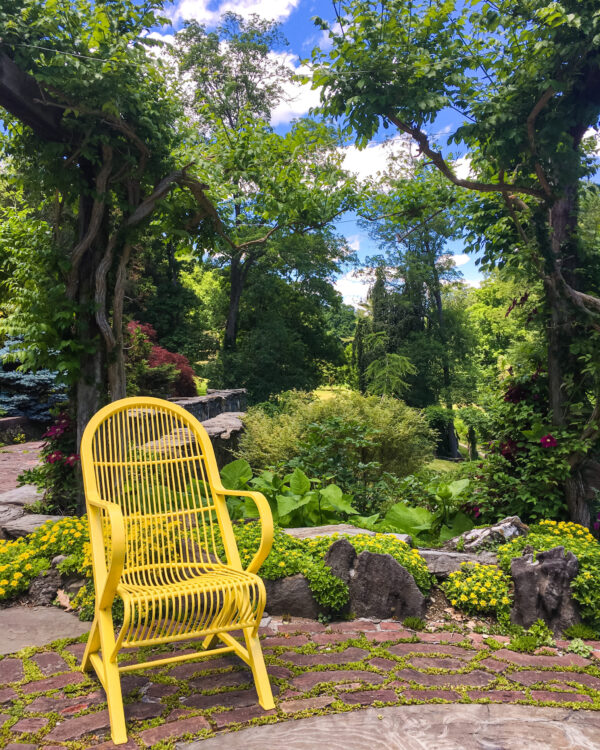 Innisfree is the Perfect Day Trip from New York City
At 1 hour 30 mins from New York City, Innisfree Botanical Garden is truly the perfect day trip from New York City. This garden is close enough to our apartment in the city to make it a day trip, but far enough to feel like a destination. It's a wonderful contrast to the hustle and bustle of the city. And this special place really does compel you to slow down, to enjoy nature, and the quiet that can accompany it. Such a welcomed difference from my noisy city life.
Martha Stewart's Favorite Garden
A few years ago, a dear friend told me that Innisfree Botanical Garden was Martha Stewart's favorite garden. I was quite intrigued. If it was Martha's favorite it must be something special. I asked my friend why this particular garden is so great. He just kept saying, "you just have to see if for yourself." And it is true. It's hard to describe exactly why Innisfree is so special, and it is best discovered by oneself. However, I will try to share a few of the reasons why this garden has stolen my heart and will always be one of my most favorite places to visit.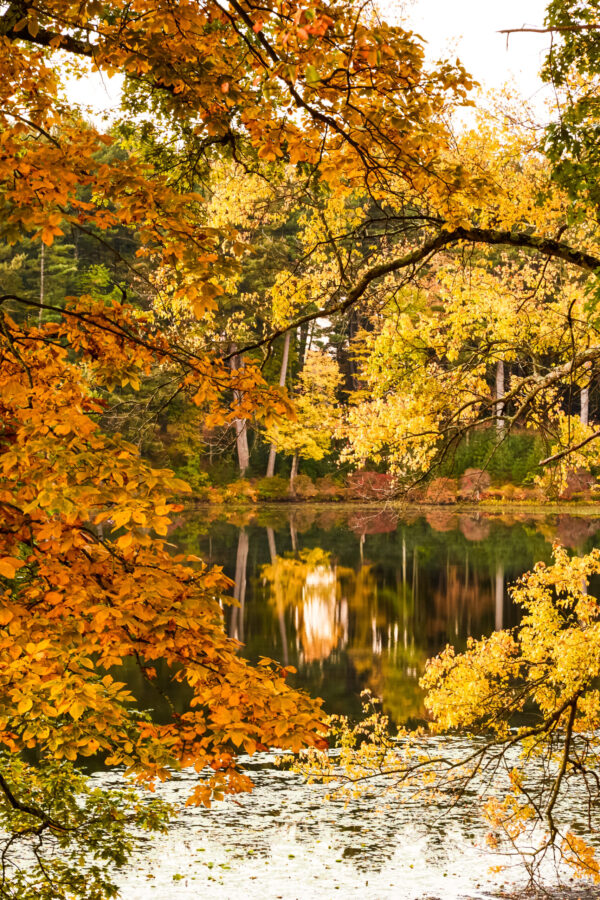 Innisfree Garden built around a lake
Even though its hard to explain what is special about Innisfree Botanical Garden, I came across an article from the New York Times from 1994 that expressed so beautifully what I couldn't find the words to say. Innisfree, is a "public garden public garden that unfolds like a journey. You do not come away with a geometric plan in your head of terraces and perennial beds and a great lawn sweeping down to the lake. Rather, you remember wind in the pine trees, the sound of water trickling over rocks, and the satisfying spacing of three large rocks. It is a place of experiences — of silent conversations with rocks and trees, of sunlight falling through the mist of a fountain in the woods that shoots water 60 feet up into the trees, of sitting, in the chilly air, on a slab of granite still warm from the sun."
Visitors are encouraged to walk a particular direction around the lake. And although your path may meander a bit, ultimately the lake determines your direction and I find this quite mediative and relaxing. Instead of wondering what you need to see next, this garden gently leads you to explore the space and moment right before you while gently leading you to the next hidden gem.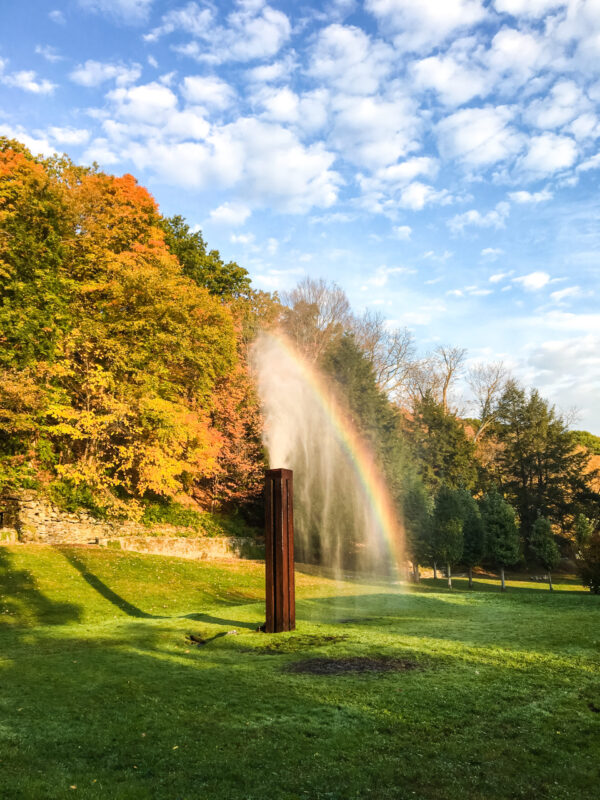 History of Innisfree Garden
This 185 acre garden was originally the private garden of Walter and Marion Beck, and was established in 1930. The Beck's were inspired by scroll paintings of the 8th-century Chinese poet and painter Wang Wei. After Walter Beck's passing, Marion asked Lester Collins to help her to with the future of the garden, and he worked on Innisfree for almost 40 years. And although his professional accomplishments gave him acclaim for other projects. Mr Collins truly considered Innisfree Garden his masterpiece.
Upon the death of Mrs. Beck, the property was turned into an educational trust, and was opened to the public in 1960.
Seasons at Innisfree Gardens
I've had the pleasure of visiting this garden many times, and I've visited in Spring, Summer, and Fall (the garden is closed during the winter) and the seasons show off in their own way. And as a flower lover, each time I visit a different flower is in bloom. I love the ever changing landscape of flowering plants.
It is so stunning in the fall. Truly. I think part of the magic is that the fall feels so effortless at Innisfree. And I feel that is due to the vision that the Beck Family and Mr Collins had for Innisfree. To respect the land and build a garden that reflected that.
Sunrise at Innisfree Gardens
For additional magic, visit be at Innisfree Gardens as the garden awakes at sunrise. They open an hour before sunrise 3 times per year for this extra experience. Being at the garden before sunrise requires a really early start time in the city, since it is an 1.5 drive. But it was well worth it to see this quite beauty of a garden awake from her slumber. The birds waking and chirping, and the sun peaking up and golden light washing over the garden was incredible.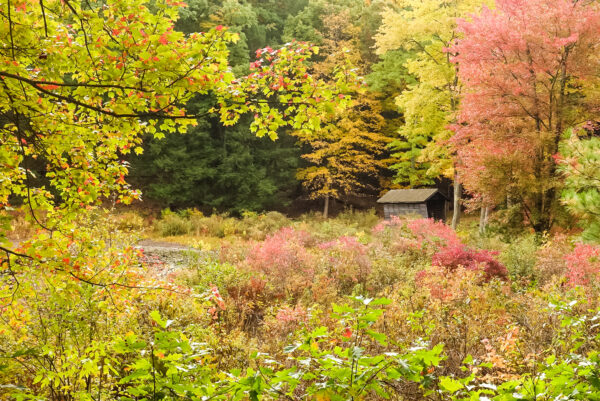 For your information
Is Innisfree Garden free?
$10 for the general public
$5 seniors (65+) and children (ages 5–15)
Free for Innisfree members
Admission fees can be paid by cash, check or credit card (Visa, Master Card, American Express, Discover).
How Long should we plan to spend at Innisfree Gardens?
It takes about 90 minutes to explore the garden at a leisurely pace, longer for the enthusiast, so please plan your visit accordingly.
Come ready to be outdoors. Wear walking shoes. The terrain can be rough, paths are not paved, and the garden is large. Plan accordingly for sun exposure and insects.
How many acres is Innisfree Garden?
185 acres
Can you picnic at Innisfree?
Guests are welcome to bring their own food and non-alcoholic drinks to our open-air picnic area. The picnic area is located between visitor check-in, the parking area, and the lake. Some tables overlook the lake. While there is no food service at Innisfree, there are many restaurants and markets nearby. Picnicking is not allowed elsewhere in the garden.
Best time to visit Innisfree?
There are so many events hosted at Innisfree, please check the Innisfree Garden Events page to find one that speaks to you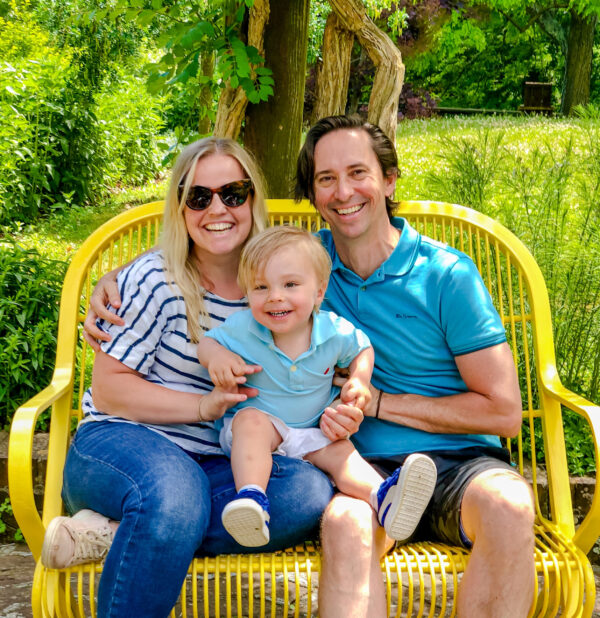 But Martha Stewart and myself aren't the only ones who think this garden is the tops. It has earned the acclaim of one of the world's 10 best gardens. But don't take my word for it, you must go visit and experience Innisfree Botanical Garden for yourself. Enjoy!
xo,
Emily
PS- If you liked this article, you may also like Top 10 Botanical Gardens on the East Coast
You need to add a widget, row, or prebuilt layout before you'll see anything here. 🙂