What do you think of when you hear the word Cornucopia? To me, the cornucopia brings back lots of memories of various elementary school art projects. A horn shaped basket overflowing with fruits and vegetables accompanied by some pilgrims. And some were better than others, haha! However, the very thought of placing a horn shaped basket on my Thanksgiving table makes me cringe, because it just seems so literal and dated. But never fear, here is an Instagram worthy take on the Thanksgiving cornucopia!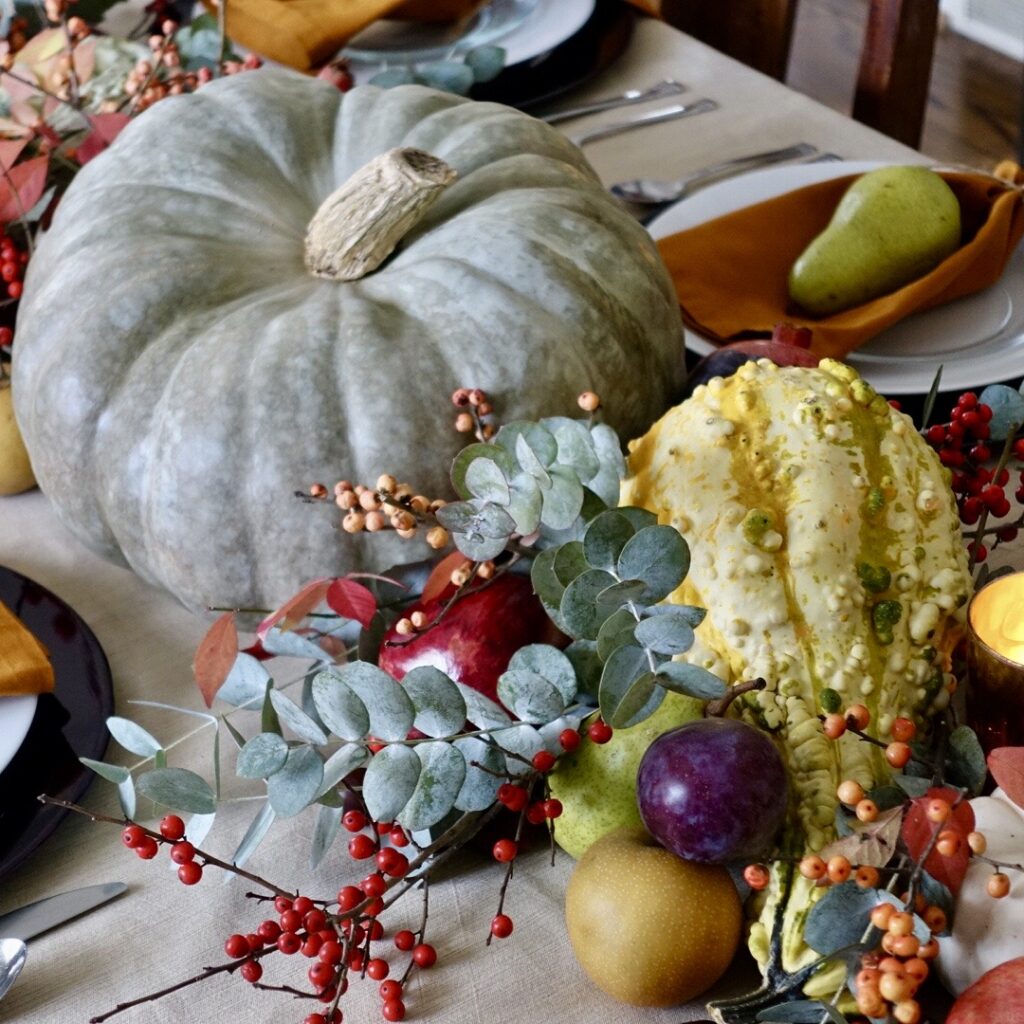 Step One, ditch the Thanksgiving Cornucopia's horn shaped basket!
The cornucopia is a symbol of abundance, so I decided to run with that interpretation. And I figured that the produce could still overflow on the table without a basket so I ditched it. And I'm so glad that I did! Not being confined to just a basket really took the overflowing fruit, vegetables, and greenery to a new level.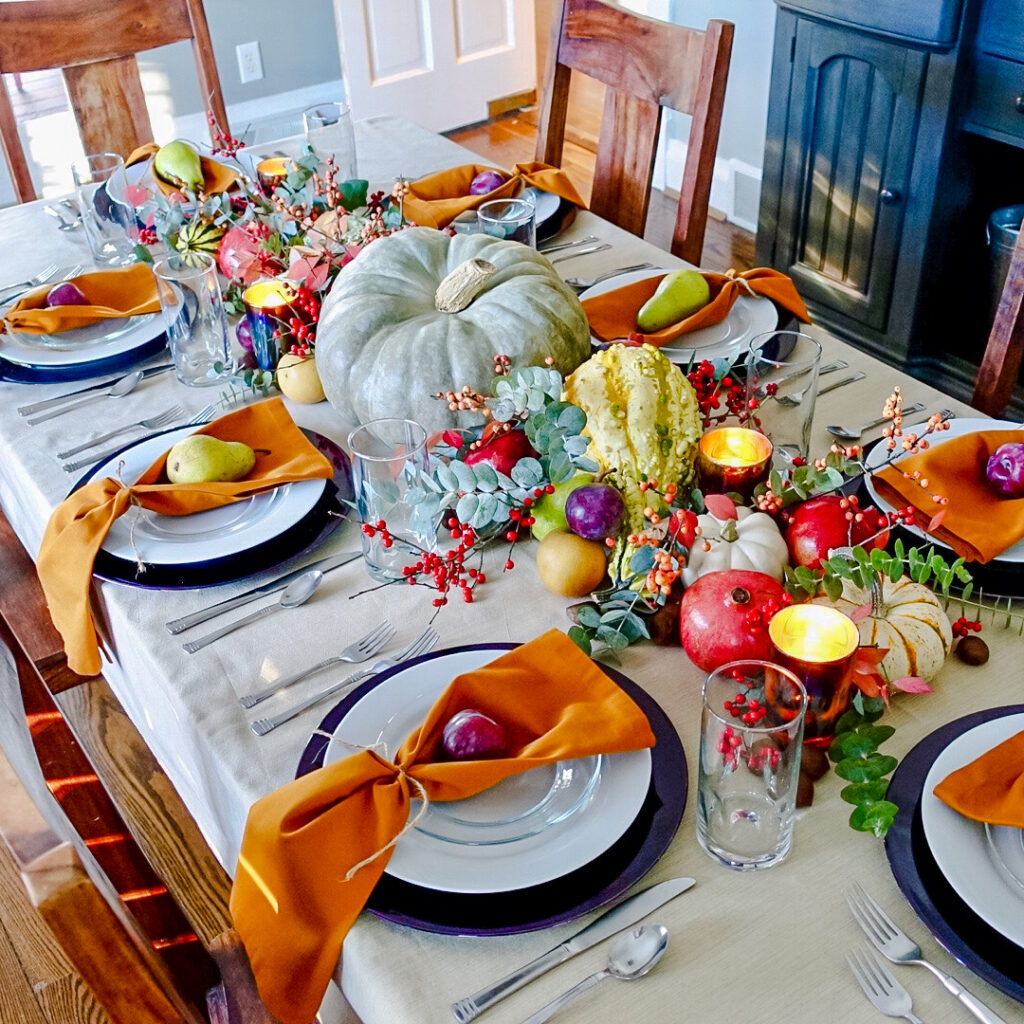 Step two: Create a Focal Point
The focal point of this modern Thanksgiving cornucopia is the large gray green pumpkin. Ain't she a beauty? She came home with us after a trip to a pumpkin patch in October and I didn't want her to only be used in my Halloween decor, so I added her to this centerpiece as a visual anchor. Using the large sized pumpkin as an anchor really helps to connect all the smaller elements together.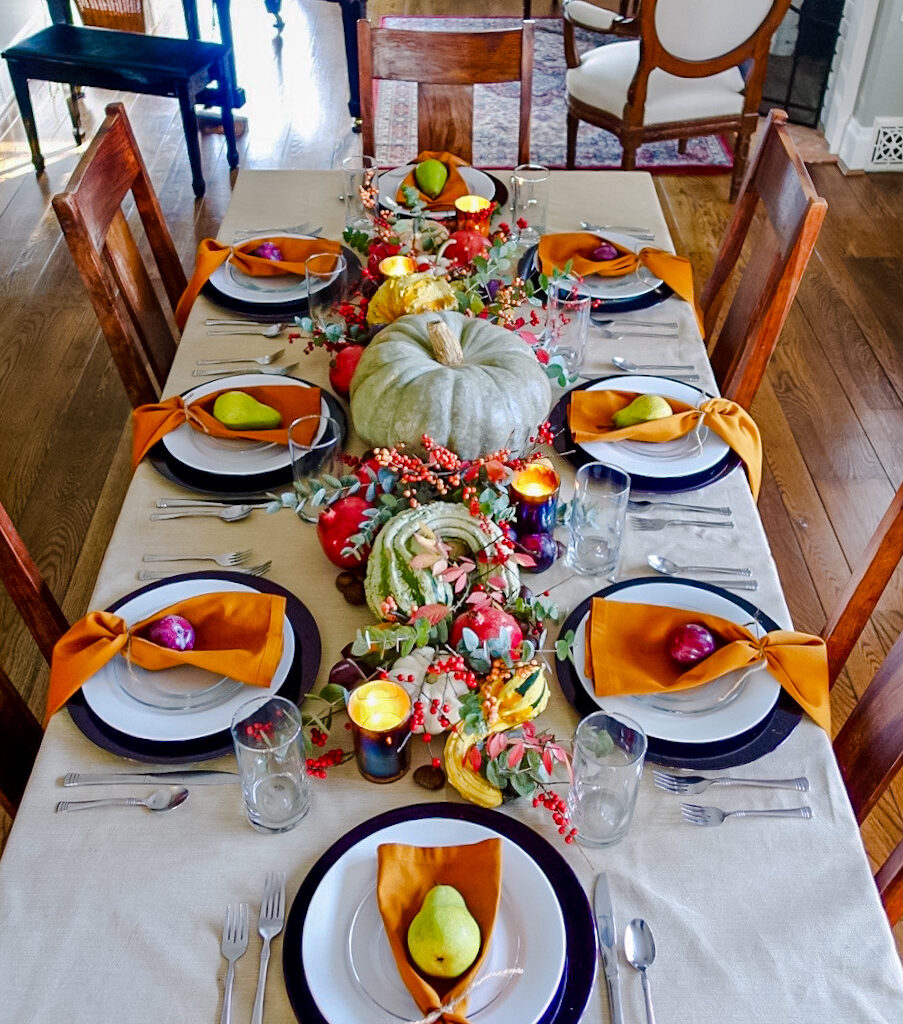 Step Three: Add the Produce to the modern Thanksgiving Cornucopia!
This was so fun to shop for. We headed to Trader Joe's to snag some beautiful produce. Basically you can use anything really that your heart desires, but in this case we bought pomegranates, gourds, squash, mini white & yellow pumpkins, chestnuts, pears, & plums. The key is pick various sizes, colors, and textures. Make sure you pick some you'd like to eat later!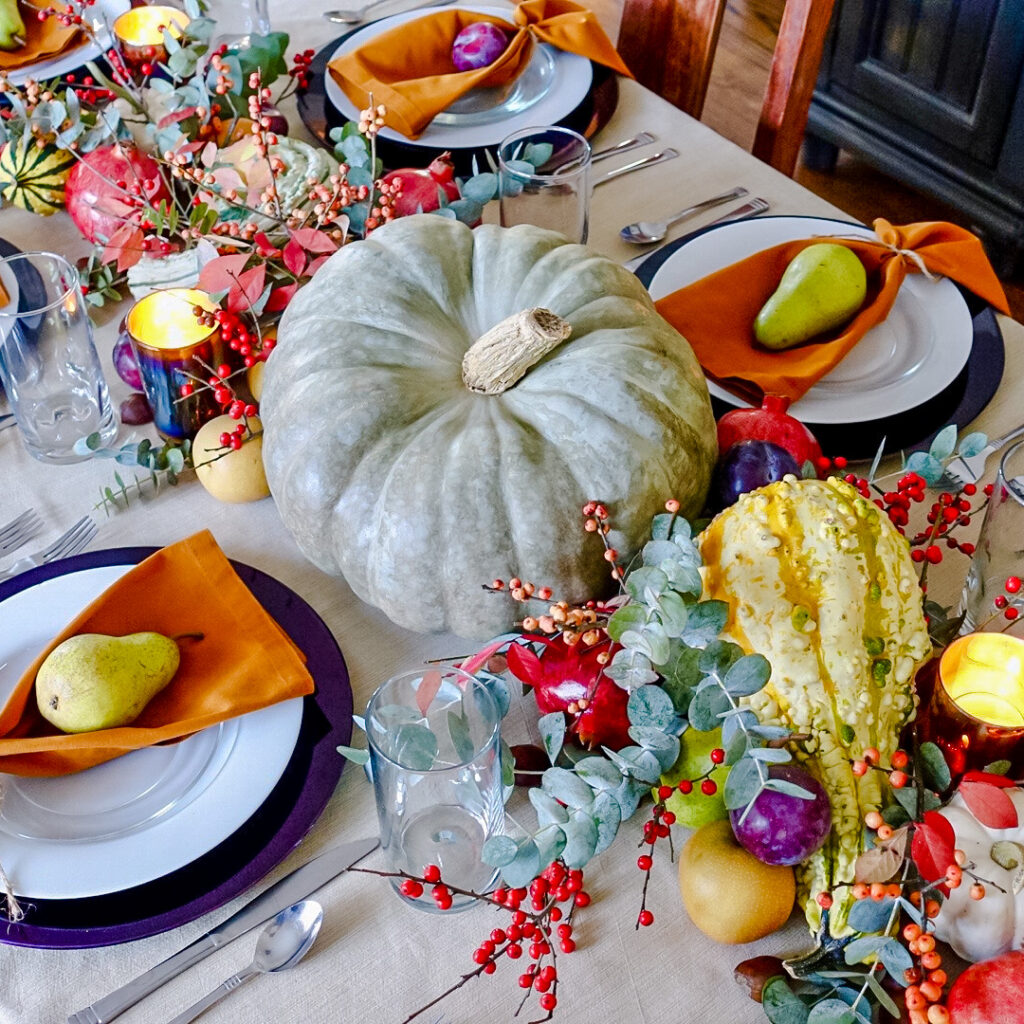 Step Four: Add greenery and berries!
After you've scattered your produce and pumpkins down the center of the table, fill in any gaps with berries and greenery. This additional texture really connects all the elements by closing any gaps/holes in the centerpiece. The great part about berries and greenery is that they don't need water if you are adding them the day of and only want it to last for the main meal. However, if you'd like to enjoy your tablescape all weekend, place the stems in small green water tubes and tuck the tubes down far enough that they don't catch your eye.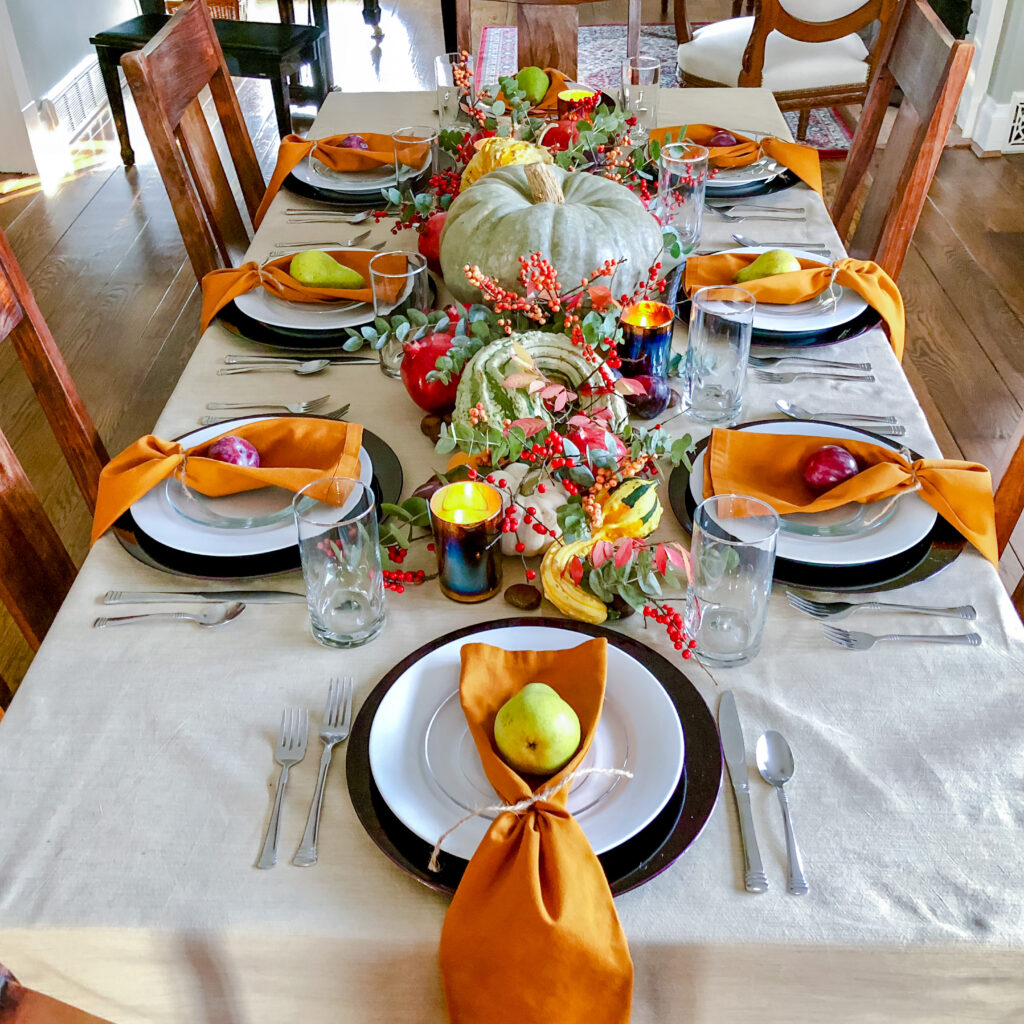 Step Five: Add the mood lighting to the Thanksgiving Cornucopia!
Regardless of whether your family and friends eat Thanksgiving at noon, 2pm or 6pm mood lighting is essential. It may not be as dramatic earlier in the day, but it makes the meal feel special and you'll be surprised at how much you enjoy the low glow. Nestle the votive holders throughout to make sure everyone gets a bit of hygge with their meal. Just make sure not to have any low hanging berries or greenery over the top of the votives. No need to give your holiday meal any fireworks!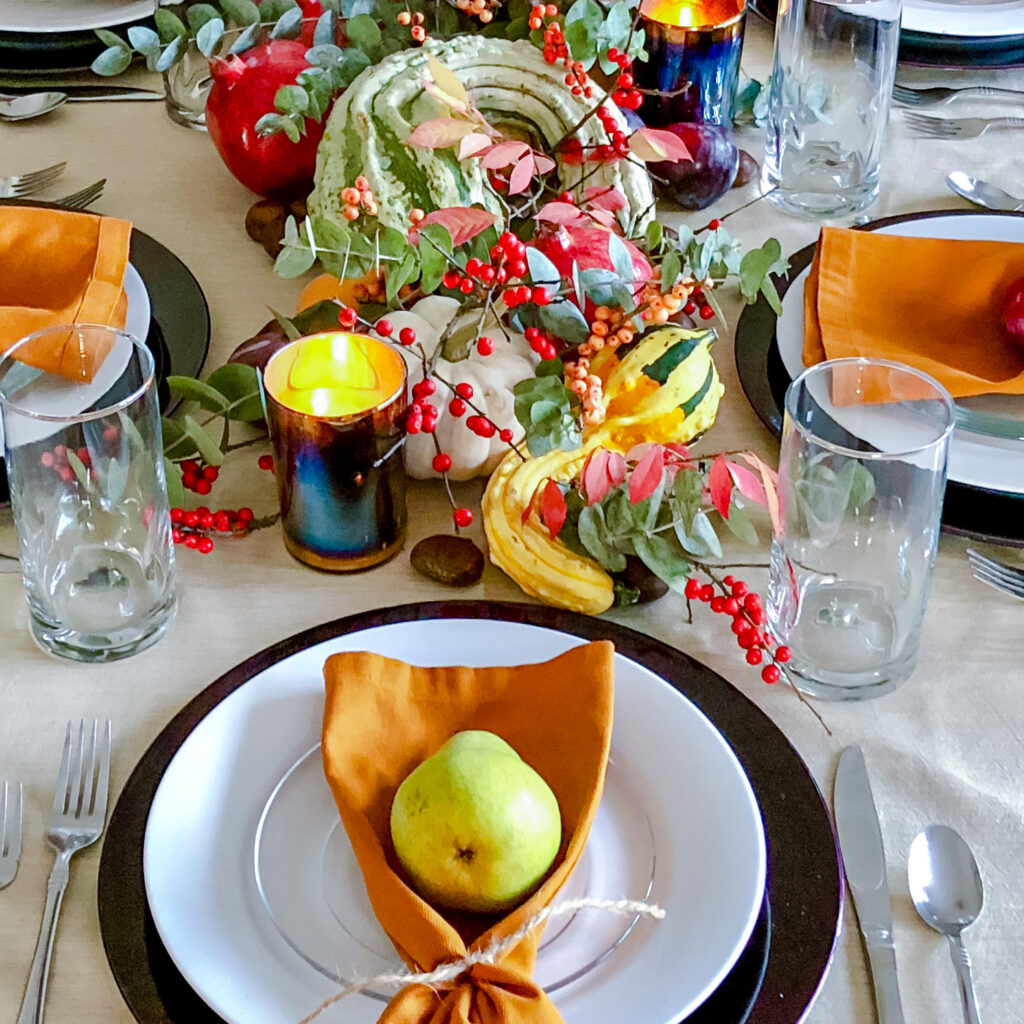 Bonus! Add an napkin element to pull the look all together
Adding a napkin element to your Thanksgiving table centerpiece is like adding a nice little bow to the present. It really finishes the look. It may take a bit more time, but your guests will really appreciate the extra effort you made to make this meal look and feel special. It's your way as a host of showing gratitude for your guests.
I've found the setting the table the day before or early in the morning the day of really helps to keep the last minute stress at bay. Plus, then you can focus on the last minute details for the menu.
I hope this how to guide for how to create an Instagram worthy cornucopia has given you some inspiration for your Thanksgiving table. Happy Thanksgiving my friends!
xx
Emily
PS- Please check out this post for more inspiration for your Thanksgiving Table: 10 Easy DYI Thanksgiving Decorations & DIY Thanksgiving Decorations
How to Guide: An Instagram Worthy Take on the Thanksgiving Cornucopia
You need to add a widget, row, or prebuilt layout before you'll see anything here. 🙂