Traditional Thanksgiving centerpiece with mood lighting
This classic rendition of a Thanksgiving centerpiece is perfect for a small and intimate or a large gathering. Easy DIY decorations should be easy to scale up or down depending upon your guest list. The technique is to layer elements down the center of the table with different textures and shapes in gorgeous fall colors. Magnolia leaves, various greenery, pods, berries, and mums create the perfect pairing to your delicious Thanksgiving dinner menu.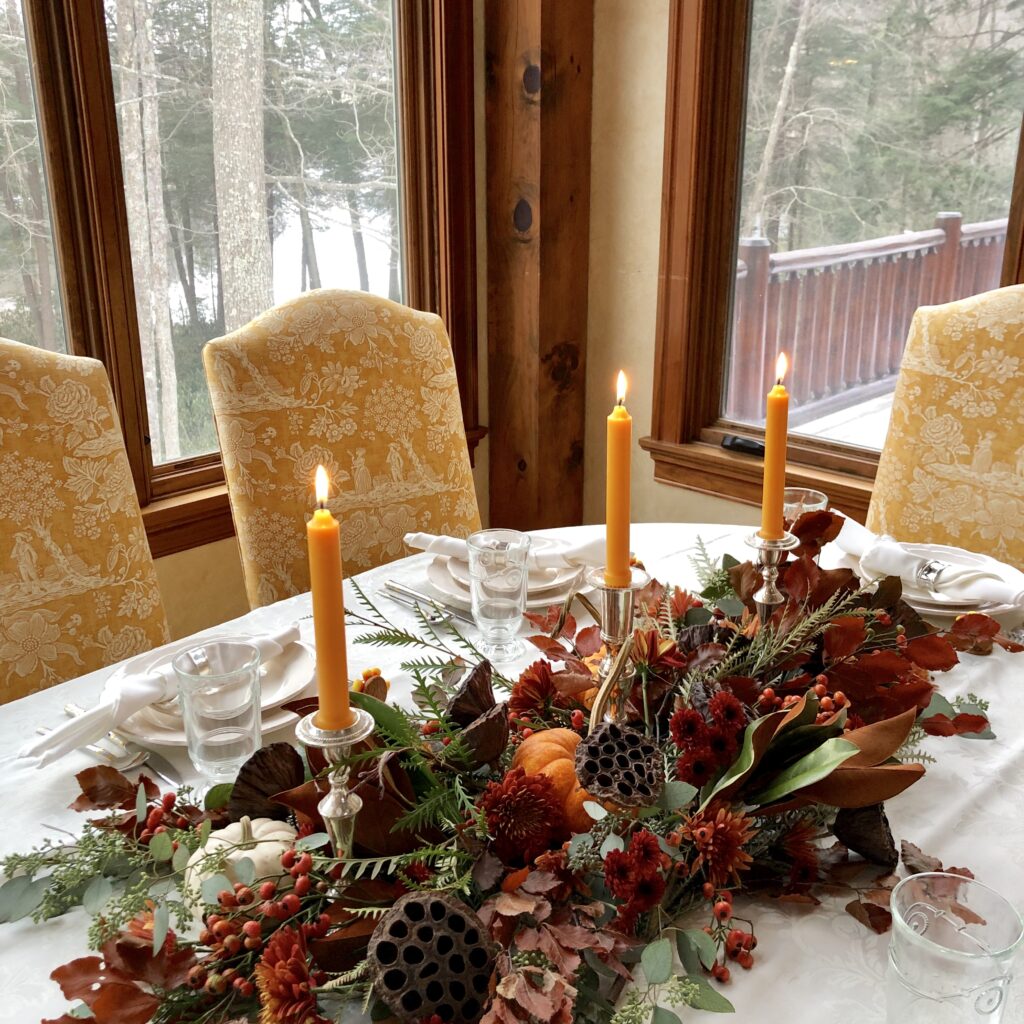 Fall branches with a touch of floral
This arrangement is deceptively easy! Its so dramatic so you'd assume its difficult to make, but not at all. Grab some pear branches (or any fall branches with leaves you can part with) and add a few stunning peony blooms. For this piece I used an antique water pitcher! Shop your home to find the perfect container which may not be a vase at all. Simple, dramatic, and easy DIY Thanksgiving decoration!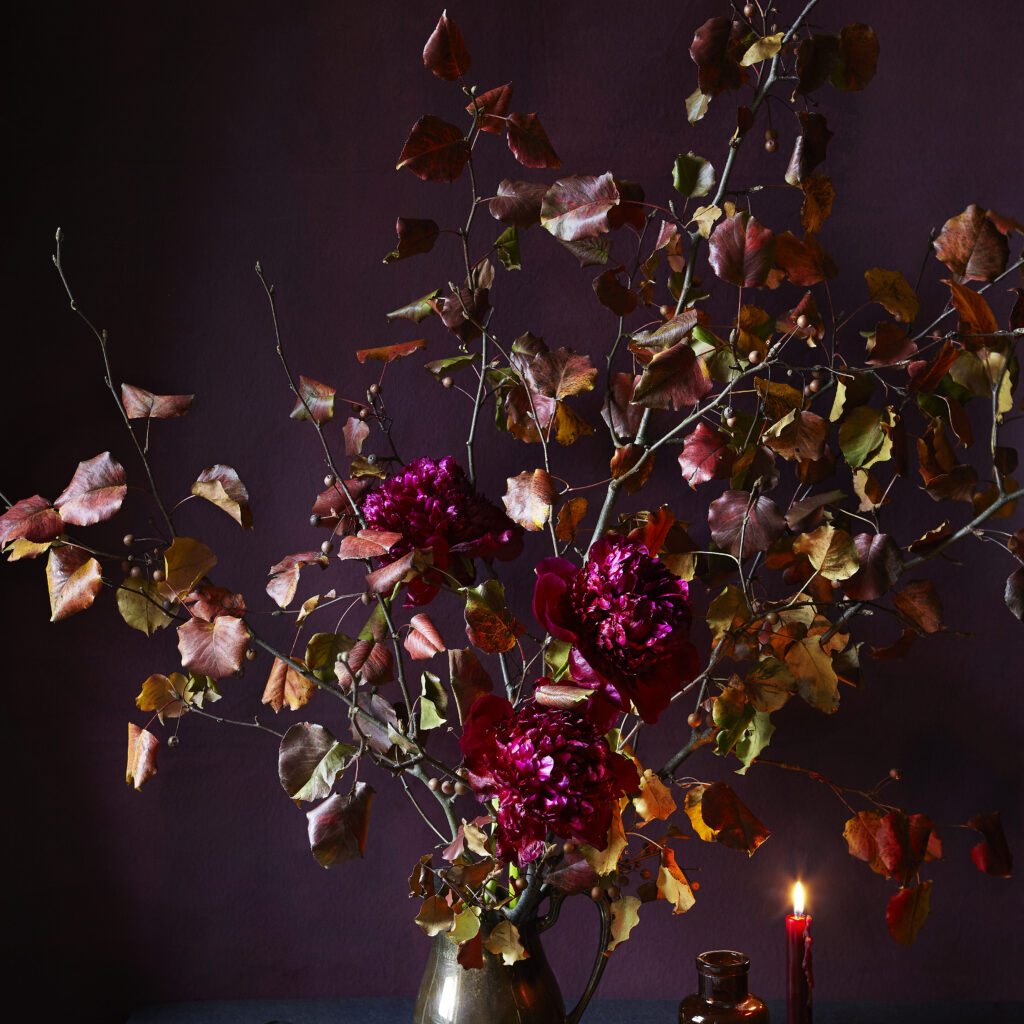 Modern Cornucopia easy DIY Thanksgiving decorations
The cornucopia, which is the traditional Thanksgiving centerpiece, is a symbol of abundance and nourishment. A cornucopia is typically a horn shaped basket or container overflowing with flowers, produce, and nuts. Although my modern take on the cornucopia doesn't include a basket, this centerpiece truly does feel abundant and sophisticated. Click here to see more detailed instructions for this arrangement.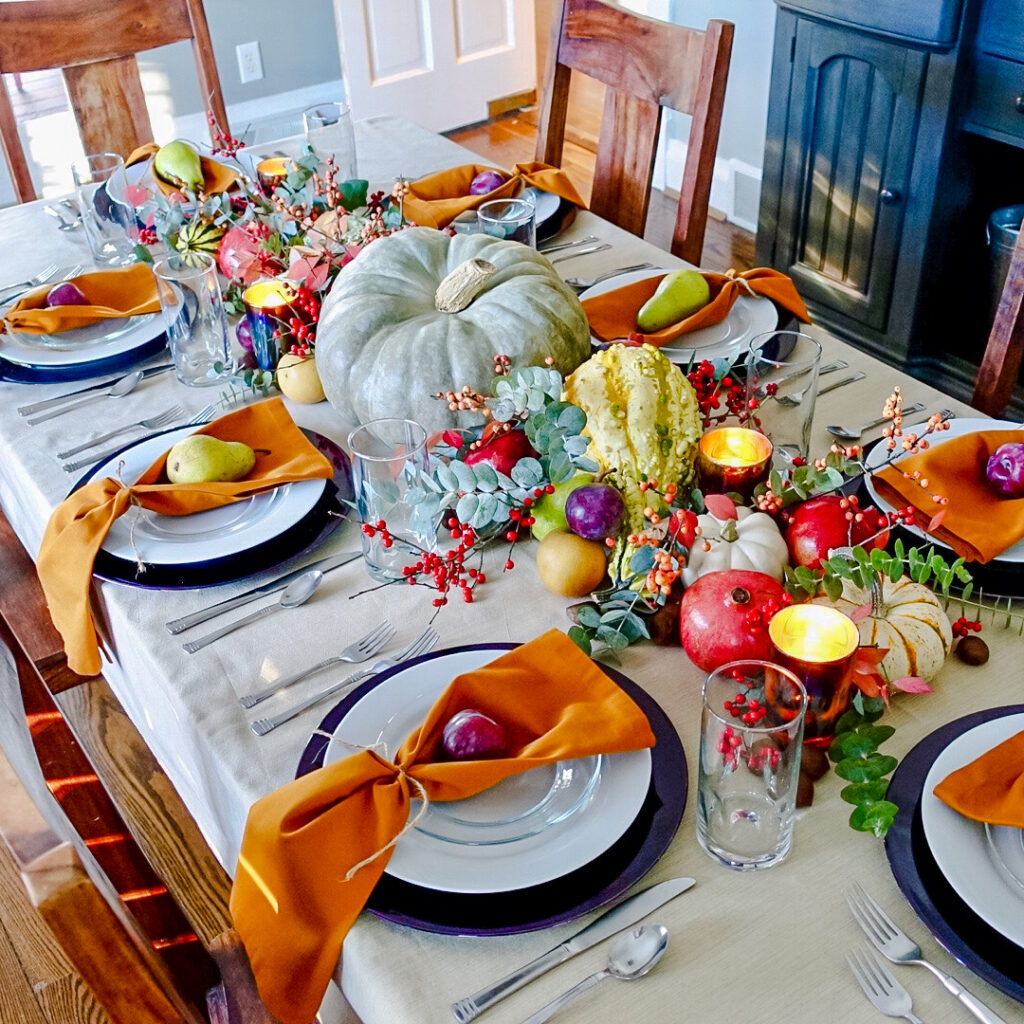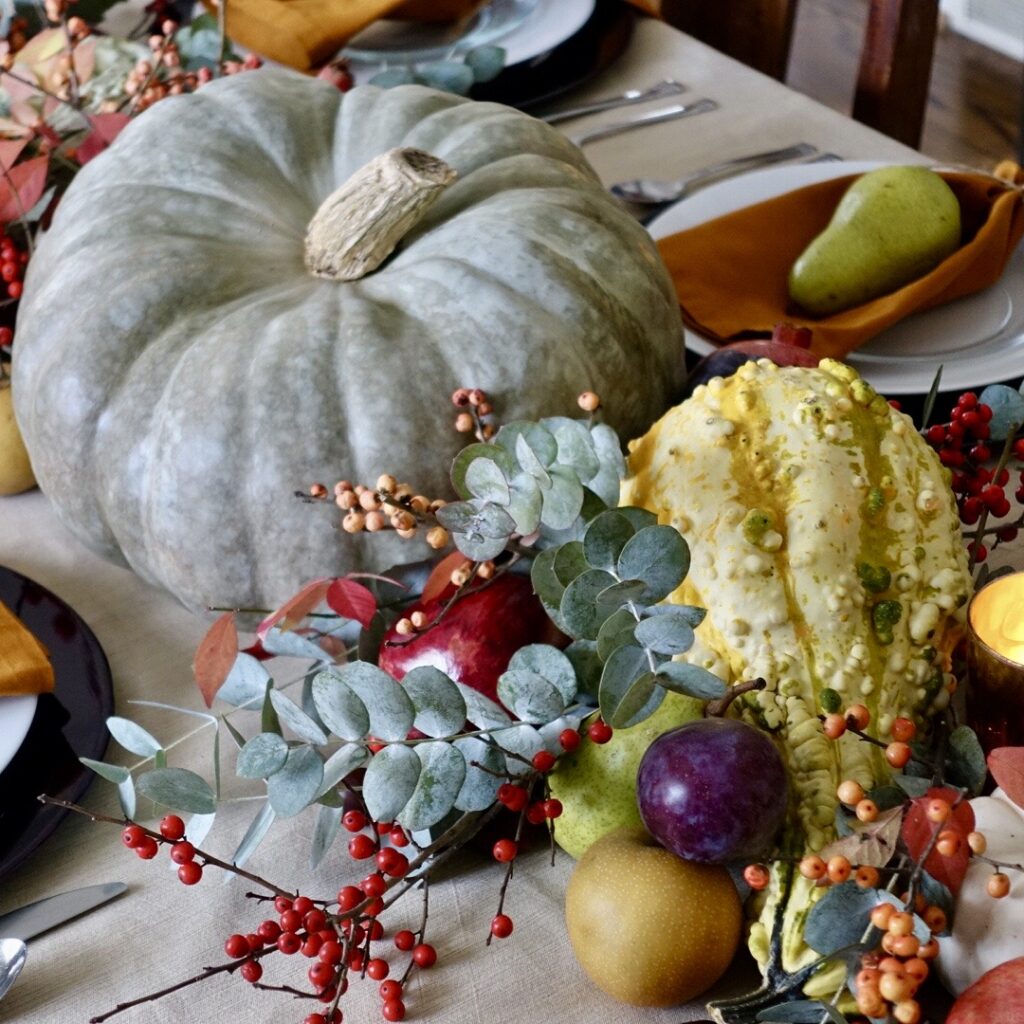 Floating flowers in seasonal colors
These stunning flowers seem to be hovering above the table due to the mirrored vase! Pickup a mirror vase, grab some seasonal flowers with a pop of light purple (surprising color addition). Creating the same modern easy DIY Thanksgiving decorations for your own table will be a snap!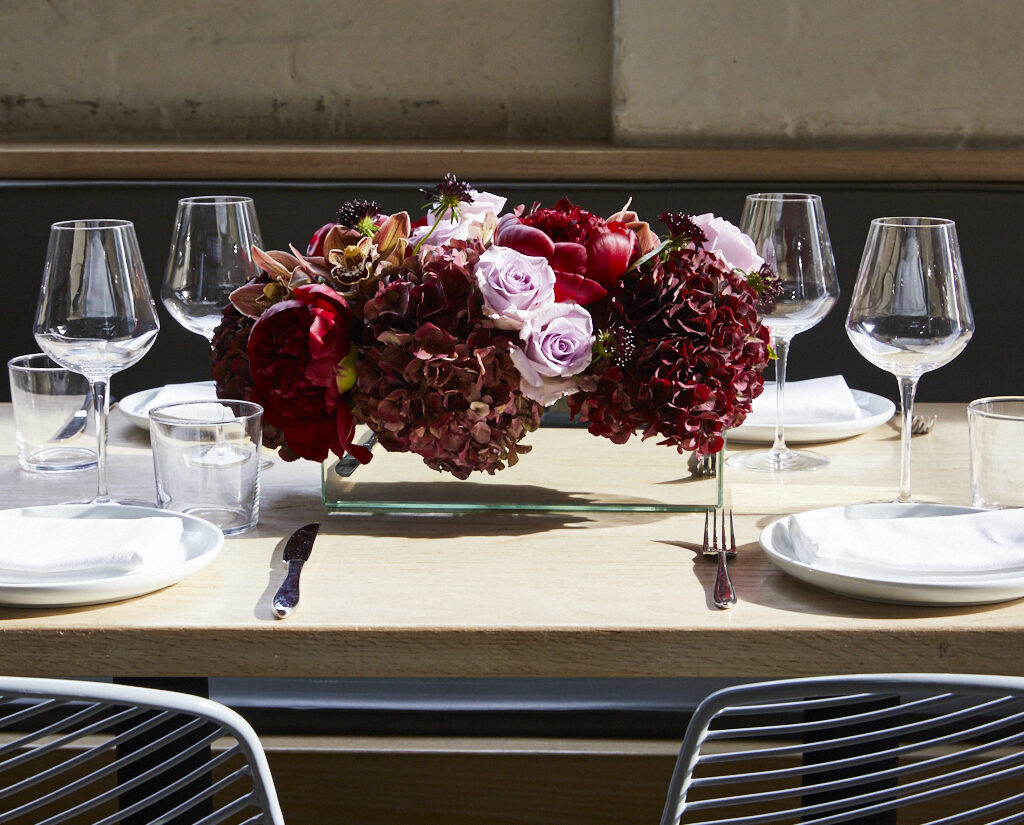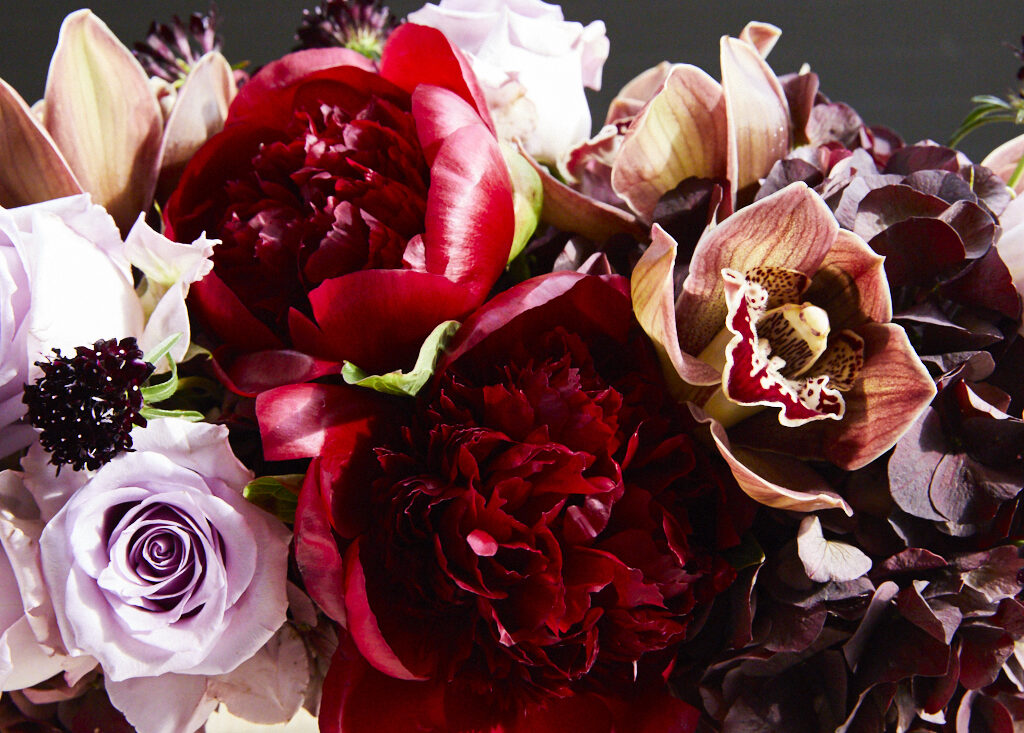 Dried Flowers for your Thanksgiving Arrangement
Dried flowers are really having a design moment right now, and I am here for it! What I love most about dried flowers right now is the unexpected colors of the textures and colors they come in. Pairing rich fall colors with a pop of pink & gold metallic keep this look fresh and a bit unexpected.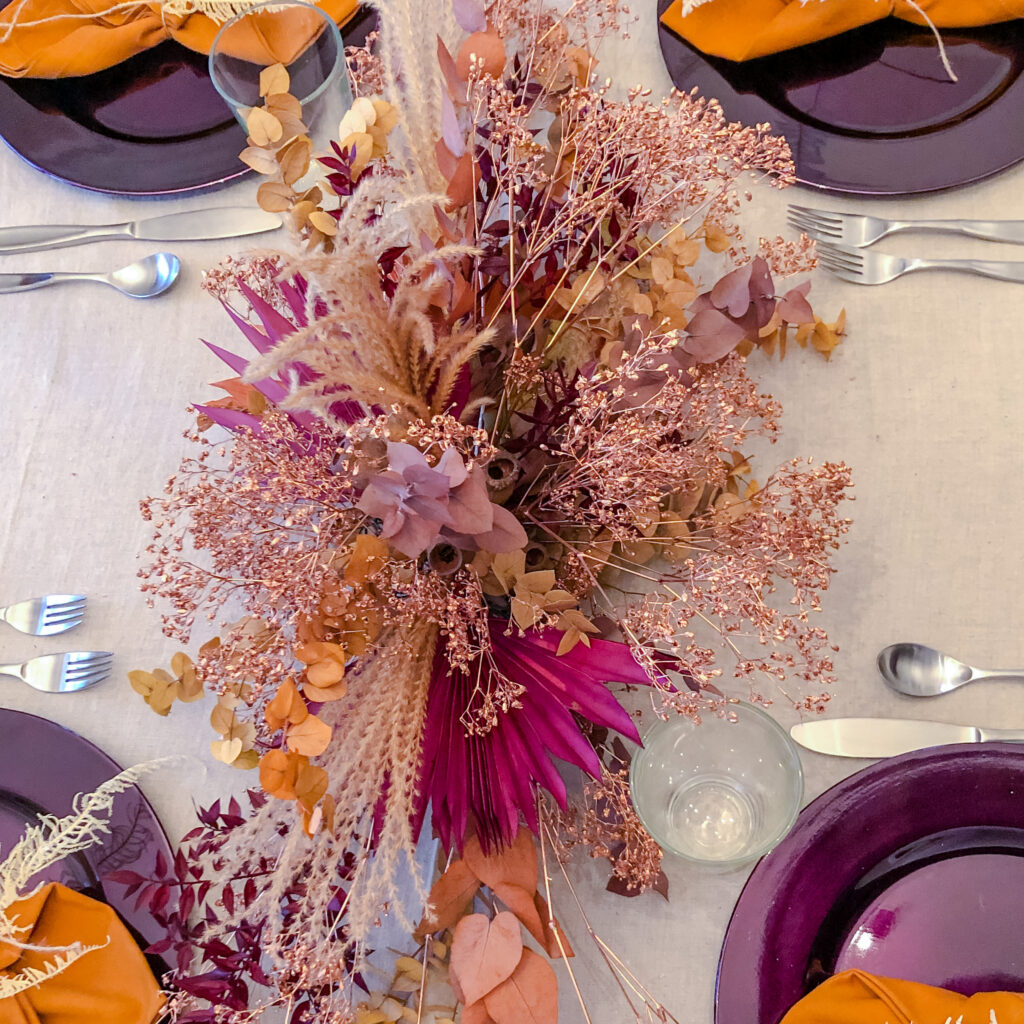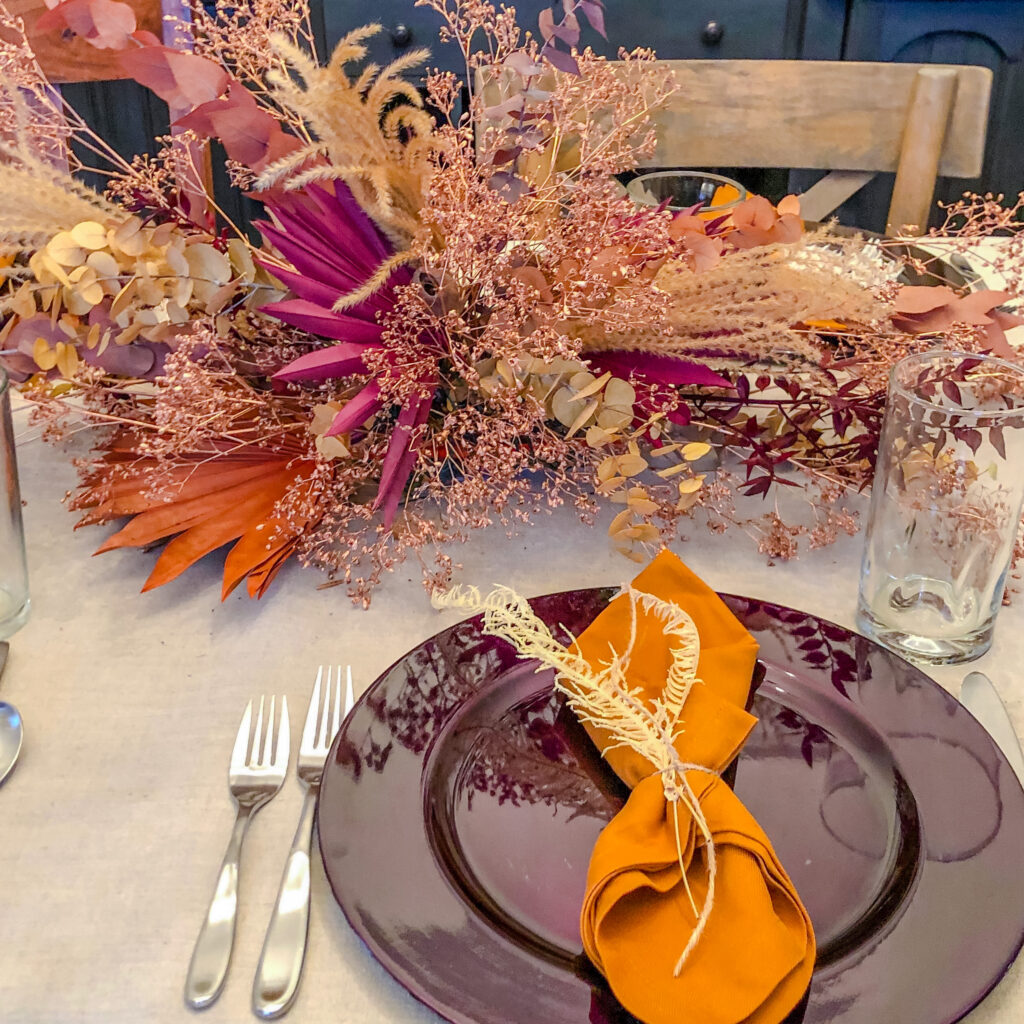 Monochromatic Bud Vases easy DIY Thanksgiving decorations
If simplicity speaks more to your heart, you are going to LOVE this centerpiece! Starting with a small collection of glass bud vases, adding some greenery, pods, and grasses. Group the elements together, place in a vase and scatter down the center of the table. For additional whimsy and height use books, cutting boards, or trays. Such a stunning yet easy DIY Thanksgiving decoration.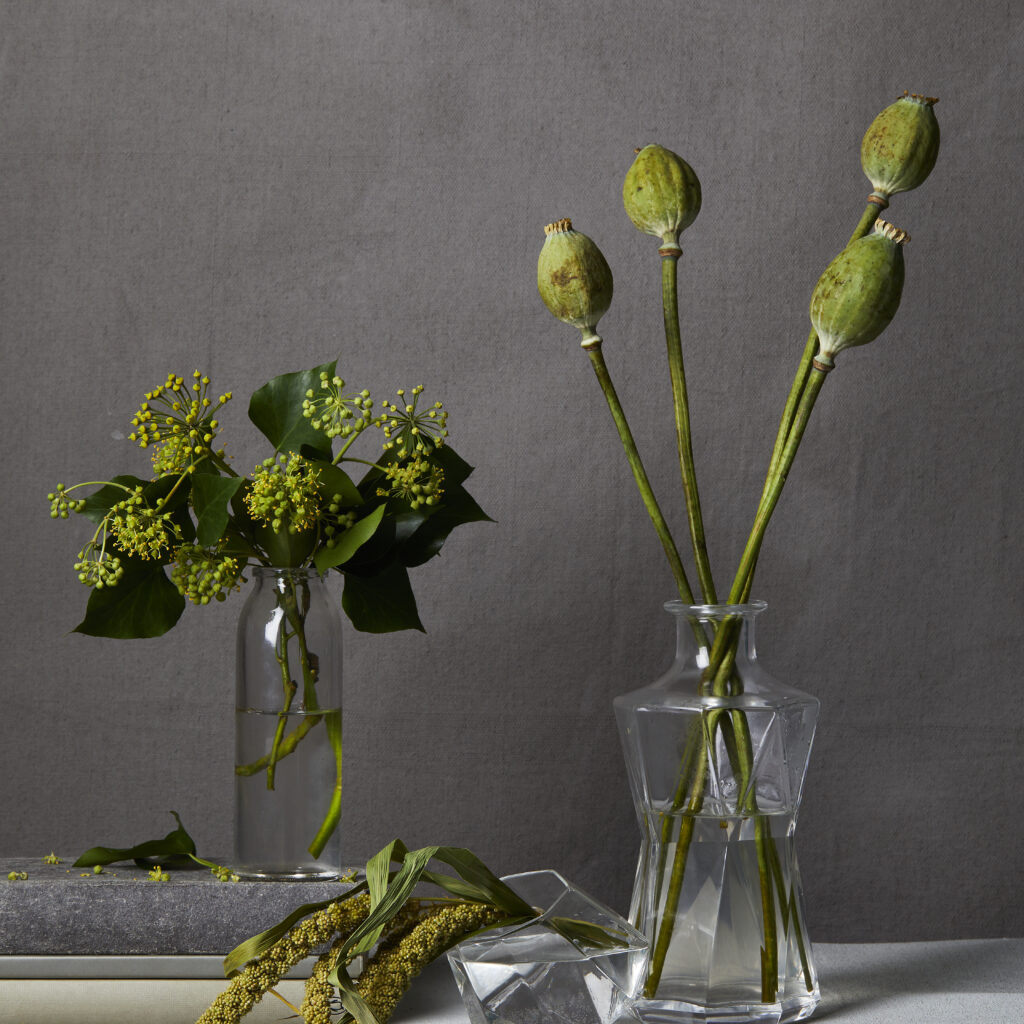 Fall floral with a tropical twist
These rich colors bring out the feeling of fall, but without taking it literally. Here we have some gorgeous fall colored eucalyptus paired with bunny tails, purple roses and orange tropical pincushion protea. Help keep your Thanksgiving interesting by adding unexpected elements into the mix!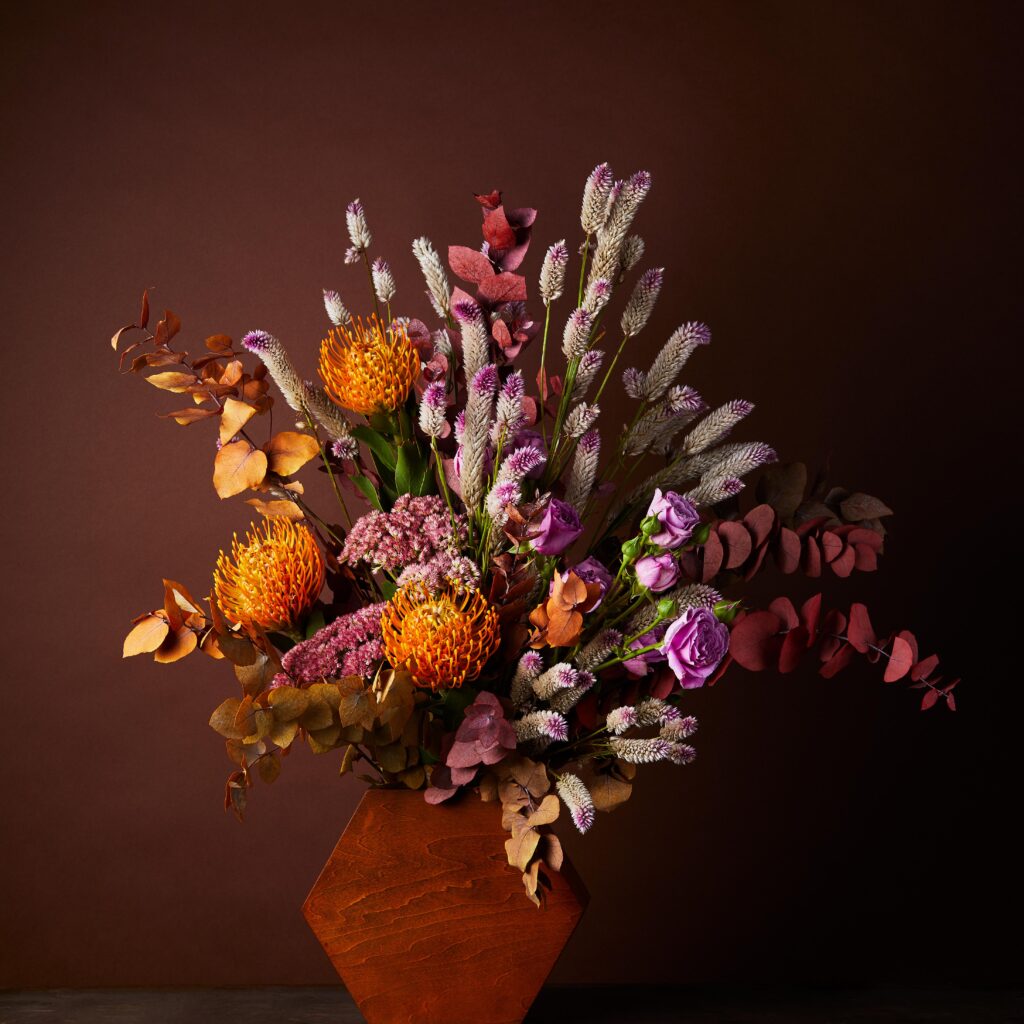 Red Velvet Coxcomb Tablescape
These stunning red coxcomb steal the show! Pick one star flower, grab a bunch of stems, and give them room to show off. Here the mixture of clear glass and black vases provide the perfect compliment to this red velvet superstar. Such an easy thanksgiving decoration with plenty of drama.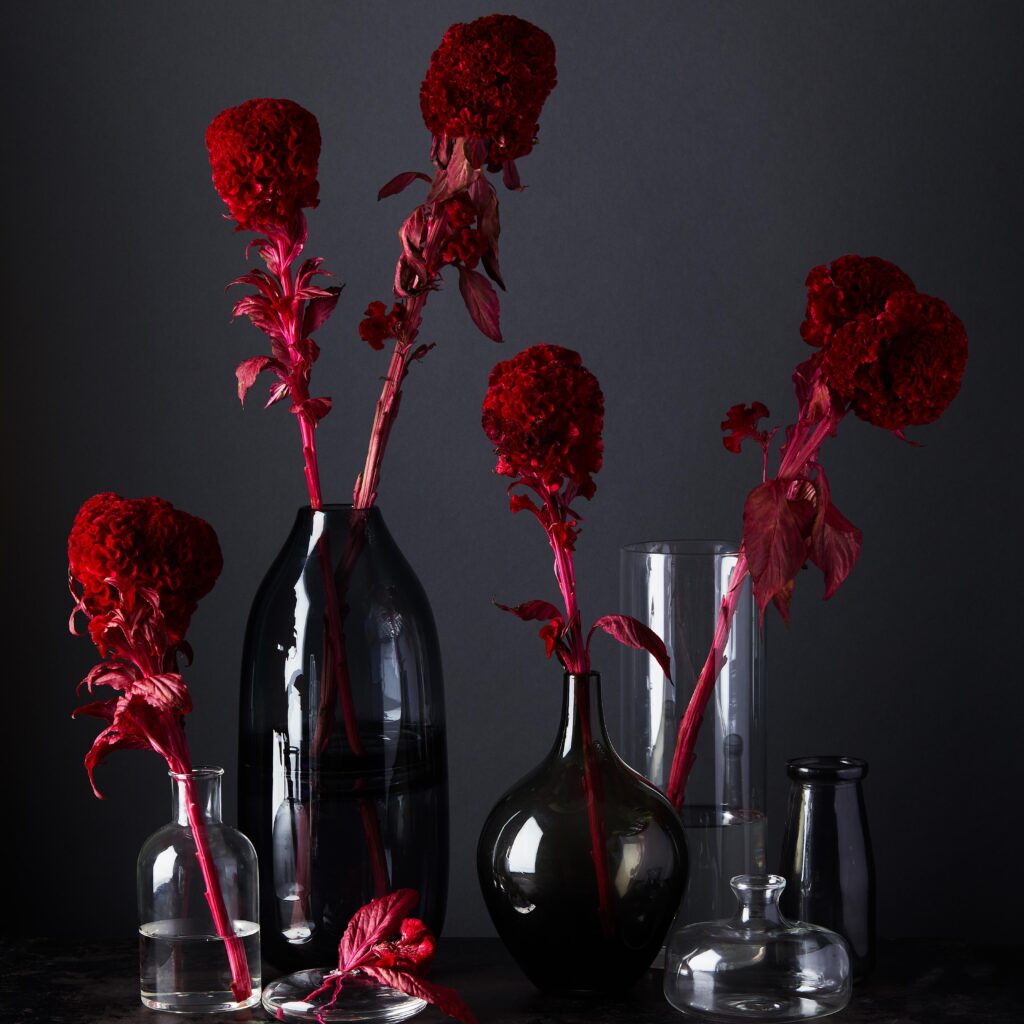 Painted Mini White Pumpkin Centerpiece
Painting pumpkins was something that I had never considered. Until I saw Brittany from The House that Lars Built paint her pumpkins bright colors. Genius! Immediately I was inspired. Taking a cue from my china in shades of gray, I set out to create a monochromatic in all shades of gray mini white pumpkin DIY Thanksgiving centerpiece!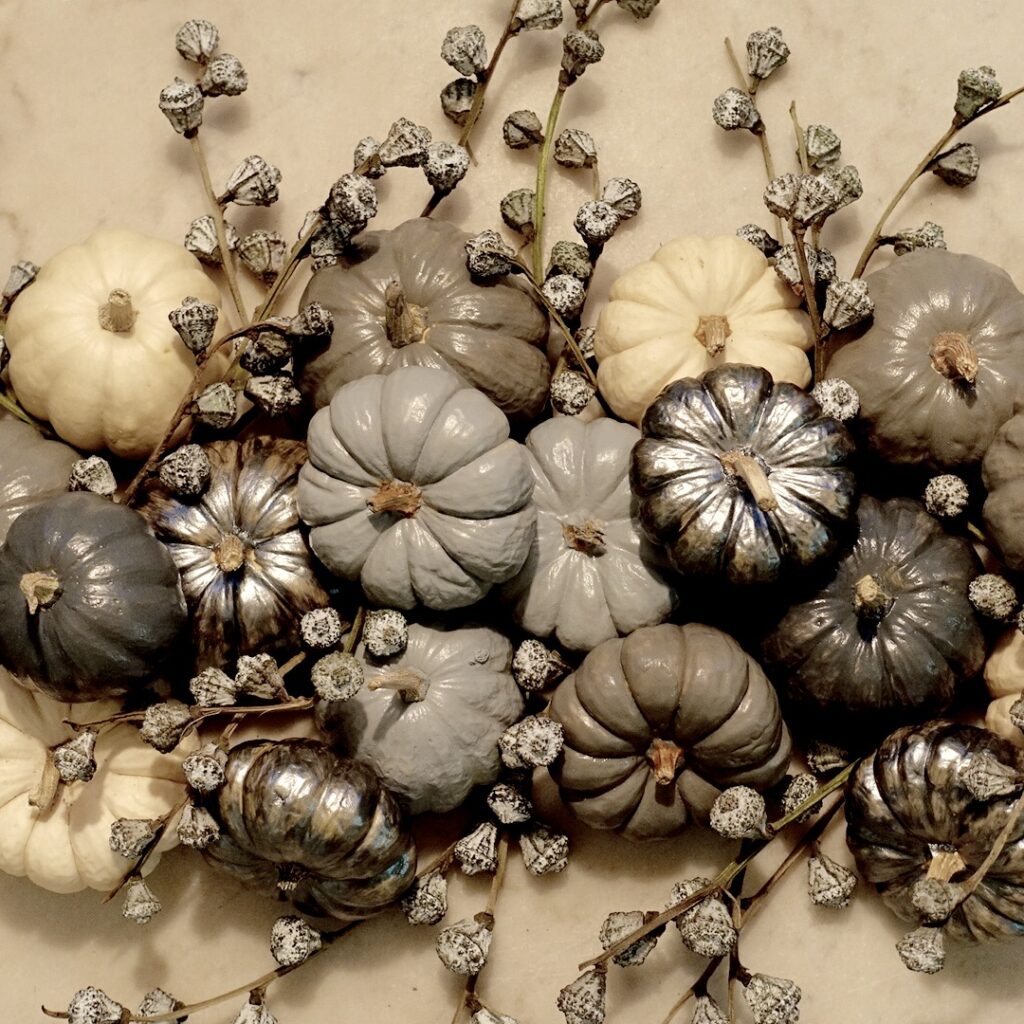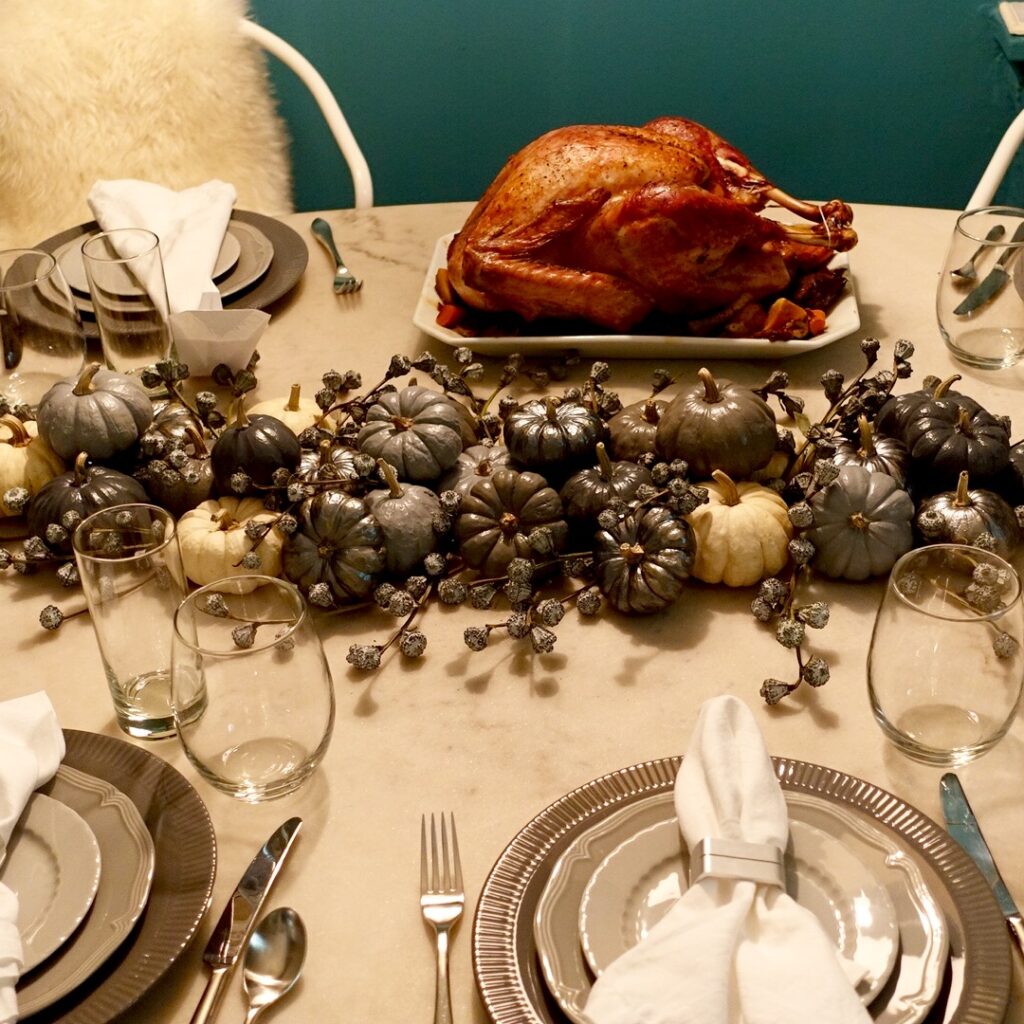 Flint corn easy DIY Thanksgiving decorations
This simple centerpiece uses dried flint corn and popcorn kernels. Snag a large clear glass cylinder, fill 1/3 of the vase with popcorn, tie 3 pieces of flint corn together with ribbon, and insert into the vase. Simple, easy, and fast! I dare you to find a centerpiece better than this easy DIY Thanksgiving decorations.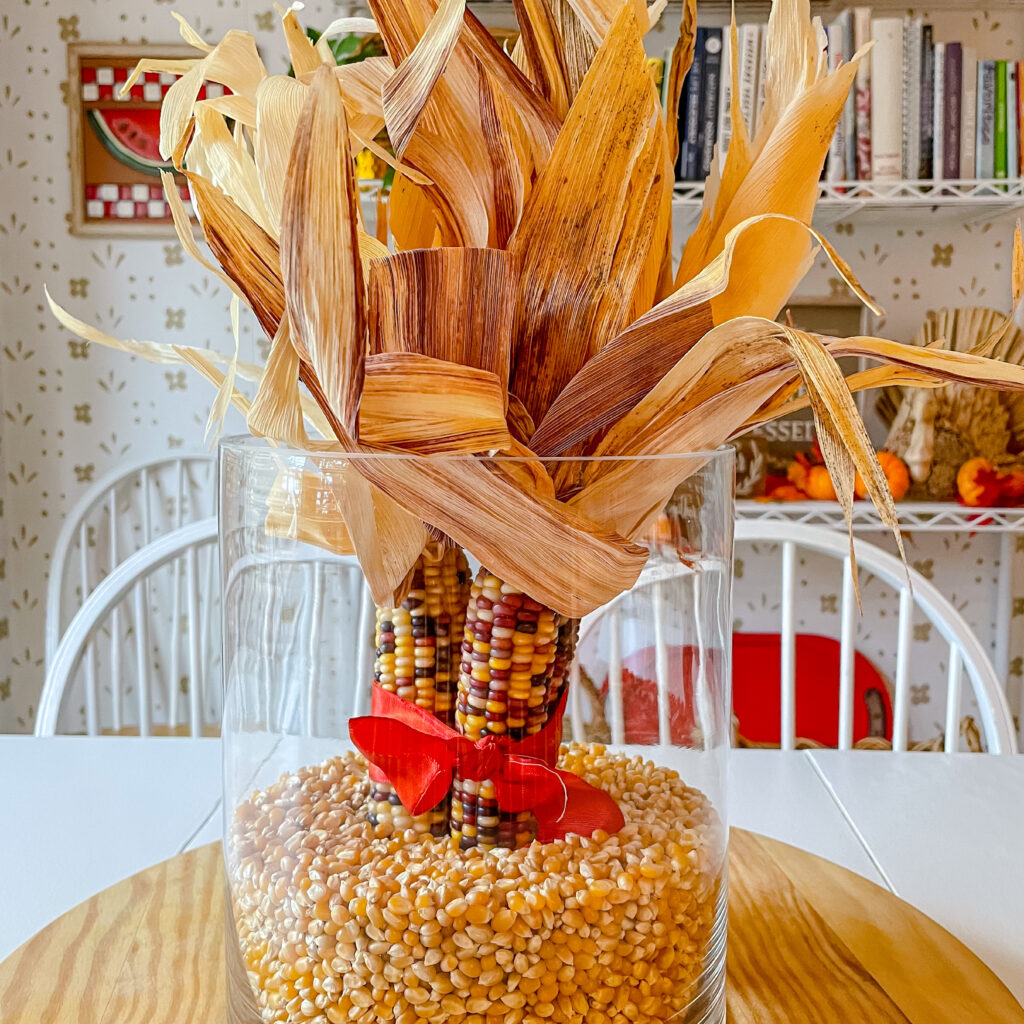 I hope these centerpieces have given you some ideas for how to dress your Thanksgiving table this year. It doesn't need to be complicated or expensive to be beautiful. Thanks for checking out these easy DIY Thanksgiving decorations. Wishing you and yours a Happy Thanksgiving!
xx
Emily
You need to add a widget, row, or prebuilt layout before you'll see anything here. 🙂