The holiday season is the best time of the year! We make time to see loved ones, and we make special food to share with those we love. The food, lights, decor! It's an incredible time of year for all of our senses. As you may have guessed my favorite part of the holidays is the decor. And because of that, I'm so excited to share with you some DIY Thanksgiving Decorations ideas!
DIY Thanksgiving Decorations – Where to Start?
However, this is one holiday that isn't exactly known for its decor. Halloween, check. Christmas, double check. But Thanksgiving? If I mention DIY Thanksgiving decorations what comes to mind? Does anything come to mind? Lol! Thanksgiving decor, in my humble opinion, can be easily overlooked. And sometimes even skipped! But I'm hear to preach the gospel of slow down, don't skip the decor! I know we mostly care about the food, but really the decor can be beautiful too. First, let's start by brainstorming the visual elements of this wonderful holiday for our DIY Thanksgiving decorations.
What are common decorations during Thanksgiving?
Perhaps it would help to consider Thanksgiving and Fall Decorations as essentially the same thing. I know that it helps me! Here's a list of common decor we see during this time of year:
Mums
Pumpkins
Gourds
Fall Leaves
Fall Colors
Cornucopia
And even…Turkeys!  (*My favorite turkey I ever saw was a chocolate turkey made by Jacques Torres!)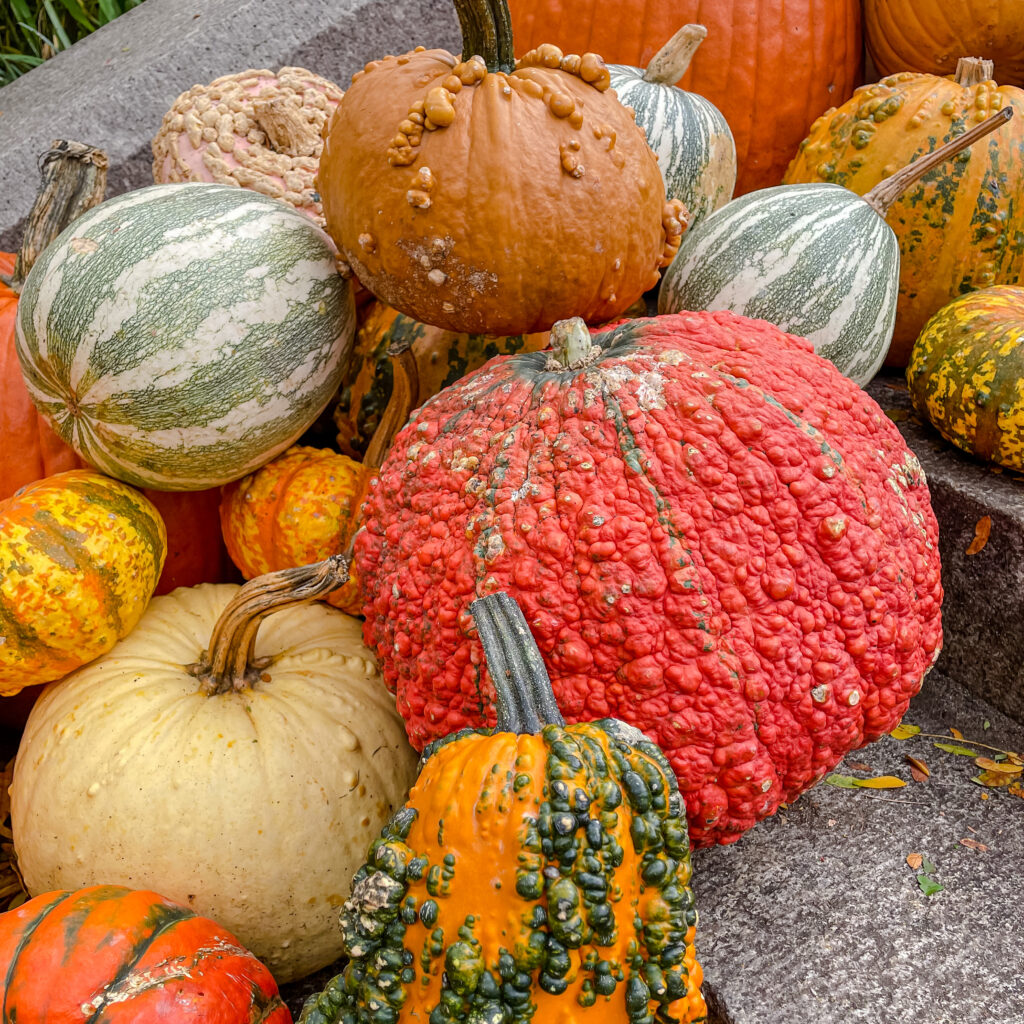 What is the traditional Thanksgiving centerpiece?
The cornucopia is the traditional Thanksgiving centerpiece. It is also called the horn of plenty, and is a symbol of abundance, nourishment. A cornucopia is typically a horn shaped basket or container overflowing with flowers, produce, and nuts. As I look back, in elementary school I had several cornucopia art assignments. So I feel that my teachers fully prepared me for a lifetime of DIY Thanksgiving decorations, haha! However, hopefully my interpretation of the cornucopia now is slightly more sophisticated. The best part of a cornucopia is that many of the elements you already have! Here is a list of the basics for creating your own cornucopia for your Thanksgiving table centerpiece.
Container, it could be a basket, a bowl, a cake stand, or even a cutting board. Think outside the box!
Flowers, Greenery, Leaves, or Berries. Or a combination of all three. What do you have around your house? Or in your yard?
Produce! I personally think it would be fun to have an ever changing cornucopia over the month of November. It shifts and changes as you eat the produce and then replace it with new items as you bring them home from the market or the grocery store.
Check out my non-traditional take on the cornucopia…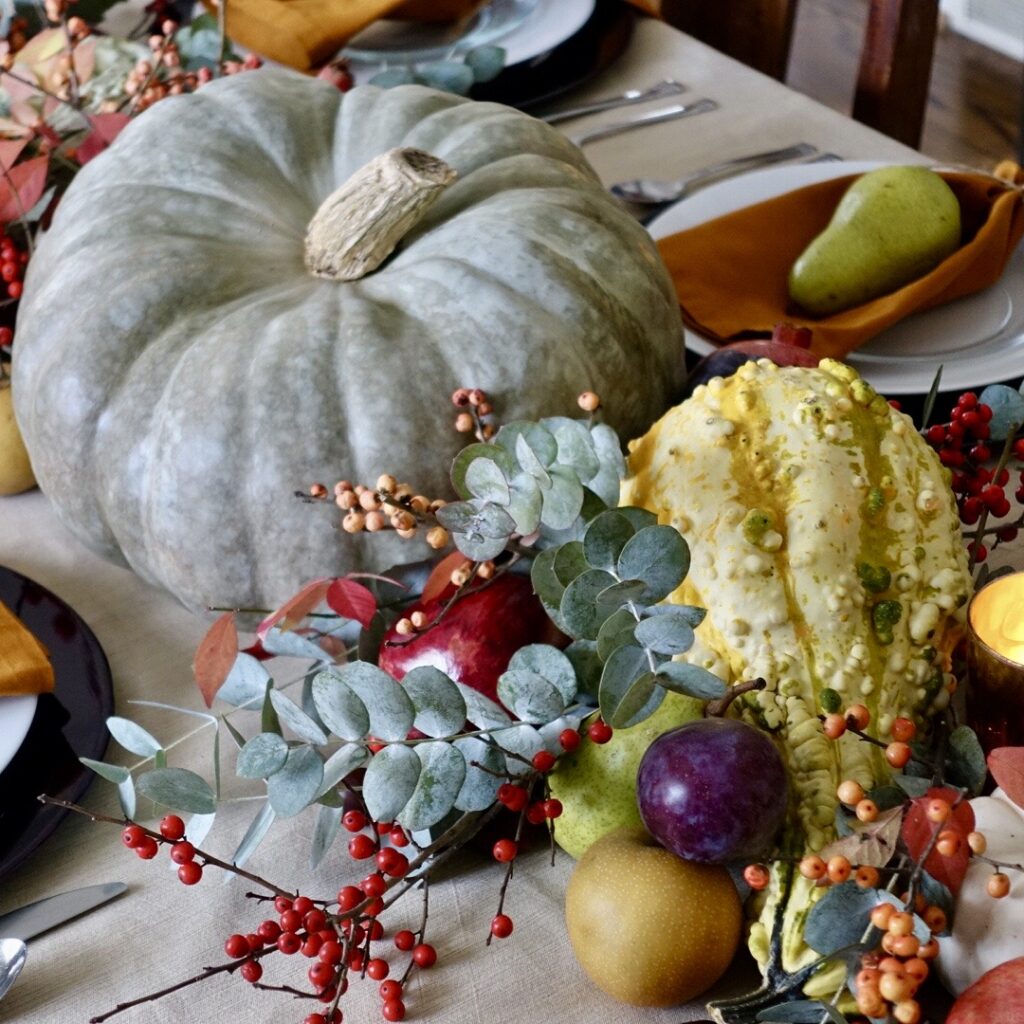 Inspiration for Thanksgiving Decor
Sometimes the best way to start the creative juices flowing is to look for a little bit of inspiration. An obvious place to start is Pinterest, and you will find great ideas. But don't overlook the ones that you get to experience in person. Those are my personal favorites. Here are a few of my favorite places to look for decorating inspiration:
Botanical Gardens
Garden Centers
Store Window/Holiday Displays
We have some amazing places here in NYC to check out for inspiration. So if you happen to be visiting or living in the Northeast. These are a couple of my favorites:
NYBG, you will see some footage of their pumpkins/gourds & the Conservatory in my video 
Main Hall Flowers/Displays at the Metropolitan Museum of Art
5th Avenue Window Displays
Terrain (*Connecticut!)
A few years ago I headed to Connecticut with my mom, aunt, and sister to check out a store that several trusted friends raved about. And Terrain did not disappoint! Look how incredible this pumpkin display was! A stunning tower of pumpkins and gourds. The store is truly inspiring, and the displays were amazing. We all loved it and it made me so excited to go home and create beautiful DIY thanksgiving decorations for my family.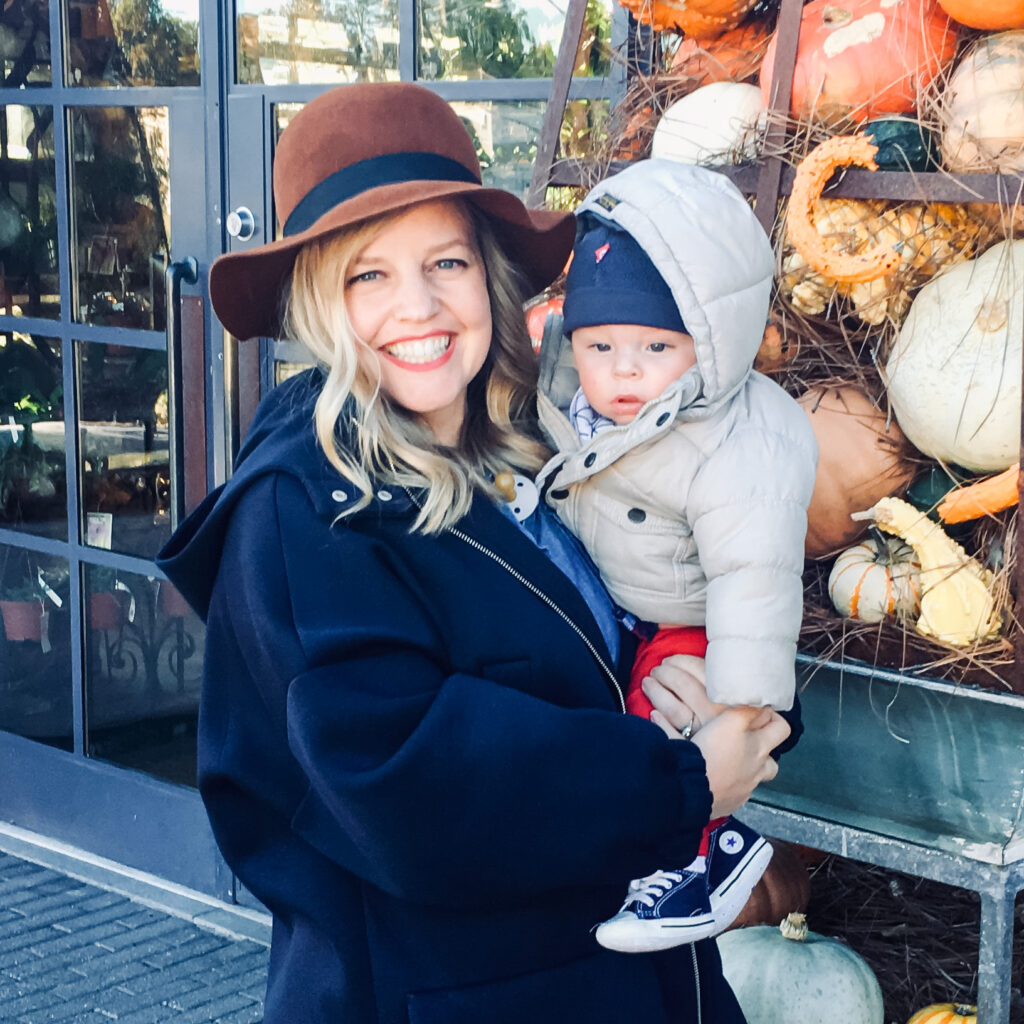 How do I decorate for Thanksgiving on a budget?
Do you need a lot of money to decoration for Thanksgiving? No! I think sometimes we forget that they people we are decorating for are not the ones on social media. Right now my most enthusiastic audience is my three year old, and his expectations are not super high! Budgets can even work to your advantage. For example, I find that when I personally design within a constraint (time or budget) it ultimately helps me to be more creative.
Shop your home for DIY Thanksgiving Decorations!
Go shopping in your house! It is so fun, I promise. Repurpose and work with what you have.  Or perhaps you can may have used part of it for Halloween (love a good dual purpose!) and with a slight tweak it works for the next holiday! Thrift stores also have great items on the cheap. I personally love to look for containers/baskets there. Sometimes you just need a little spray paint to give an item new life! Here are a few ideas to get you started on Thanksgiving decorations DIY (aka on a budget!).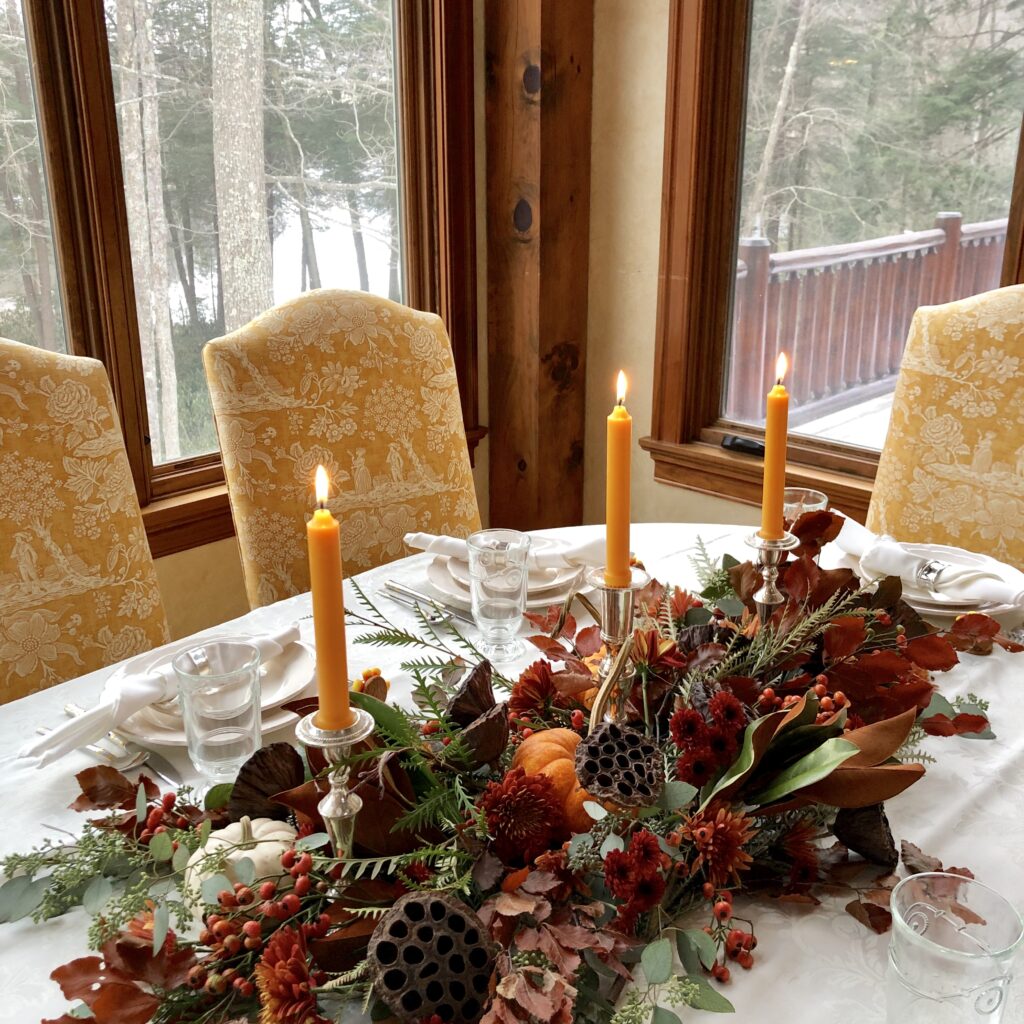 Thanksgiving Table Decor On a Budget:
Pumpkin(s) & a simple runner for your Table. Find one really good looking pumpkin and a runner (or some leftover fabric in a pinch and fold it to the desired length!) Honestly, you don't need much to make a statement. Pumpkin(s) & Gourd(s) on cake platters
Elevating pumpkins or gourds and making them stand out on a platter really makes them shine! You can showcase just one or two, or pile a few smaller ones on a single platter. And if you have a couple of different heights in your cake platters… Bonus points for a with varied heights for the grouping! (*Thanksgiving DIY tip when you are in a pinch: No cake stands to be found? Turn a bowl over and place a plate on top! no need to break the bank)
Add candles! Mood lighting always wins. Always. Got some leftover votives? Bust them out! Leftover taper candles from Easter? Find some candle holders and bring on the moodiness and coziness. 
Fall Branches & leaves. Need to trim some of your bushes or trees? Now is a great time for a little decor, haha! 
Flint Corn (dried and decorative!) So many fun ways to use this!
Check out my Mom's Flint Corn Centerpiece! Just 4 elements: Flint corn, glass vase, loose popcorn, and a bit of ribbon. She then placed it on top of a cutting board to ground it visually.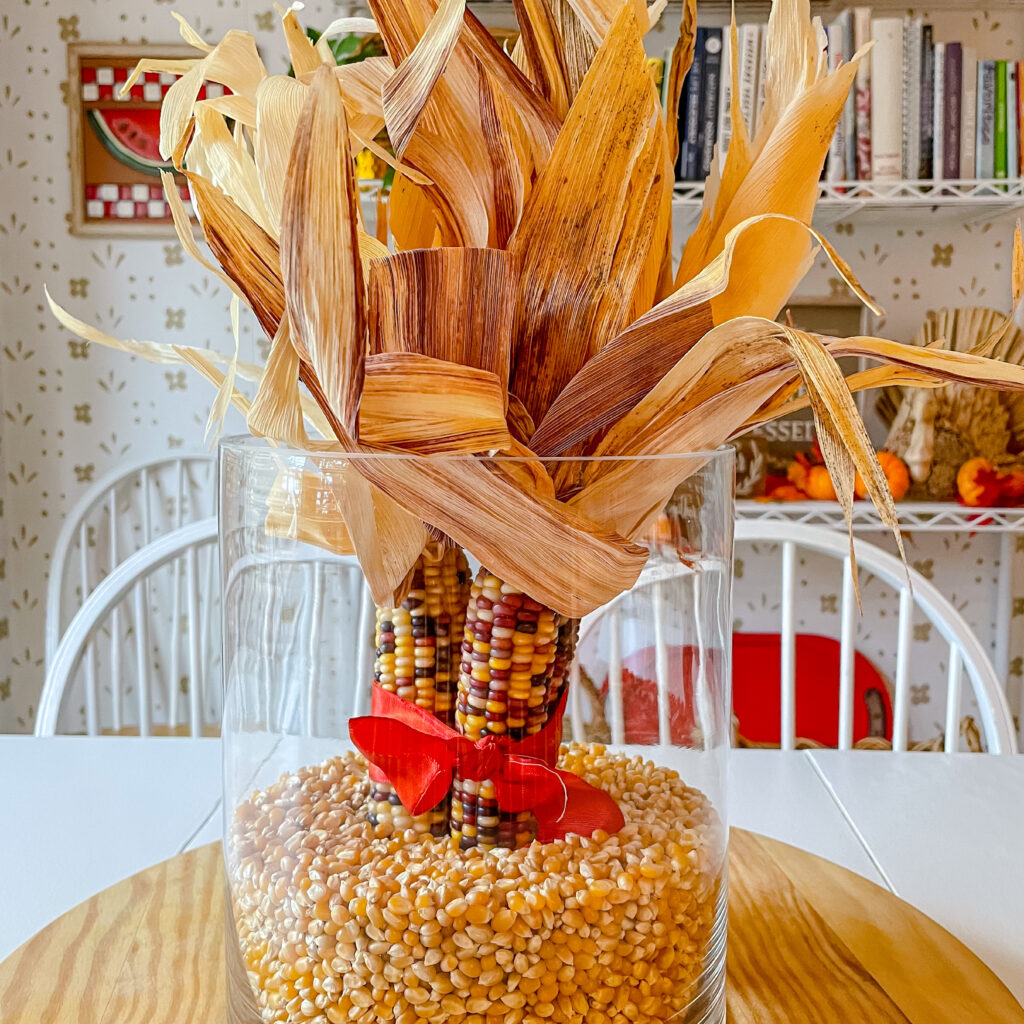 How can I decorate my front porch for Thanksgiving?
Honestly, I'm probably the wrong person to answer this question. Why you may ask? It's because I haven't had a front porch to decorate for almost 10 years! Living in New York City has many advantages, but I do love a good porch and I really love beautiful porch decor. But a couple of years ago I created own of my favorite fall centerpieces, where I treated my marble table like a porch! Haha! But since it was actually a table I was able to use a few more delicate items in my display which I loved. And as a bonus, I no longer felt sad that I didn't have a front porch.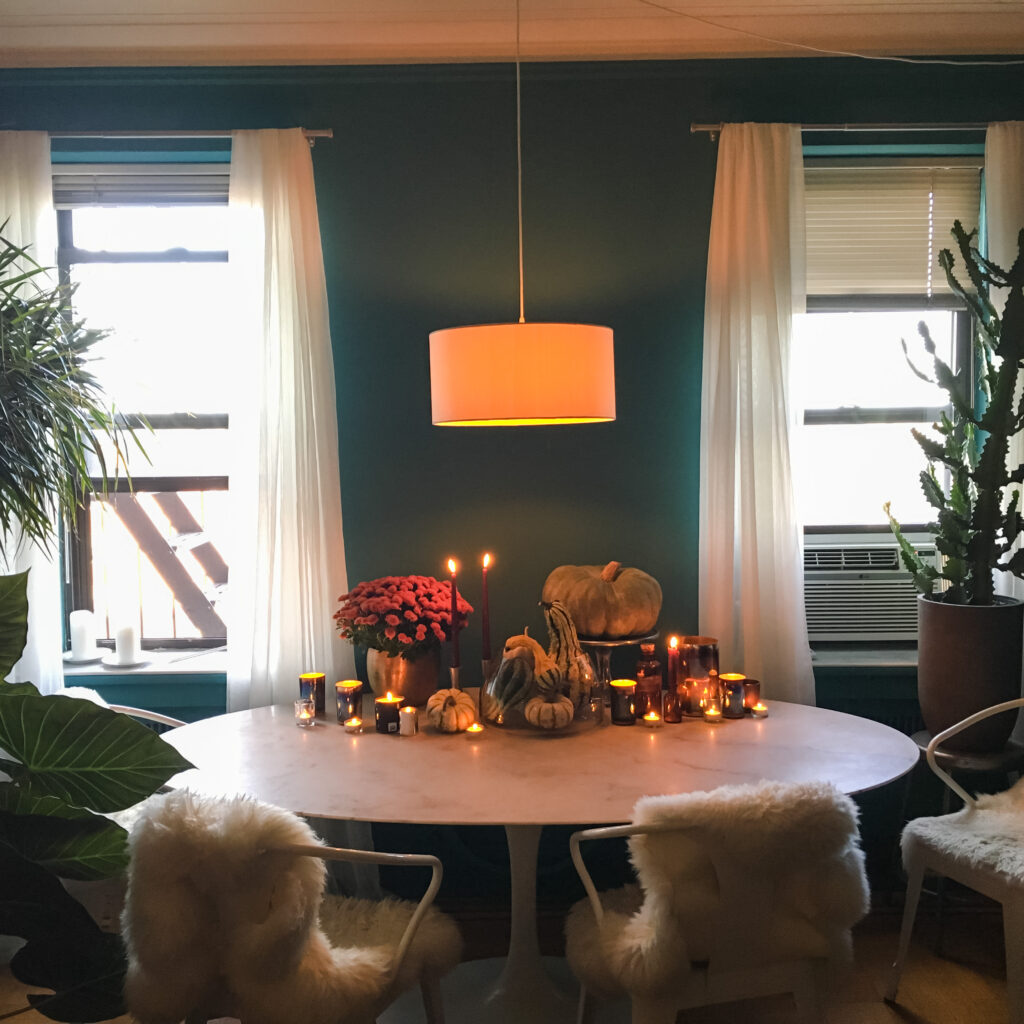 Even though I may be wildly unqualified to give any advice in this department, I do have a few ideas and tips for you. First, look for items around your house, garage, storage unit, and yard. What could you use or reinvent to decorate? What items could you give new life too? And If you'd like to add more elements, getting creative with pots, baskets, or boxes will help to give your porch some variation. But when in doubt, just line your steps with pumpkins. Last week I visited the New York Botanical Garden and they lined the steps of the conservatory with masses of pumpkins and gourds. Maybe next year you grow your own! That would be such a fun project!
Thanksgiving Porch Decor on a Budget:
Potted Fall Mums in beautiful fall colors. Pull out some pots you used for your spring and summer plantings and get dual use out of them. Keep any grasses or coleus if they still look good! (see picture below for inspiration!)
Pumpkins & Gourds, just a few will add a nice touch. Large ones flanking your front door or pumpkins lining your steps.
Simple wreath! Wreaths are at eye level, so they are the perfect item to add to your porch for decor. Simple fall leaves, flint corn, anything in rich fall colors.
Or my personal favorite, a medley of all three of the above. But if that's not in the cards this year, pick one item to invest in, like a wreath, and use it again next year!
Also, let's be honest decorating simply and on a budget isn't always about your bank account. Some years we have more energy than others for the decorating department. Myself included! Haha. Some years we just don't have it in us to deck our porch (or our table!) to the nines for every holiday. That is totally ok! And I sincerely mean that. Just ask my Halloween decor that never saw the light of day this year. LOL!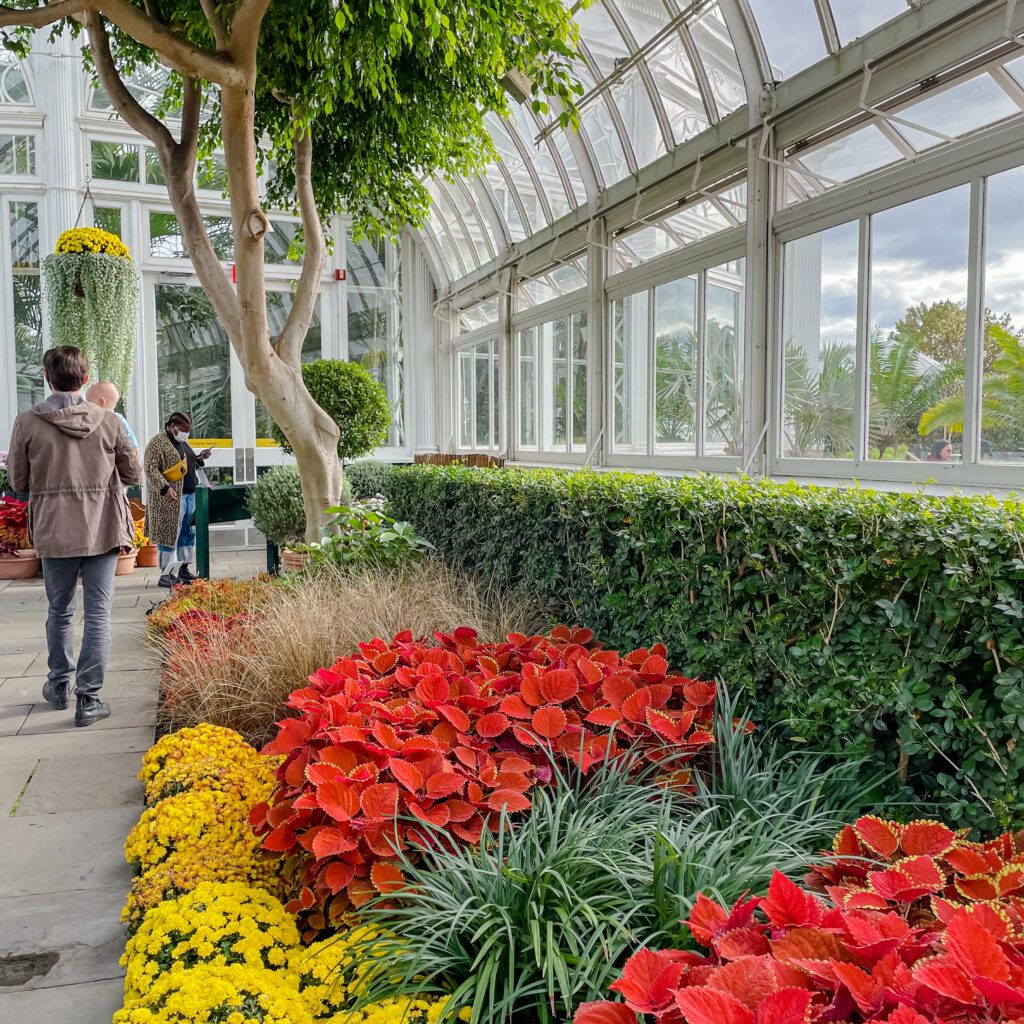 How do I make my house feel like Thanksgiving?
As you are planning your decor for Thanksgiving, don't forget about that feeling that you want to create in your home. Decor definitely helps to create a mood, what can you include this year in your holiday traditions to honor your past and those who you love? Looking back on fond memories of previous Thanksgivings will help you know where you'd like to start. These are some areas that help make a house feel like Thanksgiving:
Smells & Food
Decor
Weather & Hygge Factor 
Activities & Games
Smells and Foods of Thanksgiving
Some of my favorite memories of Thanksgiving are the smells. I love the smell of my mom's cranberry sauce recipe. Tart cranberries mixed with the citrus flavors of oranges. She always made this a couple of days prior to Thanksgiving. It was like the little holiday teaser. Oh how I love that smell! To make my home feel like thanksgiving I make sure to make it every year. This year I am going to look for a candle with those notes, so that I can feel that same anticipation but weeks before the holiday.Or maybe I will do a holiday simmer on my stove top. Either way, a I'd like to capture the smells of Thanksgiving long before the official meal. 
Thanksgiving Hygge
Crisp cold air signals to me that it is indeed Thanksgiving! But there were a few years that I lived in Southern California, where the change in temperature wasn't as drastic, and I survived. Haha, I actually loved my time there. Some really great Thanksgiving memories. But I do love the crispness of the air. But I equally love the coziness of it as well, the hygge factor. I have so many lovely memories of sitting down by the fire at my grandmother's house cuddled up in a blanket reading a book or taking a nap. Unfortunately, I don't have a fireplace in my apartment so this year I may have to settle for pulling up a fireplace on youtube! Maybe candles could count as a double duty here as well.
Thanksgiving Activities
BINGO! You may be shocked at this one, but honestly playing Bingo at Thanksgiving is my MY ALL TIME FAVORITE MEMORY! My grandparents had this lovely tradition and it was just the best. They always had ridiculous prizes (more like white elephant gifts!) it started out that my grandmother would give away whatever her neighbors gave her that she didn't want. LOL. And it evolved from there. My grandpa would wear ridiculous hats, and call out "B10! Hot Damn that's a good one!" It was the best. We all looked forward to it. But if Bingo isn't your jam, pull out the puzzles, phase 10, or any of your favorite family games!
Another good way to lean into the holiday, MOVIES! And equally fun is going to the movies. Or getting cozy at home with a favorite movie. Pop some popcorn or grab another slice of pie and watch or binge your favorite movie. Do you have young kids attending your Thanksgiving gathering? Perhaps they would love to make a foraged twig wreath. Here is the how to post about that. Simple, easy, and nearly free! And it will keep them occupied and they will be so proud of their finished product. Horray!
Thanksgiving Activities in New York City
New York City really shines in this next category! Activities! Here are a few of my favorites:
Macy's Thanksgiving Day Parade (attending this at least once in your lifetime is a must!)
Going to see the windows on 5th Avenue and getting hot chocolate
Train Show at New York Botanical Garden (my toddler goes nuts for this one, but I must admit I'm equally smitten by this one. Well played NYBG!) 
But it doesn't have to be fancy! Growing up we always had a Turkey Bowl, which was a very family friendly football game on Thanksgiving morning. Or perhaps you prefer a Turkey Trot, a Thanksgiving run or an office 5K or 10K. I think I am going to enjoy a nice family walk with my little people this year in our favorite place, our park.
Intentional Thanksgiving
Honestly, gathering all my thoughts about Thanksgiving has really gotten me excited for Thanksgiving this year. I can't wait to be with people I love, eating delicious food, and playing Bingo. But until then I'm excited to make my apartment feel like Thanksgiving for my family. Since I didn't use any of my energy on my Halloween decor this year, I'm going to really lean into Thanksgiving and plan some beautiful DIY Thanksgiving decorations. I hope this note will inspire you to be intentional with your holidays this year! Happy creating and have a Happy Thanksgiving!
xo
Emily