Baby's breath is popular again!
I wasn't sure I was excited about this but this fluffy little flower has won me over. I'm shocked. And before you go and discount this little flower with a bad rep hear me out. 
Baby's breath. As a self-respecting floral designer (a fancy name for a florist!) I wouldn't go near baby's breath at the beginning of my career. It just was so 70's & 80's. Was I afraid that any association with it would make me less of a designer? Perhaps. Not anymore. So many new floral artists are looking to this blacklisted flower to do really beautiful and sculptural installations. So after years of avoiding it, I must admit, I'm falling for baby's breath. My goal? To convince you that you need it in your life, and to convince you that you have a baby's breath DIY arrangement in your future!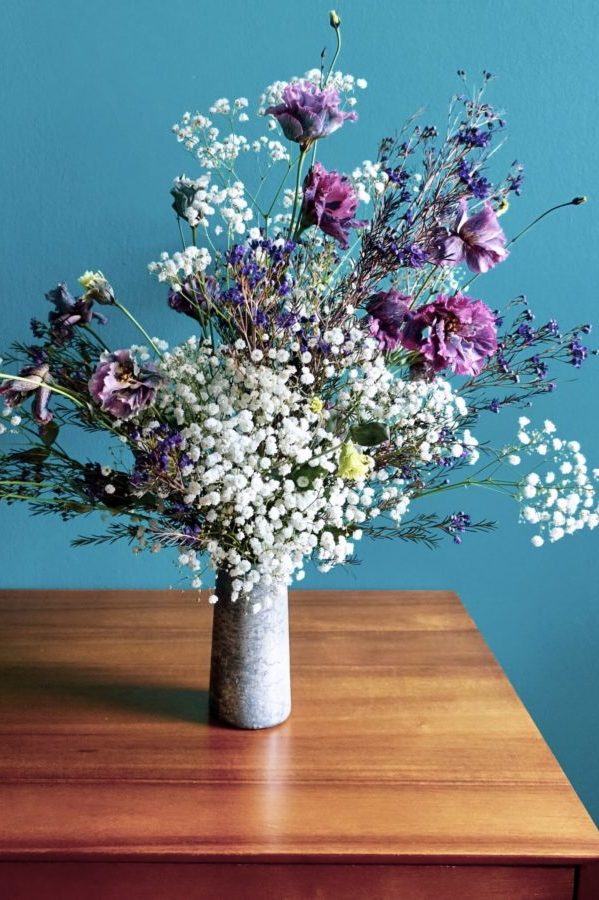 We were shooting our Christmas card (more on that later) and I thought I need a touch of flowers in my hair. But I didn't love what we had. Then I saw this whole bunch of baby's breath just begging for me to use it.
Gypsophilia is another name for baby's breath.
Many flowers have several different names. Gypsophilia is most commonly known as baby's breath, but some designers and wholesalers may also call it gyp for short.
Baby's breath works well for the base! Arrangements & floral sculptures
Gyp not only created the base for this arrangement but also provided the overall shape that I wanted. Another reason why a baby's breath DIY arrangement is such a good place to start on your flower arranging journey. Then I added some color. This part is a choose your own adventure whatever flower and color speak to you! Here I used purple waxflower (also an under-appreciated flower, IMHO) and I also used some beautiful dyed Lisianthus. But feel free to add another light and airy flower to your arrangement.
Gypsophilia's meaning in the language of flowers
In Victorian times, flowers were a way to communicate in a subtle and/or secretive way; to express yourself when you otherwise may not be able to. Gypsophilia means undying love, pureness, and reconnection. To learn more about flowers and their meanings, you can find more information here: https://flowerswithemily.com/flower-meanings/
Baby's breath DIY & make it fashion