A simple yet stunning garden flower arrangement is easier than you think to design. And it doesn't matter if you are using cut flowers from the store, your garden, or a combination of both! Follow these 5 steps to create the perfect garden flower arrangement.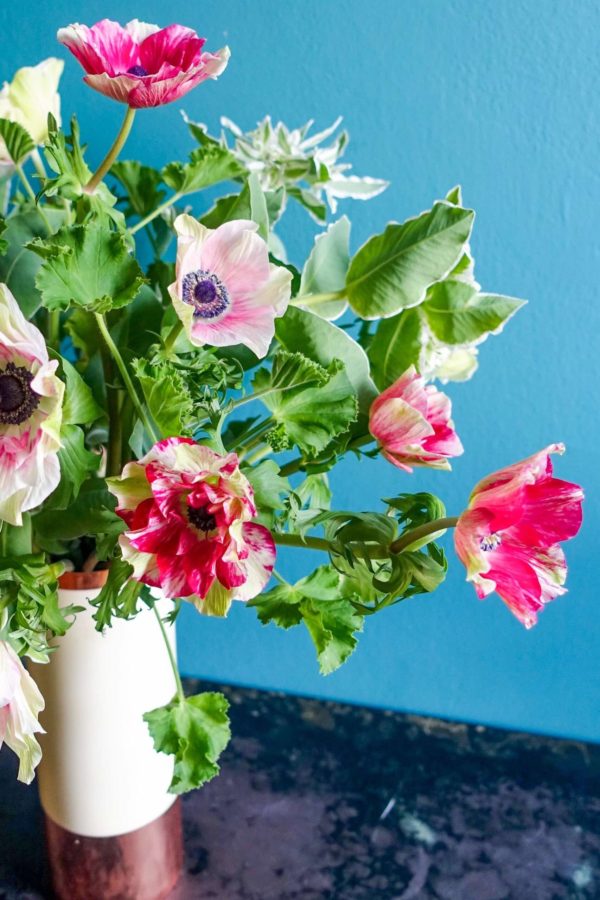 FIRST, PICK OUT YOUR GREENS FOR THE GARDEN FLOWER ARRANGEMENT
For this arrangement, your greenery will set the tone of the whole composition. Personally, I chose greenery that was lush and full and smelled amazing. Have you ever smelled scented geranium? It's heaven.
SECOND, PICK OUT YOUR STUNNING FOCAL FLOWER
Simplicity is key in this flower design. I chose anemones to be the focal flower, and I only chose one flower to keep it simple. They are showy and dramatic. Perfect for a focal flower!
ARRANGING THE FLOWERS, THE FUN PART!
After choose your flowers to work with, you can now move onto the fun part of designing the flower arrangement. Follow these simple steps and you will be surprised just how easy a stunning garden flower arrangement is to design.
STEP ONE: PREP YOUR VASE FOR A STUNNING GARDEN FLOWER ARRANGEMENT
ALWAYS WASH YOUR VASE
Flowers love a clean vase that you'd be willing to drink out of yourself. Seriously, happy long lasting flowers love clean water. So give your vase a good scrub before you do anything else.
CHOOSE YOUR MECHANICS
There are a few different ways to help your flowers to stay in place once they are in the vase. Clear tape, oasis, flower frogs, and chicken wire are popular mechanics to create flower arrangements.
ADD A BIT OF CHICKEN WIRE TO YOUR VASE
For this particular arrangement, I chose to add a bit of chicken wire to my vase. I love using it because it is so easy to use. Just cut off a small piece, bend it into itself to create a little ball, and snuggly push it into place inside the vase.
Chicken wire is great because it is reusable. Pull it out after your arrangement is past its prime and reuse for another arrangement.
Chicken wire is best for vases that are not glass or see through. Since you won't want to see your mechanics, use a ceramic, metal, or other opaque vessel for your composition.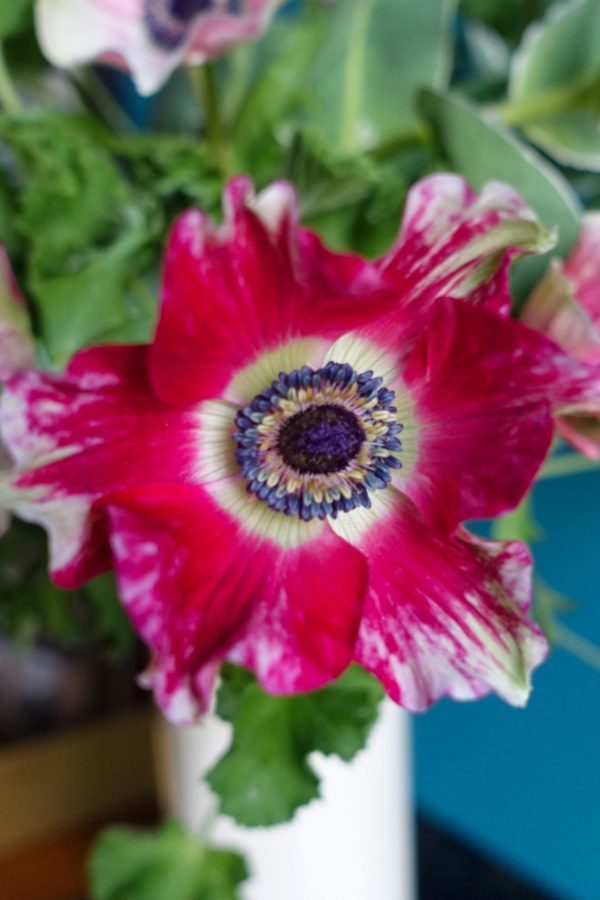 STEP TWO: FILL YOUR VASE 3/4 FULL WITH WATER
Don't fill your vase 100% with water. Why? Because as your add stems to your vase, the water line will continue to rise, and you will be more likely to spill the water. I've spilled water so many times. So take my advice, skip the clean up, and fill the vase 3/4 of the way with water. You will thank me later, haha!
STEP THREE: DESIGN YOUR BASE LAYER WITH GREENS
My goal for this arrangement was to have the greenery shine just as much as the focal flowers to give that lush garden style & look. While I was at the market, these flowers caught my eye even before flowers did.
The greenery usually plays second fiddle and is more of an afterthought. But not this lush snow on the mountain and the incredible scented geranium. Effortless design does take some work, but you want to make your admirers think that it took very little effort.
Starting with the greenery as a base does two things.
Provides great base & shape for your design
Utilizing greens allows you to use fewer flowers (budget friendly!)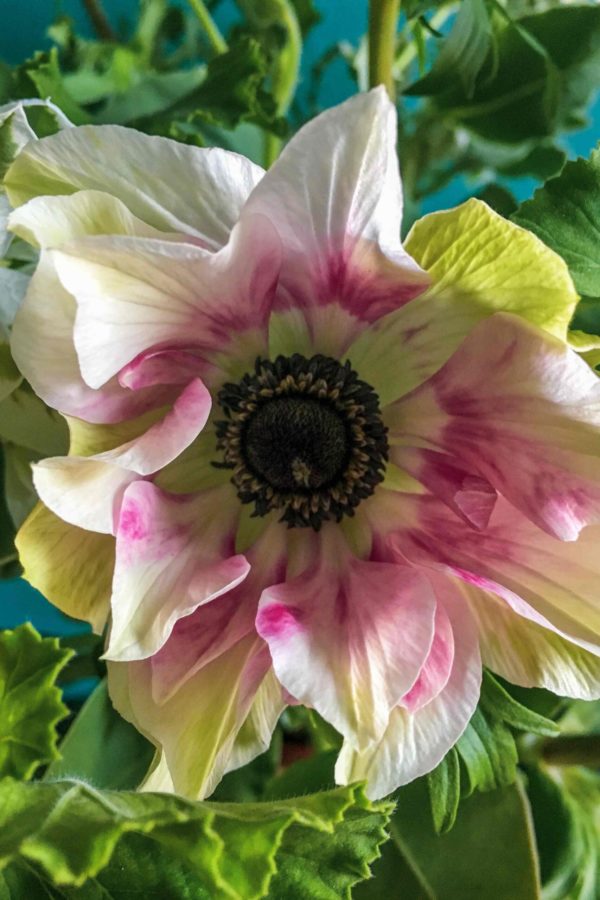 STEP FOUR: ADD YOUR FOCAL FLOWER TO YOUR GARDEN FLOWER ARRANGEMENT
Anemones! Hard to spell, and at first hard to pronounce. They are, as my grandpa would say, easy on the eyes. But a word of caution on anemones, don't ever purchase them fully open.
*Buyers tip: always buy Anemones that are closed!*
Why? Because their petals are so delicate and can bruise easily, and even just a trip back from the farmers market or from the store can cause a bit of damage to those delicate little blooms.
And once they are fully open you only have a few days of a strong showing! Personally, I really enjoy watching the process of flowers opening. It is so fun and inspiring to watch.
STEP FIVE: SPIN THAT GARDEN FLOWER ARRANGEMENT!
Always make sure you pay attention to all sides of the arrangement! So give that arrangement a spin and make sure that she looks good from all angles!
*Exception: If you are placing your arrangement against a wall, you might want to consider making your arrangement 3 sided. No sense is wasting flowers on a side of the arrangement that isn't going to be seen.
Happy designing! I can't wait to see your gorgeous garden flower arrangements.
xo
Emily
PS- You may also enjoy checking out these 5 Simple Arrangements for other flower arrangement inspiration! Also, one of my favorite designers is incredible with garden style arrangements. Check out his website here.