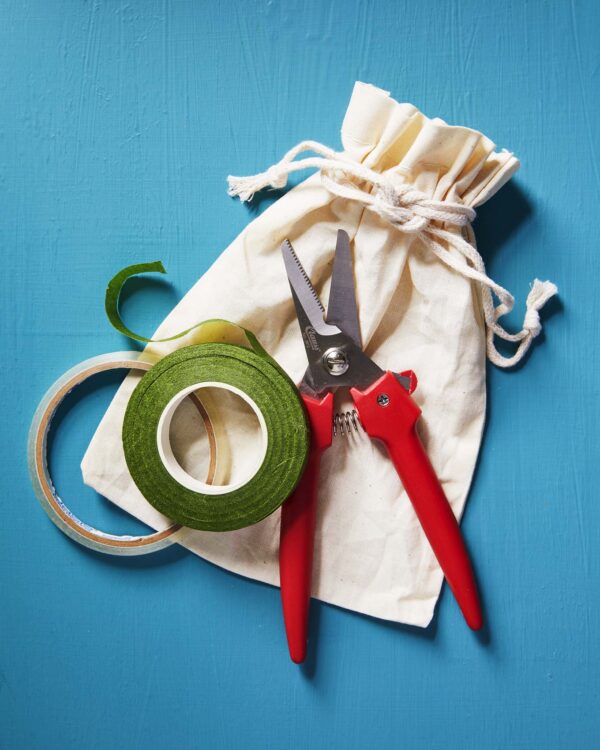 You know that saying, you are only as good as your weakest link? Well, in the world of floral design you are only as good as your clippers. Truly. In fact, if you really love flowers and design and want to dabble at home get the tools that that pros use, the best florist tools.
I mean, you can cut your flowers with scissors (gasp!) but why would you want to? A poor cut doesn't lengthen the life span of your flowers, a bad cut can actually shorten them. So, do yourself and all the future flowers your purchase, and get the very best florist approved tools!
Here are my top recommended florist tools.
The Best Florist Clippers:
Hands down, these are truly the best clippers. And everyone in the flower industry in New York City uses them.
They feel good in your hand, they have a spring, and they are super sharp. And as an added bonus: they come in a rainbow of colors so you can pick your favorite. ARS is the brand, and yes that does matter. A link to my favorite florist tools, the best clippers can be found here.
Second Place Florist Clippers:
These flower shears are a great one for beginners. Excited about learning flower design, but not sure how often you will get to it? These clippers are for you!
I personally used these for years, and I still use them in a pinch. They get the job done. These clippers are not as expensive, but are great ones to have. They aren't quite as heavy duty as the ones above, so don't be trimming any branches with these! These clippers can be found here.
Third Place Florist Clippers
These little beauties are gorgeous! Truly. They come in multiple colors.  I love the style and look of these. They feel good in your hand. These flower clippers are sharp, get the job done, and are perfect for those who don't like flower clippers with springs.
I personally love using clippers with springs, so although I do recommend these as well I don't reach for these as often as I do with the first ones. But if you are like me, you appreciate having some options. These clippers can be found here.
Best Florist Tool: Clear Tape
I LOVE this tape!!! And it will change your life. Really, it will. Do you get frustrated when all your flowers fall to the sides of the vase? This will solve that problem. A little bit of this tape will do wonders.
I cannot overstate enough how much I love this tape and how much it will change your life. Next to my clippers, this is the most important purchase you could make to be successful at floral arrangements.
In a pinch you could use some scotch tape, instead of this tape. But I find scotch tape breaks easily, and it is not water resistant.
This is literally my secret weapon, I promise you will be blown away by how much this little florist tool will assist you in your designs. You can find this tape here.
Next Up: Green Corsage Tape
Green Corsage Tape. This tape is incrediable. It is made of beeswax, and holds together through stretching and pulling it tight. I know, it sounds like magic but I promise it really does work.
This product really shines when making handheld bouquets, bridal bouquets, corsages, any boutonnierres.
It tears easily, and its superpower is that it is green and can be hidden easily in your design work. This is a florist staple in design work. 
Green Tape, best florist tool!
Okay, this tape is a game changer. It's super power is that it is green, skinny, and water resistant. If you are interested in hand held bouquets, (you should be interested! They are so fun to make!) this tape is amazing when designing hand held bouquets!
This tape holds so well, hidden easily, and it a great addition to your floral toolbox! This green water proof tape can be found here.
Green Putty Stuff
This green floral clay is amazing and has so many good uses! And I always have a bit of this in my tool kit, and it has come to the rescue so many times.
It's best know for sticking a floral frog (please see below) to the bottom of the container. This holds the two together tight, but isn't permanently stuck. Kind of cool, right?
It is water resistant, which is a really important feature here since it will almost always be underwater. It is your underwater VIP! 
Best Floral Tools to Create Structure
Chicken Wire the BEST Florist Tool!
Chicken wire! This is the BEST TOOL to design everything from small vase arrangements to large scale installations. Designing with chicken wire is your secret weapon! Seriously. I can't believe that there was a time in my life as a floral designer where I didn't know that this existed.
You will be astounded at how this little tool will up level your designs. Chicken wire can be reused over and over! Yay! So a little goes a long way. You can see how I used chicken wire here! And this particular brand of chicken wire can be found here.
Green Coated Chicken Wire
Green coated chicken Wire. Chicken wire comes in silver or green.This is just like the silver chicken wire above, but it is coated in green plastic.
I love working with this chicken wire. It is easier to hide since it is green, and with the green coating it is easier on your hands. Love that feature. The green chicken wire can be found here.
Up level your floral game with Floral Frogs
Please allow me to introduce you to the floral frog. Or in floral speak, frogs. These little guys are deceptive. You may be thinking, geeze these are pricy little guys. Well, they are HEAVY and SHARP. (they legit could be used as a self defense weapon in a pinch!)
And as much as I would like to have one of these with me at all times I don't. They are so heavy. And they last forever. So despite the cost, they really do enable a unique technique in your design.
I arguably don't use these enough. Japanese design, Ikebana uses these almost exclusively. They go in the bottom of your vase (attached with the floral clay I introduced above!) and you push your stems into their sharp little points. They hold the stems amazingly well, and enable great angles in your design. This floral frog can be found here.
Floral Frogs come in all sizes. You will want to coordinate the size of the vase with the size of the frog. This floral frog is 3″x 2.5″ Perfect for larger designs! Floral frogs are an investment, but well worth it. This floral frog can be found here.
Pep Talk for Purchasing The Best Florist Tools
The best part of dipping into the wonderful world of floral design is that you don't need many items to help you to be successful. To start you need flowers (obviously!), and vase, water, and some clippers. That's it.
However, if you are ready to up your game just a bit and feel more confident purchasing any of the items above will really assist your design game. These are the best floral tools! I really can't live without any of them. And can be found in my purse at almost all times, lol!
May these florist tools and a bunch of flowers bring a bit of joy to your life! Happy Designing!
xo
Emily