Hello Friends! Welcome to Kid's Flower Arranging Basics. I am so excited to share with you the most important basics for creating a beautiful flower design. All you really need is a few flowers, some greenery, maybe even some branches! You can be as creative as you'd like! Here is a picture of my finished arrangement to get you excited! I hope that this post helps you to get excited about what is in your garden or local park!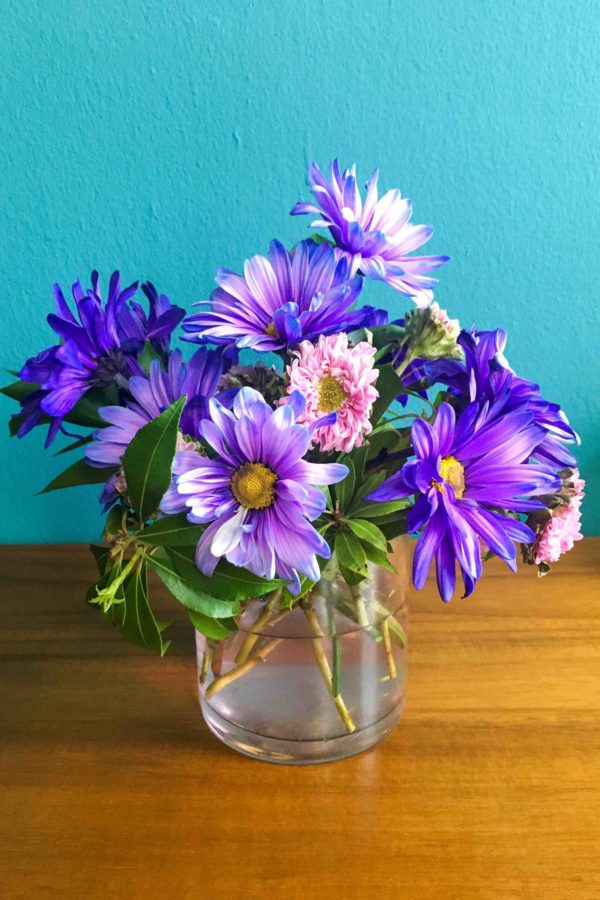 Where do I get flowers and greenery?
There are so many options for places to find flowers. The grocery store has a good selection of flowers and they are so easy to pick up. Just grab a bunch of two or three while you are getting some groceries! My favorite places to grab a quick bunch of flowers are Trader Joes, Whole Foods, and Costco. But if you don't have time to go to the store, you can always get creative in your backyard! Although be sure to ask your parents or adults before you cut their flowers. They worked so hard to grow them! Bushes that are overgrown are especially good to get a small trim for projects like these. And in the springtime blooming branches are a favorite of mine!
What should I use for a vase?
A vase is a container that is used specifically for flowers. And they come in many different colors and materials. They could be clear, white, black, silver, almost any color you can think of! And they could be glass, plastic, or ceramic.
No vase? No Problem!
Here is the fun part where you can get creative! You can use almost any container as long as it holds the water. You don't want anything with a hole in it! Lol. You can use a drinking glass, a jar, a pitcher, a piece of Tupperware. the sky is the limit with your creativity. You can also up-cycle, using a container out of your recycling bin. Just take off the labels and clean it up a bit!
Rule #1: Always clean your vase!
You want your flowers to last as long as possible, and the first rule to helping them to last a bit longer is to start with a clean vase. You don't want your dirty vase to kill your flowers more quickly.
Rule #2: No leaves under the water!
This is a very important rule: don't ever let your leaves of the flowers in the arrangement go under the water. If the leaves are in the water they can create bacteria which then can kill your flowers more quickly. And we don't want that! We want our flowers to bloom as long as possible.
Rule #3: Be Creative & Have Fun!
There are lots of "rules" of floral design that you can follow, but the most important is to be creative! Explore your creative side and try different color combinations, short & tall, and have fun. Flowers are meant to be enjoyed!
Those are 3 of the most important rules, in my opinion, for designing with flowers regardless of your age. Be creative and let flowers bring Joy!
Please check out my video below for more details and tips on kid's flower arranging basics. Enjoy!
xo
Emily