Exploring by Neighborhoods:
I get asked all the time from friends and family about my favorite spots in the New York City. From experience I've found the best way to see the city is to explore by neighborhood. It is the BEST way to see, feel and love New York.
And while you could easily argue that the NYC Flower Market, (28th Street between 6th & 7th Avenues!) is my favorite place in the city… I do have a few more to add to my ever changing and evolving list.
Now having lived here for over 9 years, (Where did the time go?!) I inevitably get asked for a list of my favorites in the city. This list has ebbed and flows over the years, as I find new gems & just can't quite my oldies. But just like this ever changing city, I imagine that this list will continue to change over time.
This city is so magical and energetic, and each neighborhood has its own vibe. Which I find delightful and fascinating. Some of my very favorite memories have come from going to see/do/eat one thing than wandering and finding something unexpected.
So, in order to help facilitate some exploration by neighborhood, I've organized my list by neighborhoods. If I missed your favorite! Please share with me, chances are I don't know about it! Haha!
Many of these places on this list came from someone else, but now they are loved and have become my own. I hope that this list of my top favorites by neighborhood will help you to find your own special places in the city.
Cheers & happy exploring!
xo Emily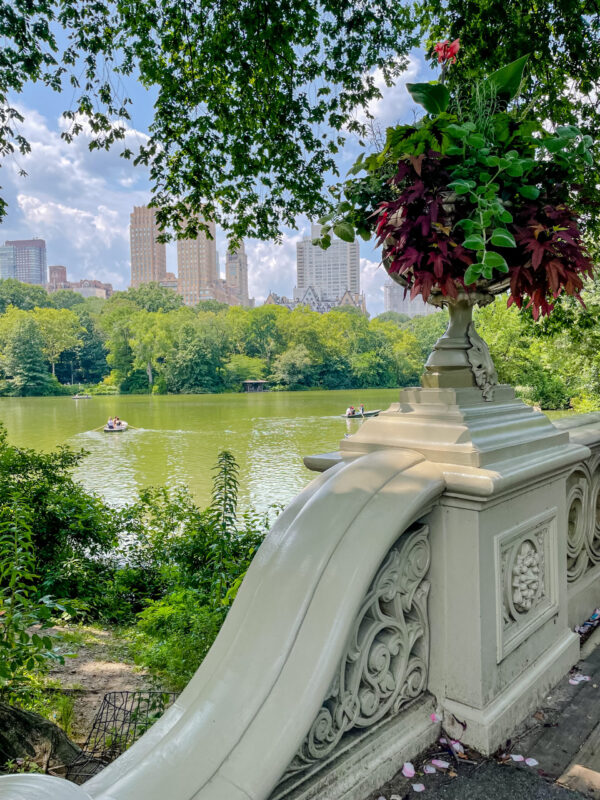 My Top Favorite Things to do & Eat on the Upper West Side:
Let's start with one of my favorites, the Upper West Side. When I first moved to the city I moved into a great apartment on 96th Street. It had two decks, was a two story apartment, and was full of city charm (also could be viewed as old and falling apart, haha!) And they weren't fixing it anytime soon since they planned to tear it down to build a much larger building. So after a wonderful first landing spot for 6 months, I had to move.
Some how the stars aligned, and I moved into an incredible apartment on 110th Street across the street from Central Park. It was amazing. And I was able to live there for 2 years. What a dream. As you can imagine, I have so many good memories from the Upper West Side. Here are my favorites.
Top 3 Things To Do & See on the Upper West Side:
–Central Park!! 72nd Entrance, strawberry fields, Fountain This is my favorite route to walk in the park with visitors. Central Parks greatest hits! LOL!
–Museum of Natural History Dino museum, at least that is what my 3.5 year old son calls the museum. And I love this museum. He can run, jump, yell, do all the toddler things and it is just fine. Why? Because this place is full of other like minded toddlers and kids. So if that is not your jam, make sure you don't go on a day that school is out. Haha! I've heard that they have a great splash pad during the summer outside on the grounds. I haven't taken my boys yet, but it is on my list!
–Riverside Park, Remember that scene from You've got mail? The one at the end where they reunite at that beautiful park with all the flowers blooming. Yep, that was Riverside Park. It's hard to compete with Central Park, but If you'd like a view of the Hudson River and want to relive all your Meg Ryan fantasies, this is pretty great. Also, there is a biking/walking path that runs through Riverside Park, and it runs the entire length of Manhattan from Battery Park downtown all the way to Inwood. Highly recommend that route. It's a great way to see the city.
Top 3 Favorite Places to Eat on the Upper West Side:
–Levain's Cookies! So delicious and quite possibly the best cookie in the world! Not joking. My favorites are the chocolate chip walnut and the chocolate peanut butter. If you haven't had one of their cookies, you absolutely should. They are incredible.
Also, if you aren't able to head to NYC immediately, you could suffice by making one of these two copy cat recipes! For the chocolate chip walnut click here, and for the chocolate peanut butter click here. It's not the same as an original, but you won't regret making (or eating!) these.
Maison Pickle It is so good, one of my very favorites. I love the ambiance, the food is delicious, and the portions are huge (great for sharing!). I love their croque madame, and one year for my birthday we went to dinner here and my birthday cake was HUGE and had a legit firecracker in it. Haha! And I just recently had the best salad of my life here, the Tuna Nicoise. And I'm not a salad person. Go figure!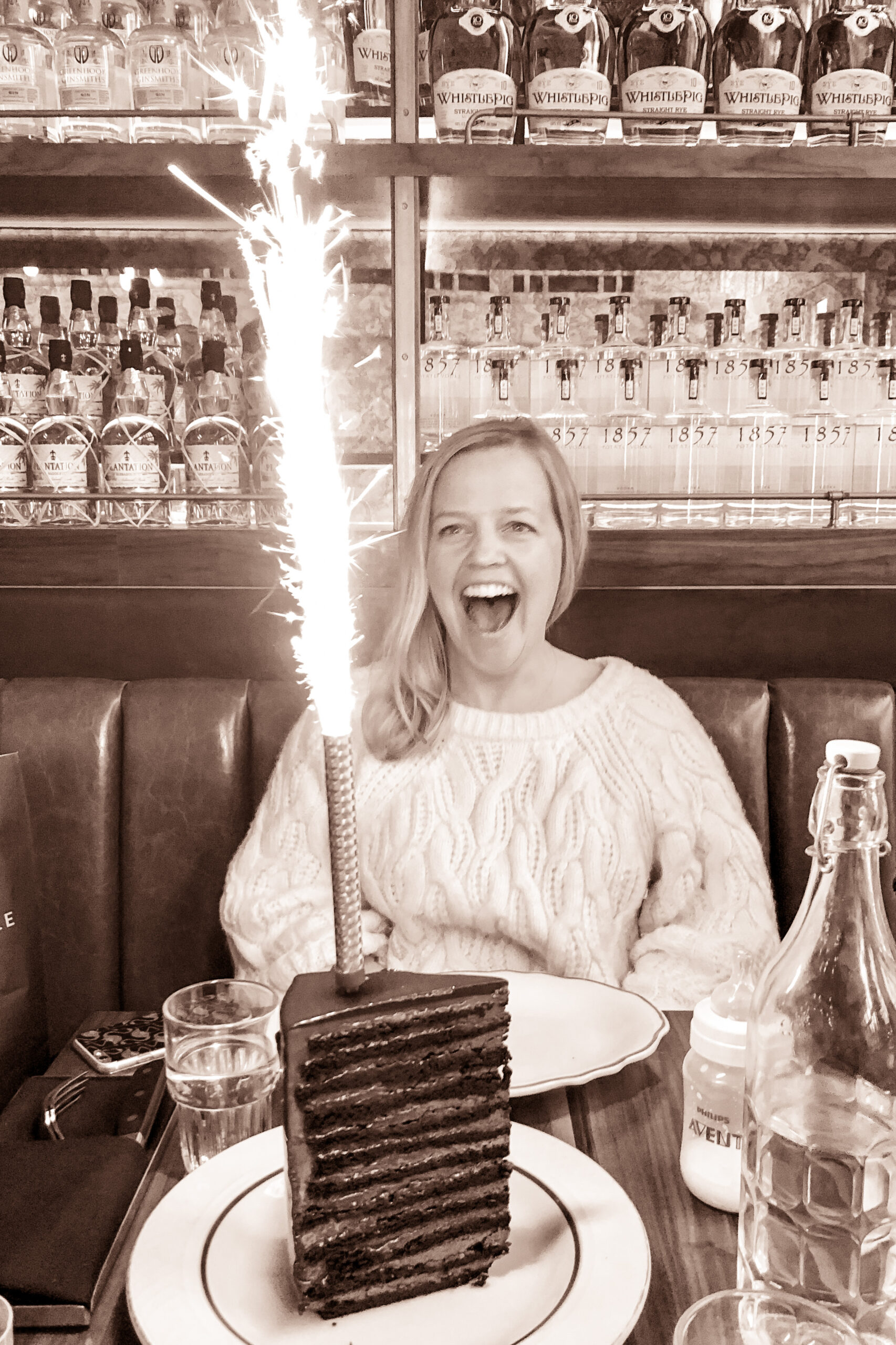 -Absolute Bagels, Hands down my favorite bagel in the city. CASH ONLY, but worth the extra step (if you are like me and NEVER carry cash!) Love the breakfast bagel sandwich or the Nova Lox spread with lettuce, tomato and onion. On an everything bagel. The best! I also love the combo of the egg bagel with the blueberry cream cheese. But be prepared to wait, unless you go at 3pm on a weekday. Haha. But totally worth it.
*For more things to do, see, and eat on this part of the city, and my Upper West Map, click here.
Columbus Circle/Lincoln Square
Top 3 Things to See & Do Columbus Circle & Lincoln Center:
-Entrance to Central Park & Iconic Columbus Circle: My first trip to NYC I missed seeing Central Park. Do not make the same mistake. It's lovely, even in the winter. A couple years ago I freelanced at Renny & Reed, a very fancy flower shop on the UES on the corner of Park Ave & 59th street. I would get off the subway at Columbus Circle then I would hop into the park for a quick morning appreciation walk as I walked to the east side on my way to design flowers. Heaven. I wish that was still part of my commute!
*They have the best public restrooms in the Time Warner Building, aka the Shops at Columbus Circle. You may think its silly of me for mentioning here, but you will thank me later. We use them here all the time, haha.
–Temple/Church at Lincoln Center: The church I attend has a chapel and Temple at 125 Columbus Circle. I have so many wonderful memories there. So many services attended & friendships made. It's been truly a sanctuary for me in the city.
–Lincoln Center: Gorgeous Buildings featuring Mid Century modern design will thrill you as much as the performances that happen here, Metropolitan Opera, Ballet, Julliard, ect. It's incredible to see performances with the very best in the world here.
*Bonus: A favorite Christmas activity of mine is to check out the holiday shops at the entrance to Central park from Thanksgiving week to the end of December. Grab some hot apple cider, a giant ginger cookie (the best!) and check out the artisan shops for a few last minute gifts. Fabulous Christmas Décor in the Time Warner Buildings at Columbus Circle!!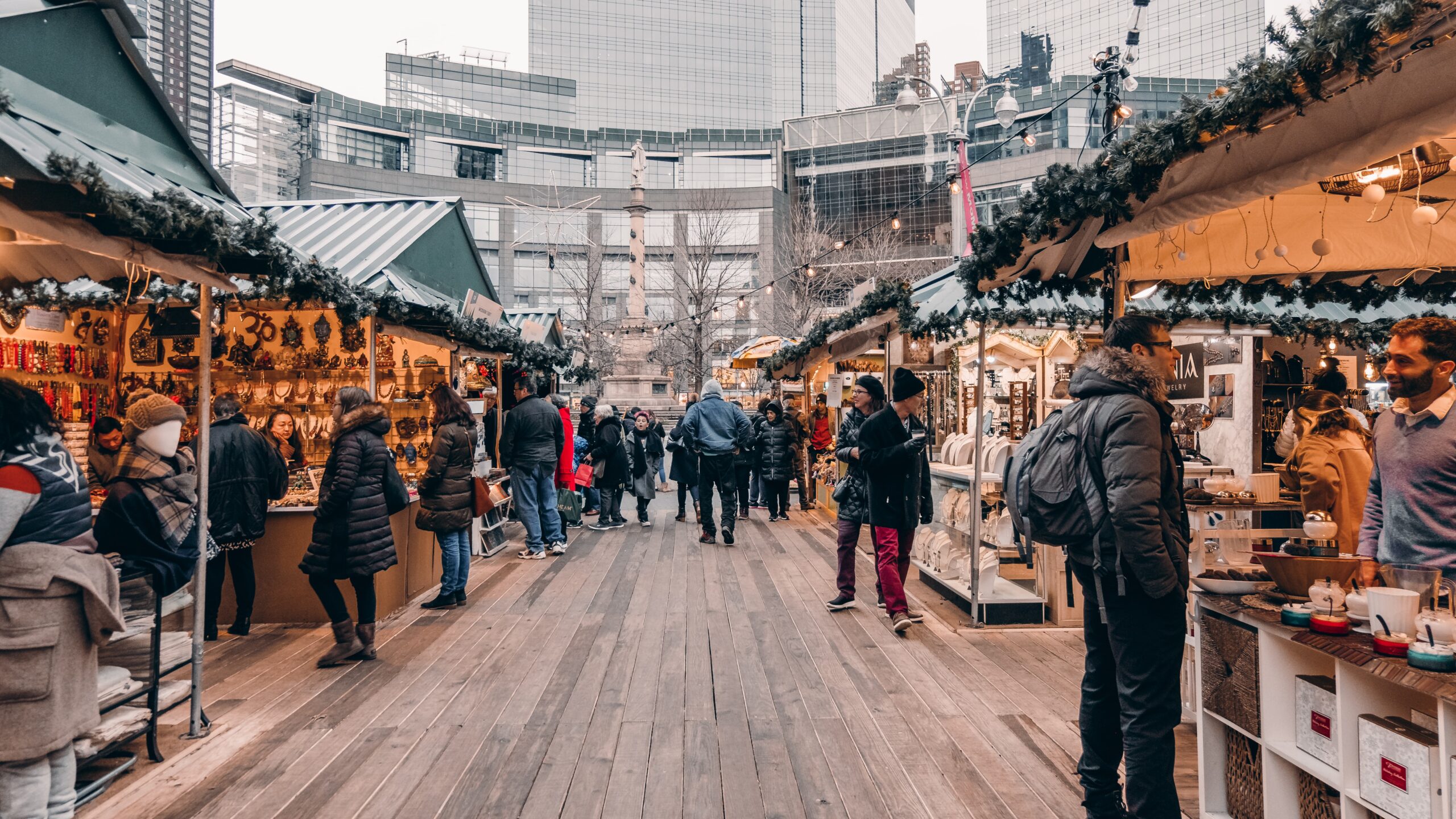 Top 3 Places to Eat at Columbus Circle/Lincoln Center:
–The Smith, I love their burger! But they have other delicious food as well. Last time I visited they even had a photo booth. It's a rule in our house to always use a photo booth if there is one. Delicious burgers and a photo booth. Score!
–Magnolia Bakery, I know that many of you will go for the cupcakes. I don't care for cake, and I know that is very controversial. But trust me on this… grab some of their famous Banana Pudding and head over to Central Park to enjoy. A good banana pudding is heaven. I've tried many Banana Puddings in the city, but this one is the very best!
–Robert, Delicious food, but this upscale restaurant is located on the top floor the Museum of Art and Design and boosts incredible views of Central Park. Don't forget to take a peak at the museum before your visit.
*The Shops at Coumbus Circle have some really fancy restaurants. I've got my eye on Per Se… one day!
UPPER EAST SIDE:
Top 3 Things to see/do on the Upper East Side:
The Metropolitan Museum of Art: My first trip to NYC, I forgot to check the museum hours and planned to go on the last day of our trip. But the Met was closed. Do not make the same mistake. I love this museum, but I get "museumed" out rather quickly. So I like to have a game plan and just see a few things each time. Look up the current exhibits, make sure to see your favorites in their permanent collection, and always see the Temple of Dendur. Always. It's so good.
Central Park Zoo: This is a lovely hidden gem in Central Park. It took me years and a child of my own to go and see it. But it is just lovely. Charming architecture, beautiful grounds, and a handful of animals. It's such a small little zoo, but the perfect little addition to your park visit. I would recommend visiting in the spring, summer, or fall when the plants are living their best life. It's incredible.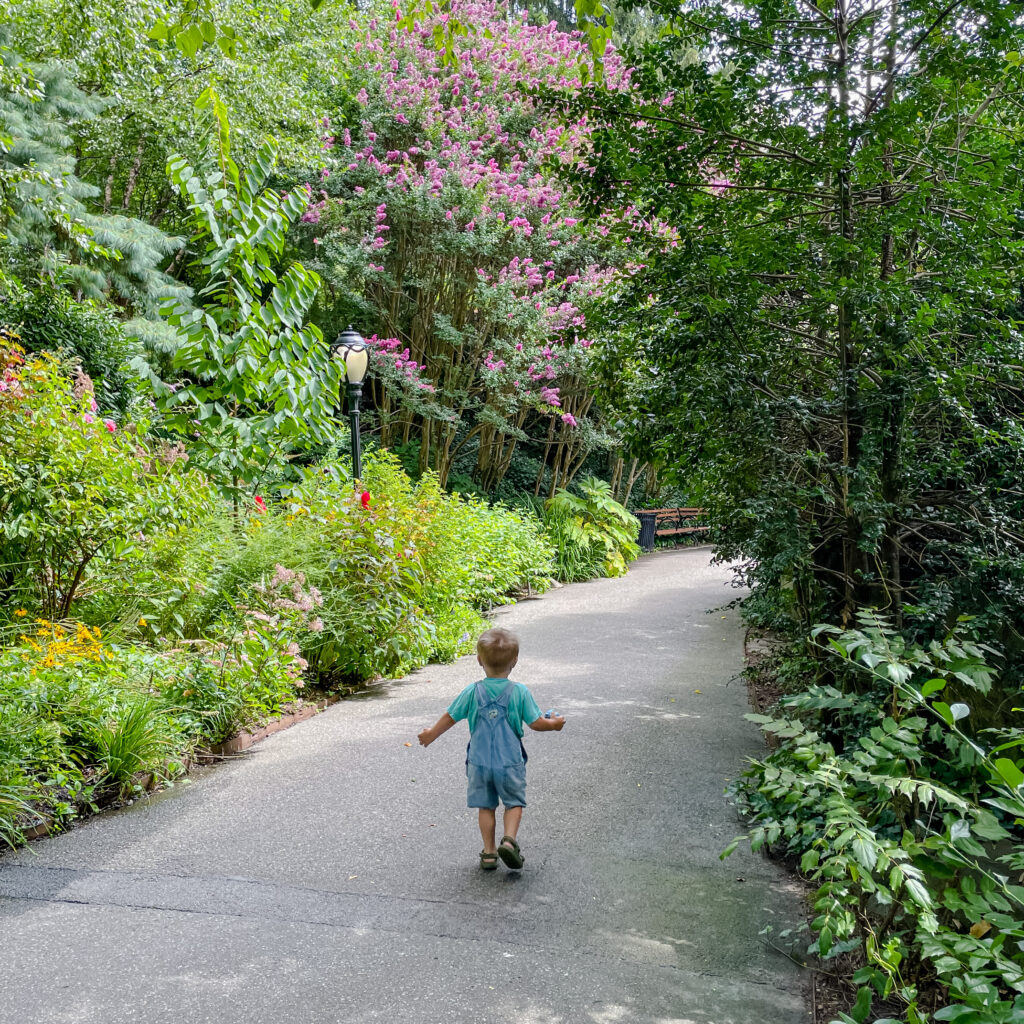 Guggenheim Museum: The architecture of this building is iconic. But I would only recommend paying to go the Guggenheim if you are excited about the current exhibit. If not, you can wander inside and gaze upwards at the incredible view for free. But it is pretty special to be able to walk up the circular walkway and gaze at beautiful art at the same time.
Bonus: Conservatory Gardens in Central Park (about 103rd street) is absolutely incredible and totally worth the time to get there. As stated on the park's website, "the Conservatory Garden is Central Park's formal garden and one of the most significant public gardens in New York City." My husband, a photographer took some great photos of us the day we got engaged in Central Park, this was in front of the most beautiful and prolific azalea bush I have ever seen.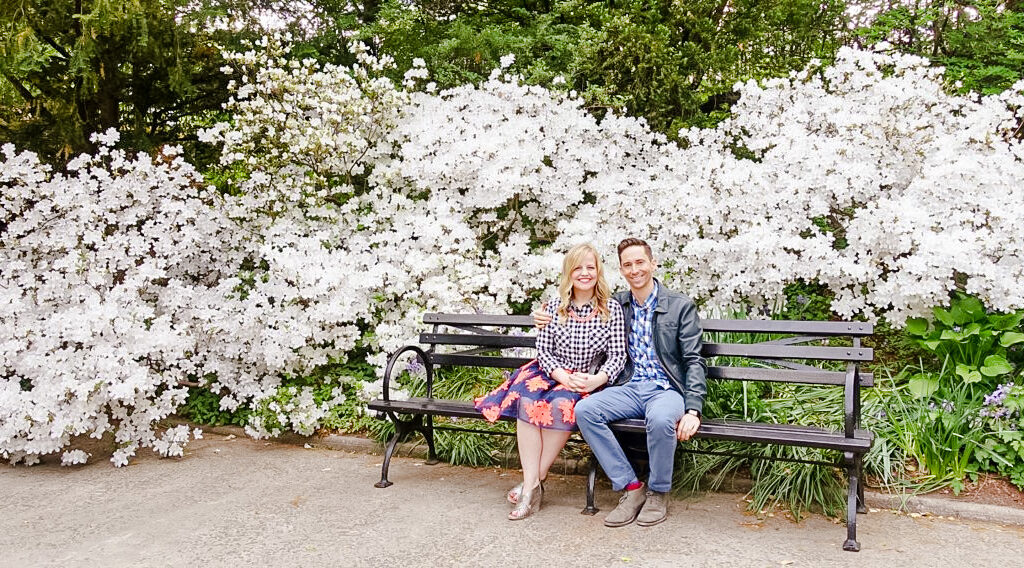 Top 3 Places to Eat on the Upper East Side:
Cafe Bilboquet, I stumbled upon this delightful little bakery and cafe quite by accident one day during a lunch break on the UES. My love language is pastries and I was completely smitten by this little cafe. Beautiful pastries that taste just as good as they look. Grab something to go and enjoy it in Central Park, or sit down and take a break.
The Drunken Monkey, I absolutely love Indian food. And I must admit that I haven't been to The Drunken Monkey yet, but a friend said the food was so good she cried. Perhaps a bit dramatic, but none the less the rave review snagged a spot on my list so that I don't forget to go.
Ladurée Madison, For the longest time I thought that macaroons were made only of coconut. I had no idea that fancy french macaroons even existed, haha. But then I was introduced to Ladurée. Game changer. I love the all the flavors, and the packaging is just a beautiful as they taste.
TIMES SQUARE
Top 2 things to do/see in Times Square:
–Times Square: Honestly, unless I'm going to see a broadway show I don't go to Times Square. Too many people, too many people hustling you to take tours, go to comedy clubs, ect. And tourists don't know the unspoken rules of walking in NYC. So I avoid it. But you've got to experience it once for yourself!
-Broadway Shows: I love going to see a good broadway show. My favorites shows that I've seen on Broadway are: Hamilton, American Utopia, Beautiful, Le Mis, Wicked, Come From Away, & the Lion King. If you would like to get a better deal and don't mind being flexible, many shows have online lotteries and/or sell rush tickets.
Top 3 Places to Eat in Times Square:
Los Tacos No 1, I LOVE these tacos. My favorite is the the pork taco. It is incredible. This is the perfect place to grab a quick meal before a show. Its a stand in line to order, and eat while standing kind of place. It's always busy, has great energy, but most importantly… it has delicious tacos!
Ippudo Ramen, There is nothing better in NYC on a cold day than some delicious ramen. And this place is my absolute favorite. I love the ambiance and the ramen is amazing. Oh and don't forgot to order a couple of pork buns. So good!
Angelina Bakery, Open late, this bakery was an accidental discovery and is so good. They have amazing pastries. They are stunning to look at, but more importantly they taste as amazing as they look. I was so happy to find this little gem of a bakery in the heart of Times Square. Perfect to pair with a show.
Midtown:
Top 3 Things to See & Do In Midtown
–MOMA, the Museum of Modern Art. Fun fact: Starry Starry Night is on display here. And funny story, my uncle was so excited to see Starry Starry Night, but was disappointed when he asked at the Louve in Paris and they said it is on display in New York City. LOL! Love this museum.
–Architecture! The best buildings in the city, in my opinion! Top three buildings in the city:
1-Empire State Building, it's iconic. It always makes me think of the movie Sleepless in Seattle. Definitely worth the trip up for an amazing view, but make sure its a clear day so you can see the city!
2-Chrysler Building (my favorite building in the city!),
3-Grand Central Station, the ceiling in GCS is gorgeous. Don't forget to look up! This is a great pit stop for a quick bite to eat downstairs in the food court. Or to catch a subway train to a different neighborhood.
–Bryant Park & New York Public Library, The iconic Lion Statues guard the entrance to this incredible building. Please go inside to enjoy the the reading room. It is incredible and so gorgeous and just reopened a few years ago after being renovated.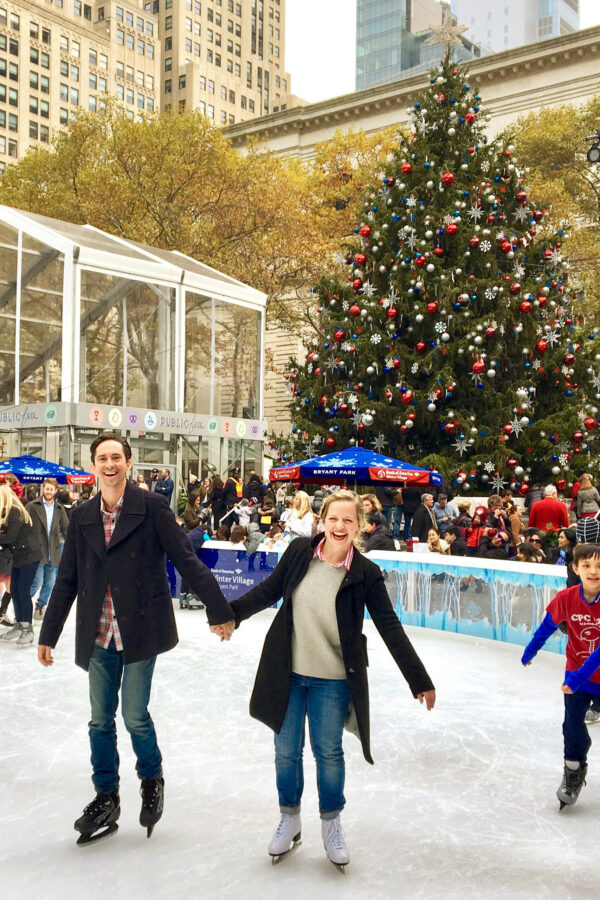 Top 3 Places to Eat in Midtown
–Burger Joint, Fabulous burger dive/joint hidden behind a velvet curtain in the Thompson New York Hotel, just adds to its appeal
-*Temporarily Closed* I hope they reopen soon! Norma's, (Also in the Thompson New York Hotel) the most decadent Breakfast and Brunch… think Foie Gras French Toast. Oh and make sure to get the orange juice, bottomless and divine!
–Ole & Steen, one of my top 3 bakeries in the city! It is a Danish Bakery, and they have the most incredible pasteries, delicious sandwiches. If you like rye bread, their carrot rye is incredile as are the chocolate rye cookies (it may sound strange but they are amazing!)
–Lady M Cakes, they feature Mille Crepe Cakes. If you haven't tried one yet you are in for a treat. They are the most elegant and decadent layered crepes with cream convections. Devine. Sold by the slice or whole.
Chelsea
Top 3 Things to See & Do In Chelsea
–Chelsea Market, This is a favorite spot. So many good places to eat and shop all in one place. Duck in here for a break from the weather and do a little shopping. At Christmas time the Chelsea Market is all decked out and especially fun to visit.
–Highline Park, is an elevated park on old train tracks and is quite charming. The southern entry is about 14th street and ends at Hudson Yards. I love walking the entire park in the spring or summer when the flowers and trees are in full bloom. It is also quite fun to peek inside a few apartments as you walk the Highline. Don't forget to grab a treat to enjoy as well. I love to hit up Fabrique Bakery since it is so close to the entrance on 14th street.
–Whitney Museum, I love going to the Whitney for their special exhibits and to enjoy the architecture of this cool building. One of my favorite exhibits I've seen was one on Andy Warhol.
*Fun Fact, the block where everyone knows my name is located in Chelsea, the NYC Flower market on 28th street between 6th and 7th avenues. It is a great place to visit as well. I'm currently working on a guide for this one as well. Stay tuned…
Top 3 Places to Eat in Chelsea
–LOS TACOS NO 1, The BEST tacos in NYC. As a native of the west coast, I take my tacos very seriously. And to be honest, although New York excels in most food, this is a cuisine that has been disappointing. Love the mexican coke, the horchata, and their pork taco is incredible! Located in Chelsea Market
–Fabrique Bakery, Currently my number one favorite bakery in the city. The Swedish CARDAMON BUNS are out of this world good. But honestly, everything I have had here is delicious. I love their smoked salmon with fennel salad on a baggett for a quick lunch. Grab your spoils and enjoy them a few blocks away on the Highline.
–Billy's Bakery, I'm not a fan of cake. I know this is a controversial opinion, but its true. However, I adore the banana cake at Billy's. So that really feels like something. Haha. Other delicious items here, but the banana cake stole my heart and I haven't really gotten it back.
West Village:
Top 3 Things to See & Do in the West Village:
-Washington Square Park, prepare for some excellent people watching! This park never disappoints. I suggest coming here with some lunch or a treat and just taking it all in. The last several years on Christmas Eve we sang Christmas Carols under the arch with hundreds of New Yorkers. Pretty special.
-Grove Court, These homes at one time were carriage houses/servant quarters for nearby brownstones. But now, these dreamy little cottages (And I mean small, think one room per floor!) are in the middle of the West Village and have the most incredible courtyard. I love peeking in through the gate and imagining my life living in this quaint little spot.
-Skinniest House in NYC, the skinniest home in NYC is in the West Village. And it is SKINNY! I love checking out this video when it was for sale to see what the interior is like.
Top 3 Places to Eat in West Village:
–Buvette, This delicious restaurant holds so many memories for us. The evening we got engaged, my husband and I celebrated at Buvette. And we have celebrated main important milestones here. The food is incredibly delicious, and don't skip out on dessert. The chocolate moose is incredible. Oh and they have a location in Paris… so I would say their french cuisine is quite legit.
–Little Owl, delicious restaurant, need reservations for this tiny lovely spot. This is tiny spot, but so worth getting the reservation. I love this little spot in the West Village.
–Minetta Tavern, We went for the famous burger, but honestly the whole vibe was incredible not just the food. The red leather benches and crisp white table cloths, I kind of felt like we had traveled back in time.
Lower East Side:
Top 3 Things to Do/See on Lower East Side:
–Tenement Museum, This museum is so interesting. They found an undisturbed tenement building on the Lower East Side and stories about immigrants and migrants stories are told as they forged a new life here in New York City. They have several different tours available, so best to read up on those to see which ones speak to you. They also have a fabulous gift shop.
–BonBon, Okay so this might be cheating since you technically eat candy, but this is a must stop place for me and it is an experience since you scoop all your candy yourself into a cute little pink bag. This place boasts of Swedish candy, and although it is mostly gummy candy (my fave!) you can get chocolate and other varieties as well.
Top 3 Places to Eat on the Lower East Side:
–Katz Deli, famous Jewish Deli, delicious pastrami sandwiches and quite the experience… location of a famous scene in When Harry Met Sally
– Russ & Daughters Cafe, best Lox Bagel and Cream Cheese I've had in the city. Jewish, so charming, and one of my new favorite places. Unfortunately, they haven't reopened seated service since the pandemic, it is just take out. Still incredible food, just plan accordingly.
–Clinton Street Baking Company I had heard about this place long before I actually ate here. It was a moment of truth, would it actually live up to the hype? And it most definitely did. It was delicious and hit the spot. It doesn't hurt that the day I ate here happens to be a favorite day in the city memory. Sigh… oh those are good days.
Little Italy
To be honest, not many of my recommendations for Little Italy are Italian. Personally, I feel like the real little Italy is on Arthur Avenue in the Bronx. But if you are looking for good recommendations in that neighborhood in Manhattan, these are for you!
Top 3 Things to see/Do in Little Italy:
Clearly I need to spend a bit more time in this neighborhood… send me your favorites!
Top 3 Places to Eat in Little Italy:
–La Bella Ferrara, This is a recommendation from a good friend. I will be visiting soon…
–Café Habana, Delicious Cuban
–Billy's Bakery, My husbands favorite Bakery in the city. Their banana cake is incredible. We both vote their cake/cupcakes are better than Magnolia. However, no one beats Magnolia's banana pudding. (locals only get the banana pudding at Magnolia's)
China Town
Top 3 Things to see/Do in China Town:
–Magic Jewlrey, Get your Aura Photograph I just did this and loved it! For $10 more dollars you can have them explain the photograph to you, which I highly recommend! Such a fun thing to do.
–Chinatown Fair Arcade, haven't been yet but its on my list!
-MASSAGES! Oh my heavens, the prices are right and they are fantastic. Most places do accept walk-ins, although the more popular places you will need an appointment.
Top 3 Places to Eat in China Town:
–Nom Wah Tea Palor, get the soy sauce noodles!
–Xi'an Famous Foods, I love the thick noodles and dumplings! Excellent for a fast lunch or dinner
-The original Chinatown Ice Cream Factory, grab some cash prior because that is all they take!
Financial District:
–World Trade One, The view at the top is incredible. But I would only attempt this on a clear day. You will want the view to be unobstructed.
–9/11 Memorial (free) & Museum: Prepared to feel your emotions with a trip to see both of these. Incredible and sobering.
Battery Park City:
-Staten Island Ferry… FREE and also with a great view of the statue of Liberty!
–Sea Glass Carousel, This Carousel is incredible. It's so beautiful, and I haven't met a kid who didn't love going on this!
-Head off to Govenor's Island for the Day! This is so much fun, but can occupy your whole day. So plan accordingly. Also, many of the attractions on the island are seasonal, so make sure to research in advance.
Washington Heights:
This is a special neighborhood to me as this is where we live. It is the northernmost part of Manhattan, and it is a hidden gem. Not many tourists come up this way, which is part of the charm. But if you do, there are some great views, incredible art (The Cloisters!) and delicious food that are our local haunts.
Things to Do/See:
–Cloisters, Extension of the Metropolitan Museum of Art. Three chapels are on permanent loan to this museum and brought over from Europe.
–Fort Tryon Park, gorgeous and sweeping views of the George Washington Bridge and Hudson River. Also the Heather Garden pictured above is my personal sanctuary in the city. It's so beautiful.
–Greenway & Little Red Lighthouse, Did you know that there is a bike/running path that spans the entire length of the island of Manhattan? In fact, if you follow the map linked above you can bike the entire perimeter of Manhattan.
It is so beautiful, and my favorite little gem is a stop a the little red lighthouse right under the George Washington Bridge. There is also this darling children's book about the lighthouse.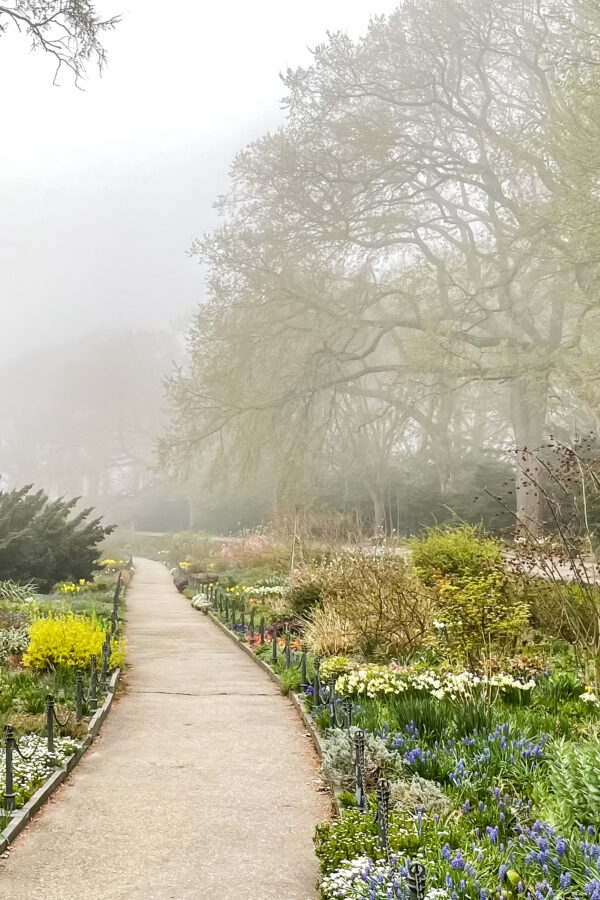 Places to Eat:
–Fresco's Pizza, our favorite neighborhood pizza joint. I recommend the Prosciutto & arrugala, or the Blackberry, Walnut & Ricotta pizza. Their Asparago salad is delish and the vodka sauce with chicken pasta always hits the spot.
–Tampopo Ramen, delicious pork buns and ramen! They also opened up a sister location called Tampopo kitchen for sushi and udon, but we haven't tried that yet.
Dutch Baby Bakery owned by our friends and neighbors, this uptown bakery and cafe serves seasonal southern food and is so good!
For more details about Hudson Heights/Inwood neighborhood, click here.
Brooklyn:
­­-Walk the Brooklyn Bridge, my favorite way is to take the subway to Brooklyn (A train to High Street and then walk back towards Manhattan)
But before you go back to Manhattan… PIZZA!!!
-The Great Pizza Debate Under the Brooklyn Bridge, Grimaldi's vs Juliana's, it's a real pizza feud and you can look it up here: https://bitesizedtravel.ca/2015/04/06/brooklyn-pizza-grimaldis-julianas/
My vote is for Juliana's so delicious!
-Brooklyn Bridge Park
-Explore Dumbo (stands for Directly Under the Manhattan Bridge Overpass) such fun area to explore! Great views of Manhattan!