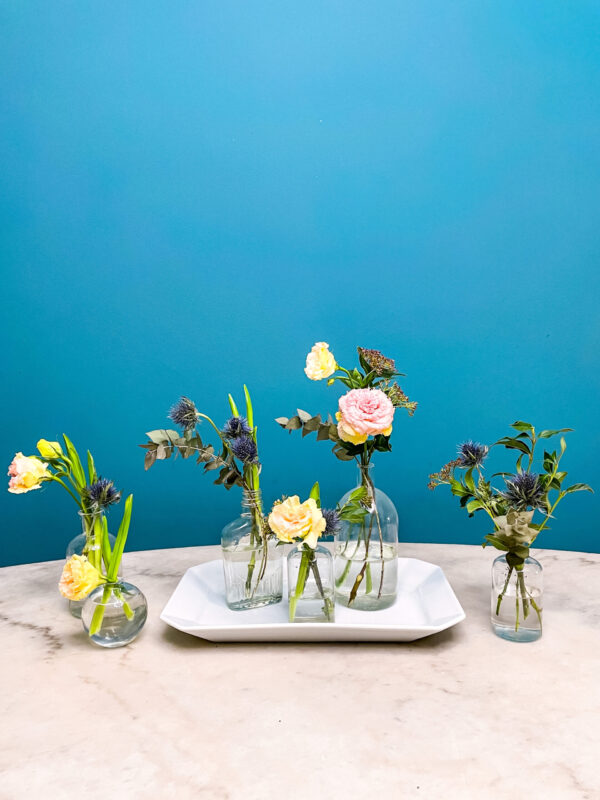 Did you know that once cut and if properly cared for flowers will last for 10 to 14 days? Crazy, right? That's quite a long time to last once you've been plucked from your home and nutrients. However, the tricky part about buying flowers is that you don't really know how long its been since they've been cut. But if you think like a designer, you can make flowers last longer!
In this article I'll share a secret to getting the most life out of your blooms. It seems a bit obvious once you think about it. But the secret to making flowers last longer? Get rid of each individual bloom as it dies, then edit down and re-design!
NOT ALL FLOWERS LAST THE SAME TIME
Some flowers last longer than others. I know that carnations have gotten a bad reputation in the past, but they are some of the longest lasting flowers you can buy. Plus, they have had a resurgence in popularity recently and come in the most lovely colors. If you have a complicated relationship with carnations, I suggest you revisit that. They are lovely and long lasting!
Some flowers are more delicate, and are more sensitive to heat/cold, ect. So those blooms won't last as long. And some greenery will last forever, while other greenery tends to die more quickly. So what is the trick to long lasting blooms & greenery? Deadheading your arrangement just like you would a garden.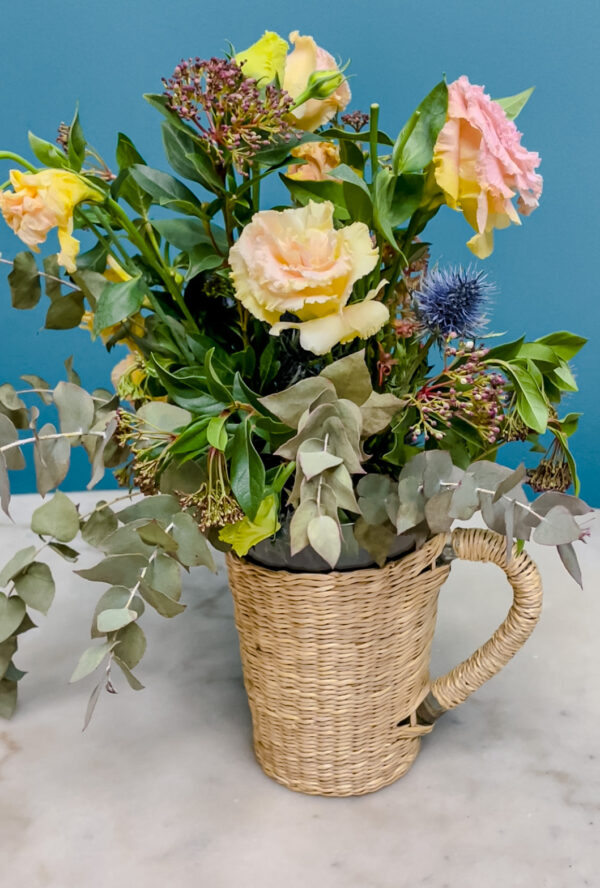 DEADHEADING YOUR ARRANGEMENT LIKE A GARDEN
Have you heard the saying, you are only as strong as your weakest link? Well your arrangement will only look as pretty as the least pretty flower in it. The arrangement pictured above at a first glance might seem just fine. But upon closer inspection has some blooms and greenery that need to be pulled out. And once you notice that, you can't not see it.
Not convinced? Let's look a bit closer. I spy a few stray stems that need to be trimmed. Looks like the blooms already fell off. I also see a dying lisianthus that needs to be clipped. Oh and those little berries on the greenery, they have seen better days and need to be deadheaded as well!
Deadhead your arrangement like a garden. Pull out flowers bloom by bloom as they die. Not only will this visually help your bouquet, but dying flowers kill other flowers more quickly.
DYING FLOWERS EMIT A GAS THAT KILLS THE OTHER BLOOMS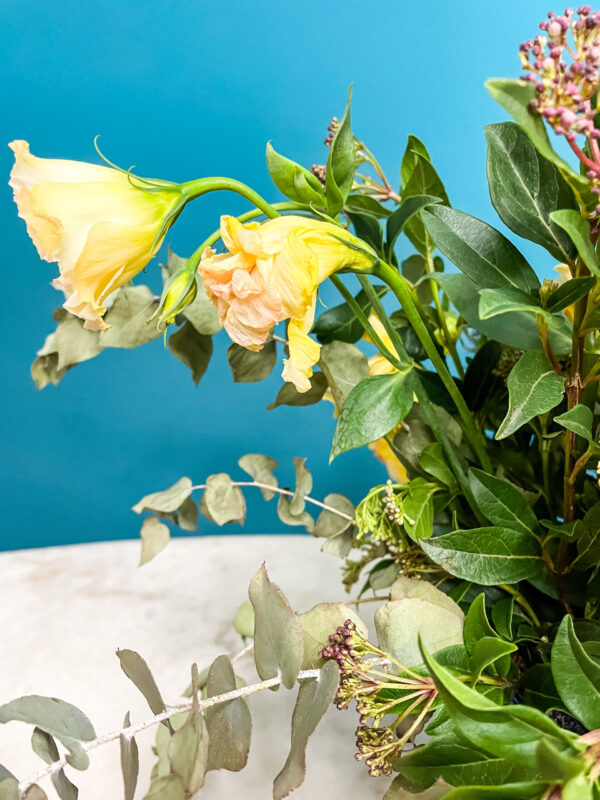 Dying flowers produce a gas that will speed up the process of decay for other blooms. So if for no other reason, pull out the stems of flowers as they die to prevent the other blooms for turning for the worse sooner.
The longer the dying blooms are in the arrangement, the more the gas will affect the other flowers. Get those dying stems out of there, pronto!
EDIT DOWN THE ARRANGEMENT
One thing I have learned designing in New York City, the items that you choose to keep out of an arrangement are just as important as the items you keep in the arrangement. Editing. It's a skill that I find myself constantly working on as a designer.
STEP ONE: TAKE FLOWERS OUT OF THE VASE
First step to editing down the arrangement is to take all the flowers out of the vase.
If you keep up on your deadheading (and pulling sad blooms from the vase everyday), you get extra points and get to skip to step number 3!
STEP TWO: SEPARATE THE FLOWERS
Second step, separate all the flowers into two piles. Ones that have lost their beauty, and blooms that have a bit more to give.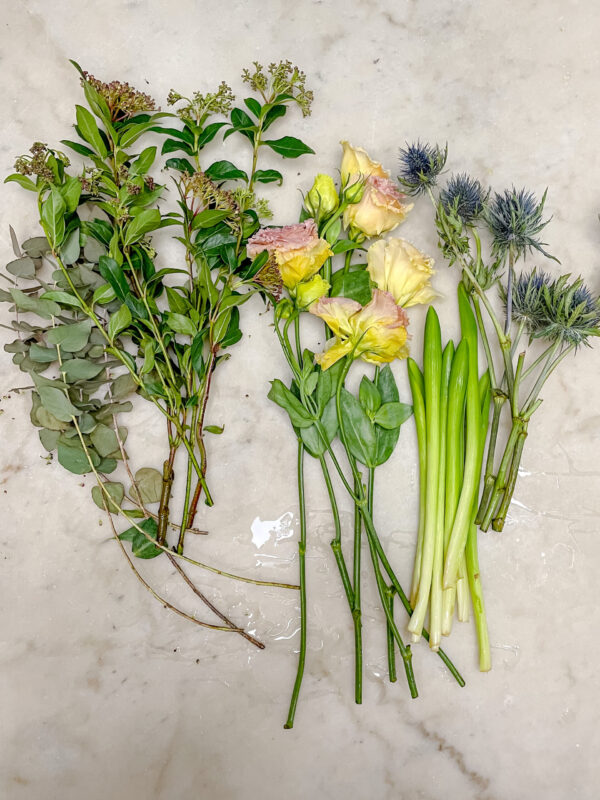 STEP THREE: CHOOSE A NEW VASE
Third step, based on the number of flowers that have made the cut pick another vase. Most likely you will be choosing a small vase considering that you will have lost some blooms. Thats ok! In fact, view it as a design opportunity to create something new.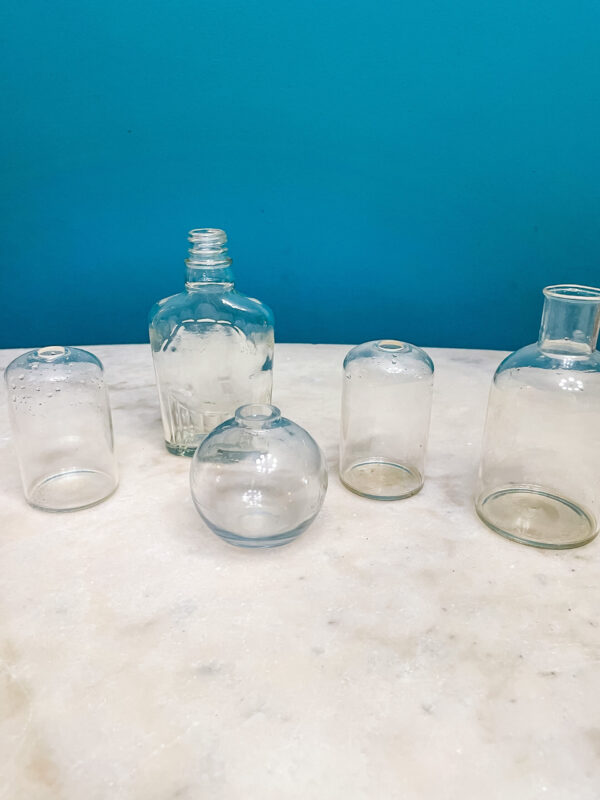 STEP FOUR: RE-DESIGN!
Fourth, re-design! This is the fun part. Creating a new a beautiful arrangement out of just a few stems.
Now stand back and admire! See how different the two arrangements are? It almost feels like I got a two arrangements in one.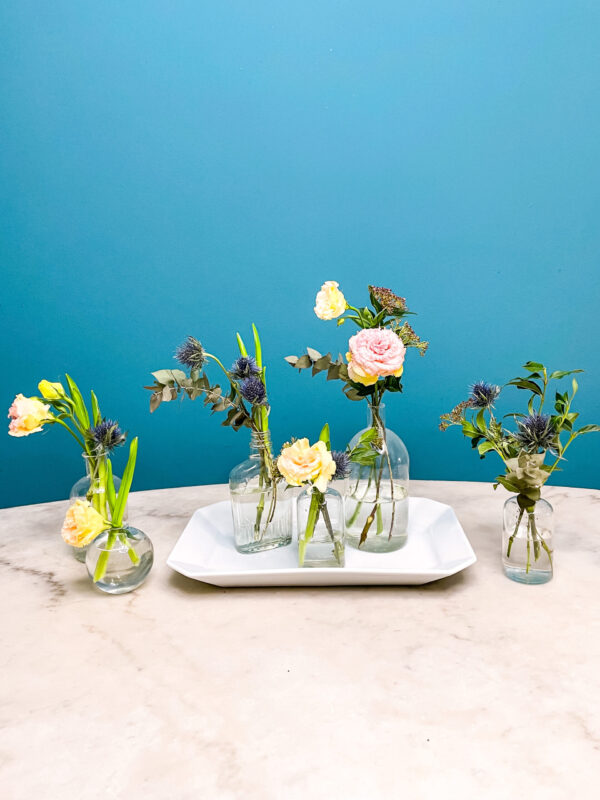 PLACEMENT OF NEW ARRANGEMENT
Scale is an important part of the visual appeal. If you scaled your arrangement way down consider placing your arrangement on a side table, end table, or even in the bathroom. A few blooms really brighten up these spaces.
If you scaled your arrangement down to multiple bud vases like I did here, you might want to add a platter or tray underneath to ground and group the arrangement on a large dinning table. Have fun and be creative!
Happy Designing!
xo
Emily
PS- If you enjoyed this article, you might also like this one on my top 3 tips on taking care of your flower bouquet!